Zooey Deschanel Finally Steps Into Her First TV Role Since New Girl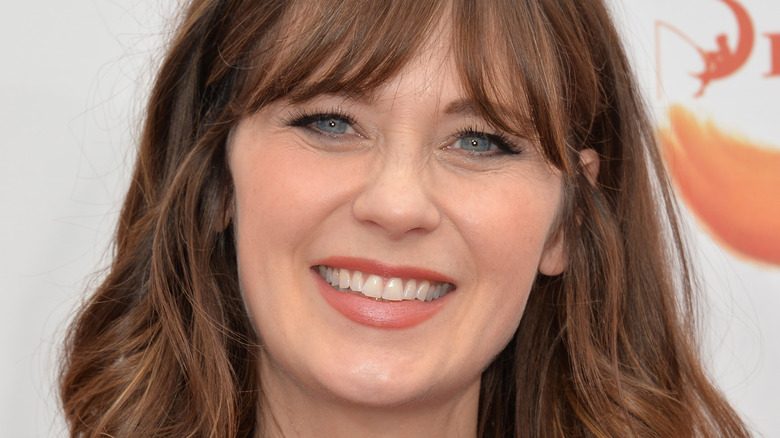 Featureflash Photo Agency/Shutterstock
In the early aughts and 2010s, Zooey Deschanel was able to carve out a unique space for herself in Hollywood. After gaining attention for her roles in Cameron Crowe's "Almost Famous" and "The Good Girl," Deschanel earned an Independent Spirit Award nomination for "All the Real Girls." A starring role in 2003's "Elf" brought her to higher echelons of fame, and Deschanel appeared in films like "The Hitchhiker's Guide to the Galaxy" and "Yes Man" before closing out the decade with one of her most well-known roles to date: Summer Finn in "(500) Days of Summer."
From 2011 to 2018, Deschanel starred as Jess Day on Fox's "New Girl." A zany teacher living in Los Angeles, Jess is energetic, optimistic, and, for better or worse, introduced the word "adorkable" into the lexicon. Since wrapping up "New Girl" in 2018, Deschanel has stayed under the radar, focusing on voice acting and her entrepreneurial endeavors. Now, Deschanel is making her long-awaited return to television.
Zooey Deschanel will appear in Season 3 of Physical
For her triumphant return to television, Zooey Deschanel is getting meta with it. On the upcoming third season of Apple TV+'s period dramedy "Physical," Deschanel will play Kelly, a network sitcom star looking to enter the red-hot 1980s aerobics industry (via The Hollywood Reporter). Deschanel will appear opposite series star Rose Byrne, who plays Sheila Rubin, a discontented housewife who enters the spandex-covered world of fitness.
Season 2 of "Physical" ended with the cliffhanger that a new competitor had arrived to threaten Sheila's new business. It's possible that Kelly, with her TV-star bona fides, is the new competition. Deschanel herself knows all about balancing TV stardom with business; the same year that the actress began starring on "New Girl," she co-founded the website HelloGiggles. In 2015, the company was acquired by Time Inc (via The Los Angeles Times).
Deschanel will surely bring her bubbly spark to "Physical," especially if she's playing a magnetic fitness mogul. Look out, Body by Sheila. It's Jess!