TWD: Lennie James Holds His First Day On Set In High Regard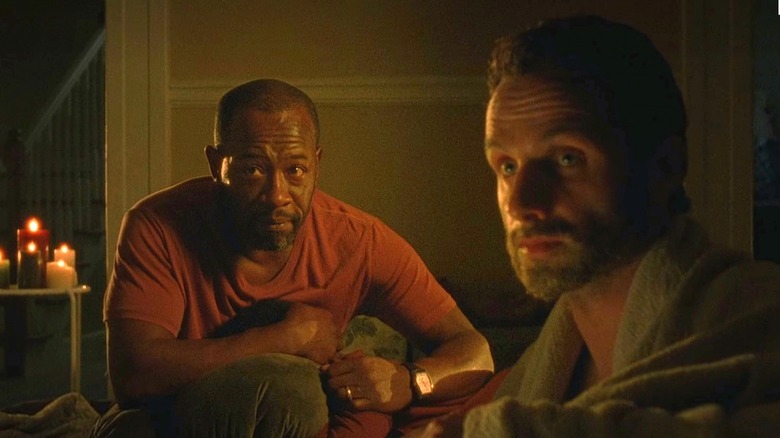 AMC
In the far-and-away days of "The Walking Dead" premiere season, it may have seemed unlikely the horror series would make it as far as it did. Season 1 only contains six episodes on a network known for character dramas. But a cool decade later, "The Walking Dead" became a flagship series for AMC with no lack of material for spin-offs. "Fear the Walking Dead" is coming to a close after eight seasons and catapulting one of the franchise's enduring characters to the forefront. 
Morgan Jones (Lennie James) appears in the first episode of "The Walking Dead" as a traumatized survivor trying to keep his son alive. Through pacifism, murder, and everything in between, Morgan has had quite a run. But according to James, there was nothing quite like the episode that kicked off "The Walking Dead" timeline.
"First day on set in the first ever episode [of 'The Walking Dead']. Me and Andrew [Lincoln], being directed by Frank Darabont in the house in King County with Adrian [Kali Turner] playing my son and sitting in a room playing the scenes as if they were theater," James told CBR when asked about some of his favorite Morgan moments. "Just the unexpectedness of it being two English guys playing two Southern American men just was... I didn't even realize at the time that it was the beginning of a very, very long road."
The Walking Dead was fulfilling for James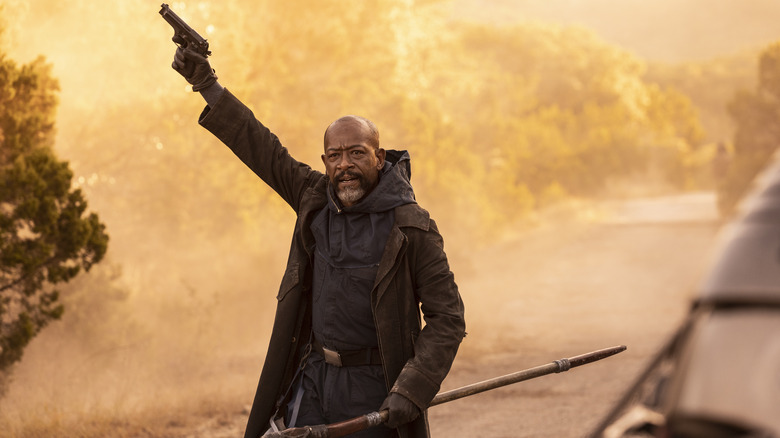 Lauren "Lo" Smith/AMC
Since filming that first episode, "The Walking Dead" has infamously changed with the tide. Acclaimed director Frank Darabont helmed Season 1 just to be fired after a messy conflict with AMC. Lennie James wouldn't be able to work with the director again during the tenure of "The Walking Dead," but he still considers those early days a highlight.
"[W]hen I look back on it, just how fortuitous that was, how unlikely that was, how much fun that was, how excited I was to work with Darabont," James continued. "It was a good time filming, and it's been the blueprint of every single day that I walked onto the set. Since then, [it's] about trying to hold onto that feeling, recreate that feeling..." 
There have been many opportunities for James to recapture those moments. While he pivoted between two shows and expressed almost every spectrum of emotion, he also stepped behind the camera to pursue more creativity. The actor made his directorial debut on "Fear the Walking Dead," though that had not always been his intention. But as the series moved into its final phases, James took on the moniker of director to the appreciation of everyone on set. This is a nice bookend to the character of Morgan, who James is comfortable with setting to rest.
"I'm not interested in repeating myself with Morgan at the moment," James said in response to reprising Morgan. "I think it would kind of slightly tarnish his legacy."