The NCIS: LA Season 14 Part One Finale Gave Fans Baby Fever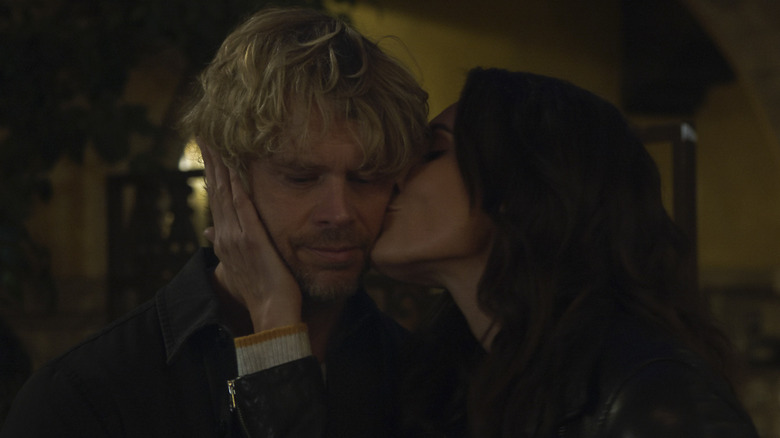 CBS
Contains spoilers for "NCIS: Los Angeles" Season 14, Episode 20 — "New Beginnings"
"NCIS: Los Angeles" fans have been watching Kensi Blye (Daniela Ruah) struggle with infertility during the course of her marriage to Marty Deeks (Eric Christian Olsen), and the fight has definitely taken its own unique toll on both the couple and their adoring fans at home. After a false alarm pregnancy scare during Season 11, Kensi and Deeks agree to try for a child in Season 12, but when it doesn't happen right away they discuss fertility treatments. While things initially seem to be financially impossible when Deeks loses his job, Hetty Lange (Linda Hunt) steps in and gets Deeks through the academy, where he eventually earns his badge as a part of the NCIS. During Season 12 they become resourceful parents to teenage immigrant Rosa Reyes (Natalia Del Riego) and welcome her to the family.
The couple's hopes for parenthood have faded into the background over the span of Season 14. That's why a minor plotline which pops up during "New Beginnings" has fans of the couple super excited. During an opening scene, Kensi scolds Deeks for keeping old food in the refrigerator; she thinks she's got food poisoning thanks to his dilatory housekeeping. Deeks tries to defend himself, but promises to bring home food that will help her troubled stomach.
When any viewer worth their salt hears the words "couple trying for a baby" and "nausea" spoken together in the same sentence, they know what that means in TV shorthand. "Kensi has 'food poisoning'? Naw, she's PREGNANT!!" wrote Twitter user @cheryl_molnar. "Pretty sure Kensi's gonna be pregnant," agreed @MissNY2VA. They're just two of the fans thrilled about the couple's potential blessed event.
Fans are so ready for Kensi and Deeks to be parents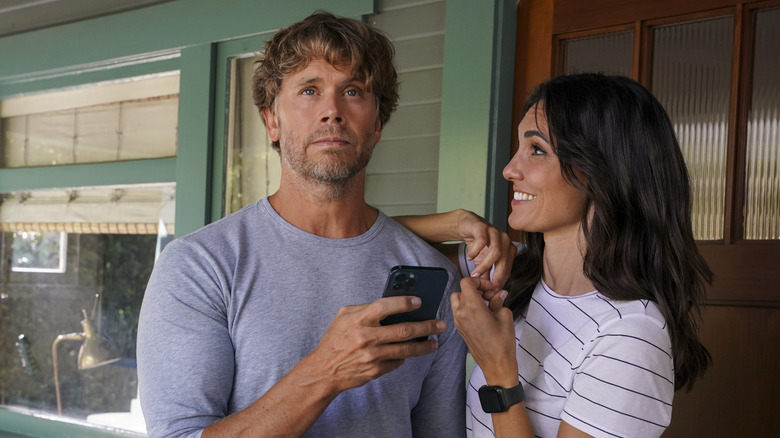 Sonja Flemming/CBS
For some fans, the matter of Kensi and Marty's parenthood seems like an obvious, joyful capstone to the show's final days. "Sure to find out Kensi's pregnant either this Sunday or next. That's like, duh," said @0803HAL . Viewers wonder whether or not Kensi and Marty's happy news will be a minor footnote in the episode, since the wedding between G. Callen (Chris O'Donnell) and Anatasia Kolcheck (Bar Paly) is likely to be the episode's main focus. But some fans aren't worried about that. "Kensi is pregnant? That will be a great way to end the finale!" said @OAgbama.
While Kensi's pregnancy remains unconfirmed at press time, it turns out that viewers of the show might have just cause to believe that she's in a family way. During a May 2023 interview with TV Line, Daniela Ruah fielded questions about the show's upcoming May 21 series finale. The interviewer explained that they polled their readership to snag some predictions about how the show will end. There were five frequently-mentioned theories: Nell and Eric return, no good guys die, Callen and Anna get married, Kensi learns she's pregnant, and Hetty returns in some fashion. When presented with those possibilities, Ruah revealed that four will occur. Keep your fingers crossed, Densi shippers!