Archer Season 14 - Everything You Need To Know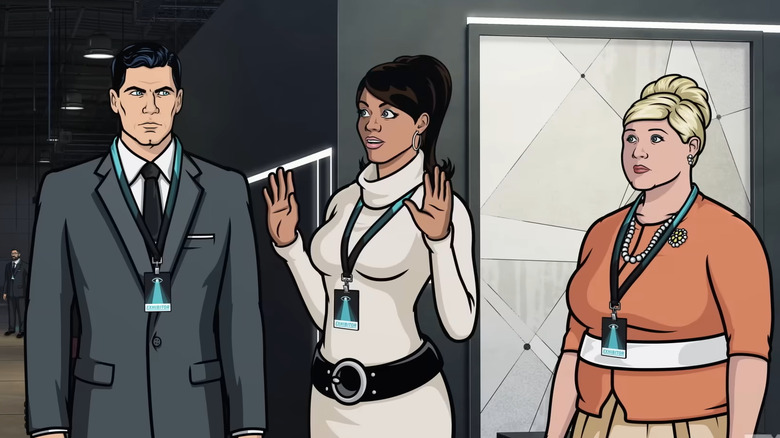 FXX
We may receive a commission on purchases made from links.
After 13 seasons, an untold number of martinis, and a million explosions, "Archer" is set to take its final bow. The animated action comedy follows the adventures of Sterling Archer (H. Jon Benjamin), a perpetually soused and technically gifted secret agent coping with mommy issues, interpersonal conflicts at his job, and his on-again-off-again romance with one of his fellow agents, the super-competent Lana Kane (Aisha Tyler). Over the past few seasons, Sterling and Lana have been coping without the influence of Sterling's mother and the gang's boss, Malory Archer, after the death of Malory's voice actor, Jessica Walter, in 2021.
All of that's set to change with Season 14, now that Sterling has named Lana the head of The Firm. How will the series wrap up after such a long run? The show hasn't been afraid to get experimental with Archer's journey through life; for instance, from Season 8 to Season 10, the audience takes a peek into Archer's complex dream life and they get to see the characters in brand new ways, as we journey through several fantasy universes while the real Archer lingers in a coma. 
Will the show's producers pull out any special twists for Season 14? This is what we know so far about Season 14.
When will Season 14 of Archer premiere?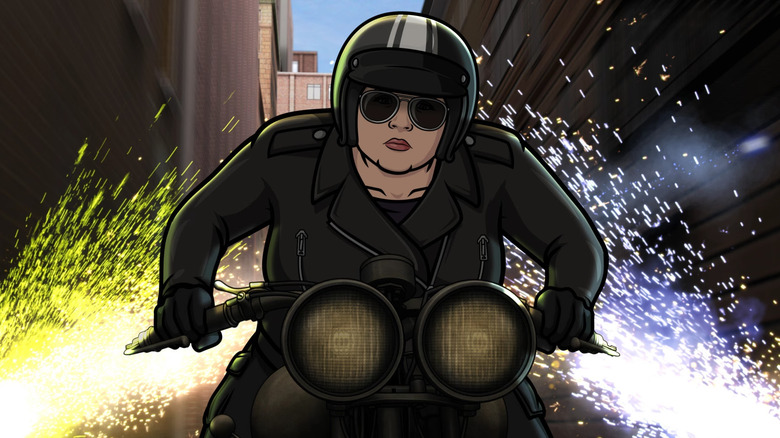 FXX
Over its latest two seasons, "Archer" has become something of a summer staple for FXX, so it's not surprising that Season 14 is set to begin in the late summertime. On August 30, Season 14 will debut on the network, with each episode available for streaming on Hulu the next day. The show will apparently continue to anchor its Wednesday at 10 PM EST timeslot for its final lap.  
That's quite a quick turnaround for a show that didn't even have a previously announced pickup for Season 14. In fact, the declaration of Season 14's existence was announced on May 15, the same day that FXX announced the series would end with the upcoming season. But there were some hints that Season 14 was in progress before FX and FXX announced its upcoming schedules. Chris Parnell, who plays Cyril Figgis, told Screen Rant in a January 2023 issue that audio recording for Season 14 was underway at that time. 
In any event, it looks like the final season of "Archer" will play out much like its predecessors, starting in late August and ending sometime in early October. Over the past several seasons, each season of "Archer" has had a run of no more than nine episodes, so it would be reasonable to expect an eight to nine-episode span for its final batch of outings.
What will Season 14 of Archer be about?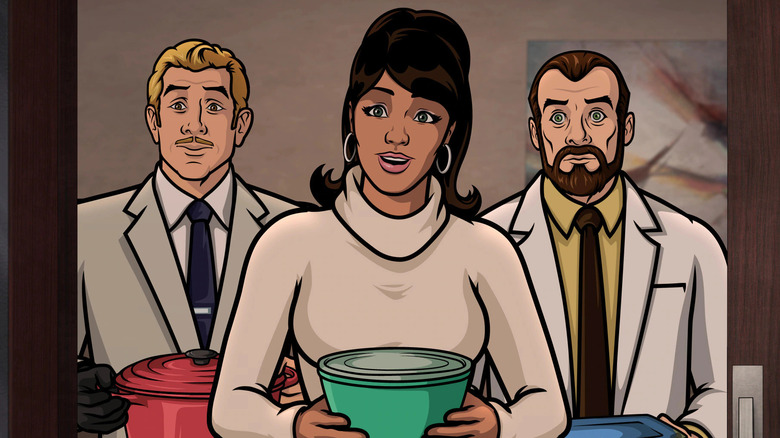 FXX
After enduring a string of contests, trials, and tribulations set upon them by IIA head Fabian Kingsworth (Kayvan Novak) during Season 13 and his eventual betrayal, The Firm officially has a new leader in the wake of Malory Archer's retirement. Lana Kane has been named the team's new head by Archer himself, which means Season 14 will deal with what Lana does with scads of only slightly limited power now that she's finally in charge of the group's activities.
Per the promotional blurb released by FXX alongside the Season 14 release date announcement for "Archer", Lana is intending to make the world a better place through The Firm, but finds out that things aren't as simple as they seem. Presumably, the season will also see some resolution occur in Sterling and Lana's ongoing romantic entanglement, now that she's officially free of her marriage to Robert (Stephen Tobolowsky).
In any event, viewers can expect to meet with at least one new character: Zara Khan (Natalie Dew), a brand new agent hired for the team by Lana.
Who will star in Season 14 of Archer?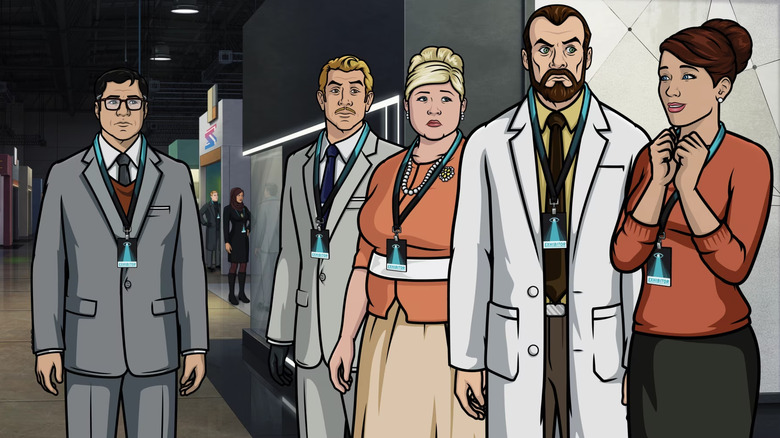 FXX
Aside from newbie Natalie Dew's Zara Khan, you can expect all of the show's regulars to be back for its grand finale. That naturally includes H. Jon Benjamin as Sterling Archer; Aisha Tyler as The Firm head Lana Kane; Judy Greer as the ever-unpredictable rich girl secretary, Cheryl Tunt; Amber Nash as Pam Poovey; Chris Parnell as the wimpy but ever-loyal fifth-in-command, Cyril Figgis; series creator and co-executive producer Adam Reed as the snarky Ray Gillette; and Lucky Yates as mad scientist for fun and profit, Algernop Krieger. Presumably, we'll also hear Kimberly Woods as Abbiejean Kane-Archer, Sterling and Lana's adolescent daughter.
There's no word on who will be guest starring this season, but hopefully, the show will bring back its recurring cast and we'll see familiar faces like the team's oftentimes helpmeet and sometimes rival, Slater (Christian Slater), and Archer's eternal enemy, Barry Dillon (Dave Willis), pop up one more time before "Archer" closes up shop for good. The show's guest cast has previously included such luminaries as Jamie Lee Curtis, Simon Pegg and Bruce Campbell. There's also no hint as to whether or not we'll see Malory one more time, even if only at a distance, as she continues to survive within the "Archer" universe. 
Who will produce Season 14 of Archer?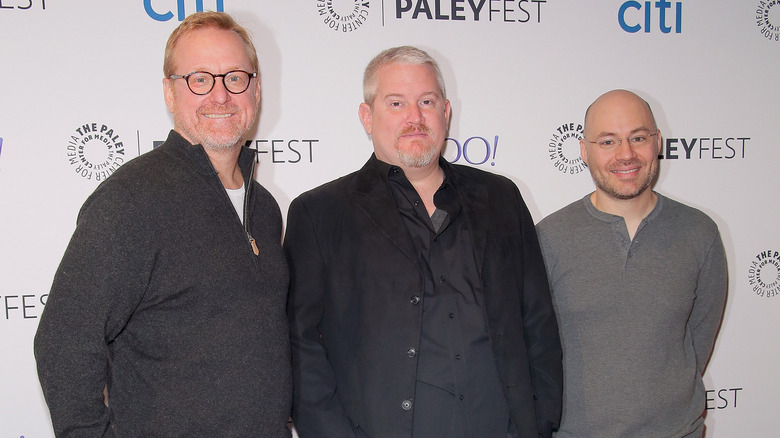 Randy Brooke/Getty Images
Variety has reported that Matt Thompson, Casey Willis, and series creator Adam Reed will continue to act as executive producers for the final season of "Archer." The show will also be co-executive produced by Mark Ganek of Floyd County Productions. It appears that "Archer" will be going out the same way it began, with the same three men guiding the series to its conclusion. At least fans will be guaranteed consistency and a sense of quality as they watch Sterling close out his life as a spy.
There's no word as to who has written and who directed the show's final spate of episodes, but it's likely that news will be released along with the show's episodic blurbs as it gets closer to its August 30 debut date. Until then, fans will have to hold tight and wonder what sort of narrative direction the show will take as it enters its final season.
Where you can watch all of Archer's previous seasons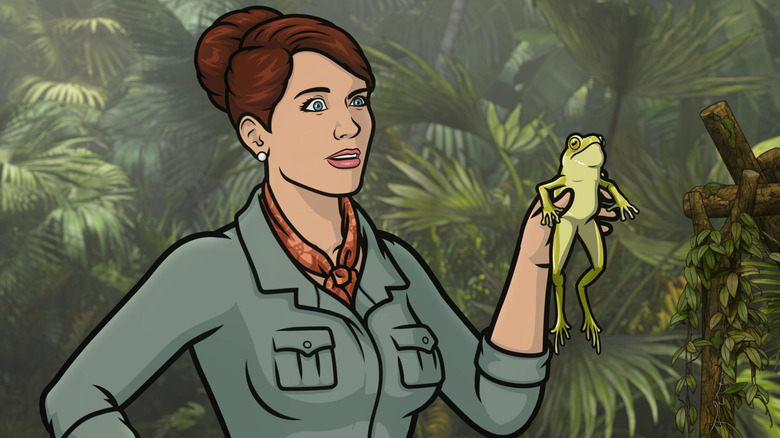 FXX
Looking to catch up on all the wild action "Archer" has to hold in anticipation of Season 14? You're in luck, as Hulu has every single season of Archer available for streaming, including Season 13. As always, Hulu offers a month-long free trial before charging consumers a $7.99, $14.99 (for an ad-free experience), or $69.99 (for additional channels and live TV) monthly fee. Packages are also available that include subscriptions to ESPN+ and Disney+. You can also view Season 13 of "Archer" via a Hulu subscription on the FXNow app. Episodes which have recently been rerun on FXX are available on-demand with a cable company log-in at ABC.com.
Want to sample episodes of "Archer" instead of committing to binge-watching the whole program? You can buy single episodes for $1.99 each in SD or $2.99 in HD, or each season for $9.99 in SD or $14.99 in HD at YouTube, Google Play, Vudu, Apple TV, and Prime Video. 
Now you can grab yourself a cocktail and a little snack and enjoy a summer with Sterling Archer before waving the whole team goodbye this fall.