Rugrats Live-Action Film, Reboot Series In The Works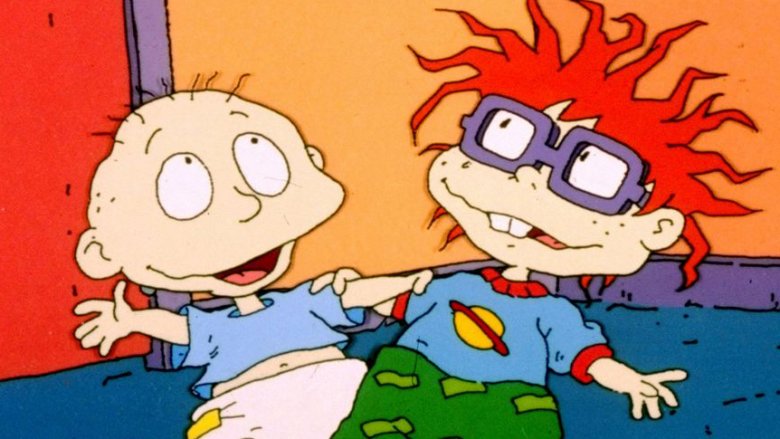 Nickelodeon
Hang on to your diapies, babies, we're going in.
Nickelodeon's Rugrats empire is getting a complete relaunch, as the company has teamed with Paramount Pictures to develop a live-action film and an animated reboot series (via Variety). 
Family Guy creative David Goodman is attached to write the not-yet-formally-titled Rugrats film, scheduled to open in theaters on November 13, 2020 through Paramount Players. Much like Paramount's Sonic the Hedgehog film, the Rugrats movie will blend together live-action footage with CGI characters. No additional details, most importantly who will direct and which actors will star, were given at the time of the announcement. 
The Rugrats revival will consist of 26 episodes and will, like the forthcoming film, include the beloved characters Tommy Pickles, Chuckie Finster, Phil and Lil DeVille, Susie Carmichael, and Angelica Pickles as well as a whole host of new faces. Original Rugrats series creators Arlene Klasky, Gábor Csupó and Paul Germain will executive produce the new show, which is currently in production. Sources note that casting confirmations and an airdate announcement will be made "in the coming months."
When it comes to the live-action/CGI Rugrats film and the revival series, things could go one of two ways. Bringing the classic '90s cartoon back into the spotlight nearly 20 years after it first aired could prove unsuccessful, with both projects not quite living up to the memory fans have of the show. 
On the other hand, the reboot series could work in a major way and the move might be a massive win for Nickelodeon and Paramount, who are aiming to appeal to a new generation whose parents watched the Saturday morning cartoon when they were young. As Paramount Players president Brian Robbins stated, "Kids who grew up with Tommy Pickles and the Rugrats crew will now be able to share that experience with their own children." 
At the end of the day, plenty of people are going to check out the Rugrats movie and new series regardless of how good or bad it may be, because nothing draws viewers in quite like nostalgia.