Who Plays Prince Eric In The Little Mermaid?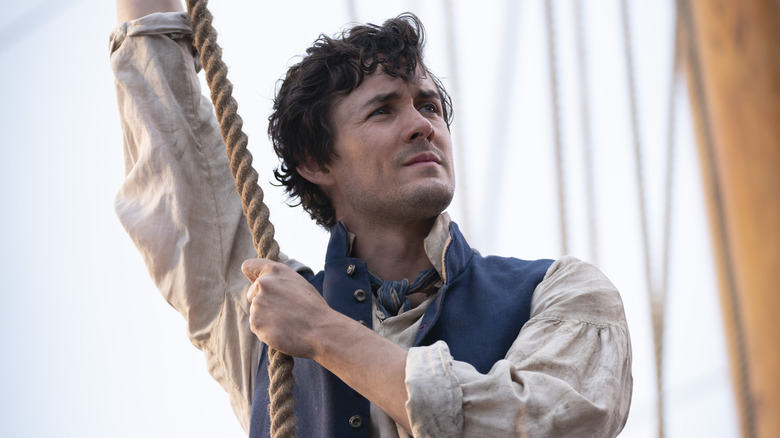 Disney
Early reactions to "The Little Mermaid" indicate that the movie is a strong candidate for being one of the best live-action remakes the House of Mouse has ever attempted and contains some amazing performances from its cast. The talent on board for the film is full of familiar faces and voices, but some fans may be wondering who the actor is who is tasked with playing Prince Eric.
Playing opposite Halle Bailey as Ariel's love interest, Prince Eric is played by Jonah Hauer-King. The actor started working in short films in 2014 for a few years before jumping to TV and full-length features. Some of his movie work worth noting include "A Dog's Way Home," "Postcards from London," and "The Last Photograph." Regarding his small-screen efforts, some worthwhile credits include "Howard's End," "Little Women," and "World on Fire." 
But "The Little Mermaid" is a huge step up for the actor, and knowing the pressure surrounding remakes and legacy characters, such as Prince Eric, Hauer-King had to take a carefully calculated approach to bring the beloved persona to life again. 
"The objective was trying to honor and respect the film that we loved 30 years ago, and bring everything that we fell in love with in the first place, while also trying to breathe some new life into it," the actor told Total Film Magazine in an interview. "I think that was true of Prince Eric. Trying to understand who he is, and trying to bring some four-dimensionality to him, was the challenge." Hauer-King believes that getting to know his character better added to his performance, and some might be shocked to learn that it was also a significant factor in his onscreen relationship with the titular mermaid.
Preparing for the role helped Jonah Hauser-King understand Prince Eric and Ariel's romance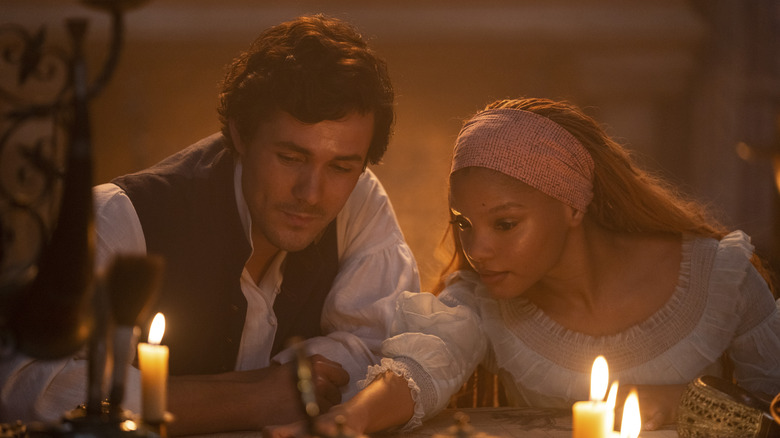 Disney
Not only was it necessary to grasp what it takes to properly portray Prince Eric and his motivations, but a big part of playing the character is partaking in the love affair with Ariel. Luckily when Jonah Hauser-King was experiencing the ongoing process of getting acquainted with his persona, he also believed through that ordeal that a better comprehension of the pair's love was uncovered. 
"In getting to know him better, we got to know him and Ariel's relationship better," Hauer-King said while talking to The Hollywood Reporter at the film's premiere. "And it meant that their romance and their relationship is earned and justified. And we fell in love with them falling in love, and we really understood why they were willing to risk everything for each other." The actor gained some necessary insight when cultivating his character, and those efforts resulted in a better understanding of the love Prince Eric shared with Ariel.
As far as what it was like working with the actress playing the titular role, Hauser-King didn't hesitate to reveal how he felt about his working relationship with Halle Bailey on set. "She was immediately one of my best friends. She looked after me the whole way through. She was kind to me. She was supportive," the actor said. "I was very grateful for her." Given this information, it seems safe to assume the cast has thoroughly prepared for the feature. Fans should not sleep on the chance to see these two in action bringing one of Disney's most cherished tales to the big screen when it arrives on May 26, 2023.