Why Hypnotic Bombed At The Box Office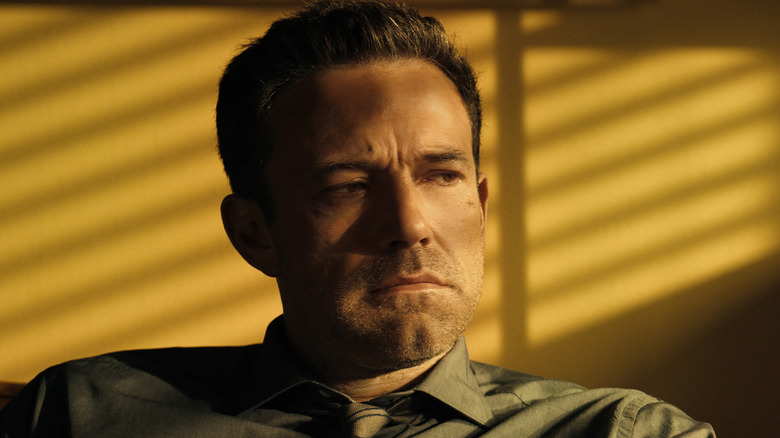 Ketchup Entertainment/Relativity Media
The power of suggestion can be a powerful conversational tool — or perhaps even a super weapon in the hands of certain elite government agents. Robert Rodriguez's newly released film "Hypnotic" focuses on a group that has unlocked a powerful ability to control other people through irresistible mental commands. Known as hypnotics, these clandestine operatives are some of the most dangerous people imaginable. However, their potential for harm and control is matched only by their secrecy, which drives much of the plot of "Hypnotic" forward.
Released on May 12, 2023, "Hypnotic" has the pedigree of a film that should have dominated at the box office. Starring Ben Affleck, Jackie Earle Haley, William Fichtner, Alice Braga, Jeff Fahey, and JD Pardo, "Hypnotic" predominately follows Danny Rourke (Affleck) as he unravels a vast conspiracy surrounding his missing daughter. However, this mystery is much more than what one might assume, and soon Rourke begins to not only question his own history and memories, but reality itself. Unfortunately, "Hypnotic" seems to be unable to convince audiences of its worth, as the movie made roughly $2.4 million in its opening weekend. So, what exactly went wrong with "Hypnotic," and why was it unable to properly ensnare moviegoers with its bombastic mind control techniques?
There was a sorry lack of advertising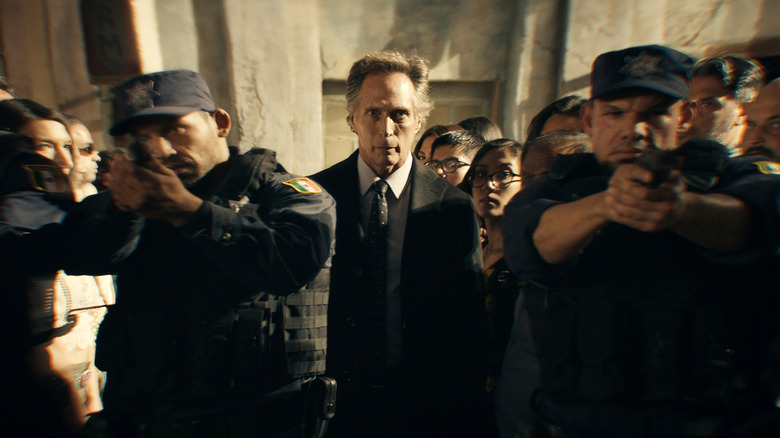 Ketchup Entertainment/Relativity Media
Perhaps one of the primary reasons why "Hypnotic" missed the mark when it comes to box office returns boils down to two of the most important aspects of making a movie — proper advertising and marketing. Whereas some campaigns mark a movie's arrival with numerous posters, trailers, and interviews, "Hypnotic" didn't really have much of that. If one were to ask a random passerby the name of Ben Affleck's latest movie, they'd probably answer "Air," a properly publicized film that follows the creation of the famous Michael Jordan-inspired shoe.
Of course, this may have been intentional — as the Hollywood Reporter notes, marketing was almost non-existent for "Hypnotic," which may stem from the fledgling company that produced it. Unfortunately, Solstice Studios suffered from the pandemic, and the company laid off the majority of its staff in 2021, leaving only 10 people still working at the firm. This led to an absolute dearth in marketing efforts for "Hypnotic," which is probably why many have never even seen a trailer for the film. As the aforementioned publication reported, some hoped that Affleck's advertising for "Air" would help buoy "Hypnotic" by proxy, but Affleck declined to make any sort of press appearances in support of "Hypnotic."
Reviews have not been kind
Ketchup Entertainment/Relativity Media
Besides an abysmal lack of marketing, "Hypnotic" also suffered from a middling critical response. If the movie ever hoped to generate enough positive buzz to make up for its barely existent advertising, then it seems like a negative critical response would be a terrible omen. Over on Rotten Tomatoes at the time of this writing, "Hypnotic" has a 35% critical score and a 61% audience score. Although it seems as if the general public isn't as hard on "Hypnotic" as professional critics, a score like that is certainly enough to scare off any prospective viewers that may have been on the fence about seeing the movie.
In their review of the film, Adam Graham of Detroit News wrote, "While it's not plausible, believable, or even able to fully follow its own logic strains, it does achieve a certain level of deranged camp. Put it this way: It's never dull, and if nothing else, 'Hypnotic' is a hoot." Glenn Kenny of the New York Times offered a similar opinion, and said, "The movie is, if nothing else, ruthlessly efficient enough in delivering its crowd-pleasing bits that truly starving suspense genre hounds, at least, won't necessarily mind." However, not all critics believed the movie to be at least somewhat passable — Kevin EG Perry of Empire Magazine gave "Hypnotic" a two out of five stars, stating, "A grumpy Ben Affleck can't save this confused thriller that has as many twists as a trepanning drill, and is about as likely to leave you feeling lobotomized."
Stiff competition from plumbers, racoons, and demons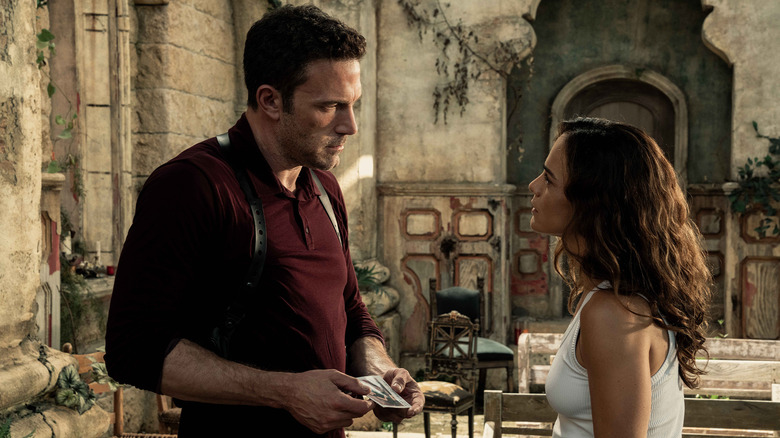 Ketchup Entertainment/Relativity Media
In addition to a lack of general awareness and a discouraging critical response, probably the biggest opponent to "Hypnotic" is competition. With the current cost of going to the theaters being quite expensive, movie aficionados can be somewhat selective in their choices of entertainment. Likewise, the general public had many popular movies to choose from during the premier weekend for "Hypnotic." To succeed, the movie would've had to hold its own against "Guardians of the Galaxy Vol. 3," "The Super Mario Bros. Movie," "Book Club: The Next Chapter," and "Evil Dead Rise."
These movies make up the highest grossing films of the May 12-14 weekend, which totals $83.7 million cumulatively according to Box Office Mojo. As previously noted, "Hypnotic" generated less than $2.5 million, and considering the competition, it makes perfect sense as to why "Hypnotic" failed to make any sort of impression. In conjunction with non-existent marketing and negative reviews, "Hypnotic" had many forces working against its success. No amount of powerful mind control or manipulating suggestions would be able to change that.