Why Mother Mary From Mrs. Davis Looks & Sounds So Familiar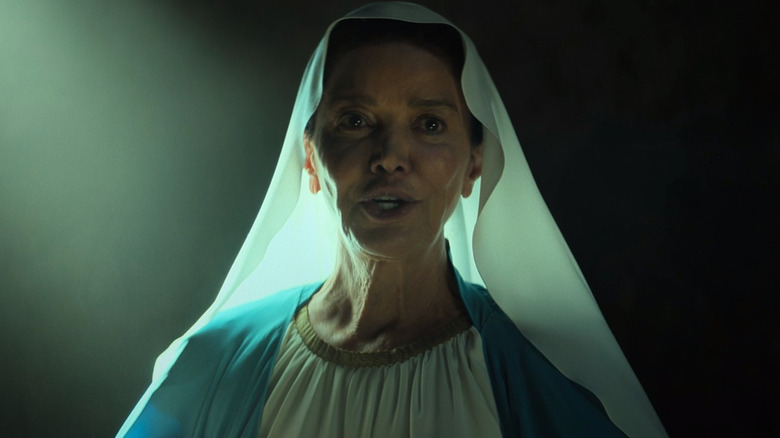 Peacock
Peacock's "Mrs. Davis" has firmly established itself as one of the most bonkers shows of 2023. It expertly blends elements of science-fiction and faith with a healthy dose of humor to create something wholly its own. And Episode 7 took things to a whole new level of absurdity.
The show has always maintained biblical influences, as evidenced by Simone (Betty Gilpin) searching for the Holy Grail. However, Episode 7, titled "Great Gatsby 2001: A Space Odyssey," sees Simone partake in another biblical pastime as she ventures into the belly of a whale to retrieve the holy object. And while there, she meets Mary, Mother of God, played by Shohreh Aghdashloo. Mother Mary stands there, holding a baby Jesus while standing in front of the corpse of the adult Jesus. She reveals the true nature of the Grail and how she created it from Jesus himself, ultimately stating, "I created this cursed object out of selfishness."
It's no easy task to play the Mother of God, but Shohreh Aghdashloo is more than up for the job, as she brings a level of gravitas to the role, which is par the course for much of her filmography.
Shohreh Aghdashloo earned an Academy Award nomination for House of Sand and Fog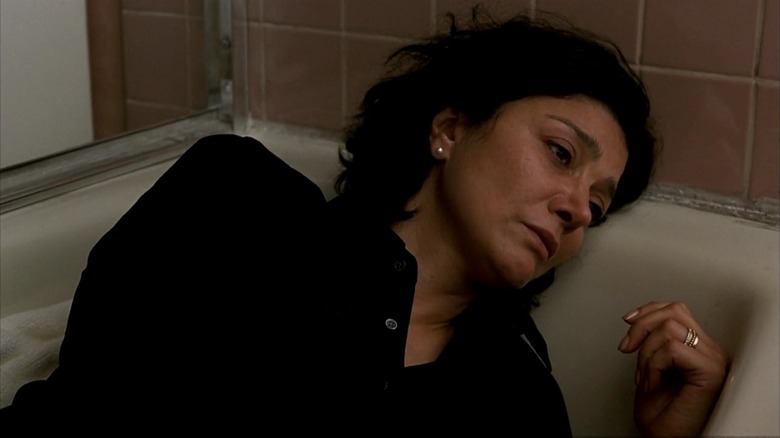 DreamWorks Pictures
Shohreh Aghdashloo's acting resume goes back to the 1970s, appearing in a number of films and one-off appearances in television shows for the longest time, mainly in Iranian projects. However, she started to gain mainstream success in the United States around the 2000s, and she broke out in Hollywood in a big way when she appeared in 2003's "House of Sand and Fog."
The film follows a bitter rivalry between a young woman, played by Jennifer Connelly, as well as an immigrant Iranian family who claim ownership over a northern Californian house. The struggle between the two families ultimately leads to their destruction, as Aghdashloo plays the wife of the Iranian family, Nadereh. She was nominated for best supporting actress at that year's Academy Awards, losing out to Renée Zellweger for her role in "Cold Mountain." However, she still took home plenty of accolades that year, and after getting an Oscar nomination, parts for higher-profile projects certainly seem to roll in.
Shohreh Aghdashloo helped develop the mutant cure in X-Men: The Last Stand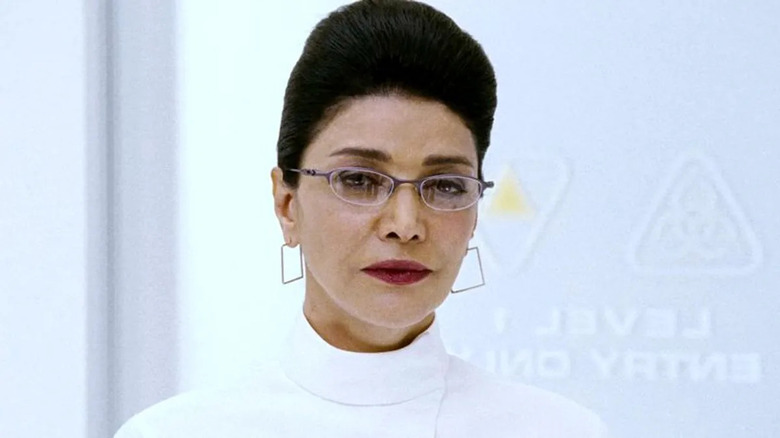 20th Century Fox
"House of Sand and Fog" was a significant turning point in Shohreh Aghdashloo's, as she began appearing in more popular productions. While she became a critical darling for her work in the Oscar-nominated movie, general audiences were likely introduced to her for playing the role of Dr. Kavita Rao in "X-Men: The Last Stand."
While she doesn't play a mutant herself, she's an integral figure in the plot, as she's the one who works on the mutant cure that's at the center of the film's conflict. This earns the ire of mutant-kind, and she's promptly dispatched by Kid Omega (Ken Leung). However, Aghdashloo was so excited to be part of the "X-Men" cinematic universe she admitted to Entertainment Weekly that she signed on without a completed script, saying, "I don't know because I have not read the script yet! Brett [Ratner] is still working on it."
What's even more interesting in that interview is that she claimed she was playing Dr. Cecilia Reyes, who has the power to create a force field around herself. Perhaps something changed in the middle of the scripting process, but the role launched her into greater things.
She continued her sci-fi trajectory with Star Trek Beyond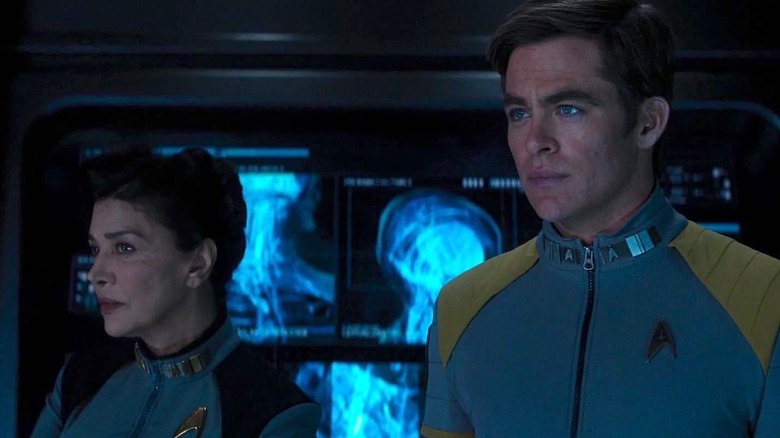 Paramount Pictures
Shohreh Aghdashloo has a real knack for science-fiction properties considering she would later star in 2016's "Star Trek Beyond." She plays Commodore Paris, who features prominently in the aftermath of much of the plot. She ultimately closes the files on the USS Franklin crew, including Captain Edison (Idris Elba). She then offers Kirk (Chris Pine) a promotion to vice admiral, but he decides to stick around as captain of his old crew. 
Similarly to how it sounds like there was some confusion around who she would play in "X-Men: The Last Stand," news of her involvement with "Star Trek Beyond" sounds murky initially. In the original Deadline article announcing her involvement with the movie, the piece states how she would play High Command of the Federation. It's also noteworthy that she joined the cast in March 2016, seeing how the film itself came out a few months later in July. This is due to the fact she was part of reshoots, so it would appear the character of Commodore Paris wasn't supposed to be in the movie initially. 
However, adding Aghdashloo to any project is always a good thing, and it's great to see her continue getting work.
She was a main player on The Expanse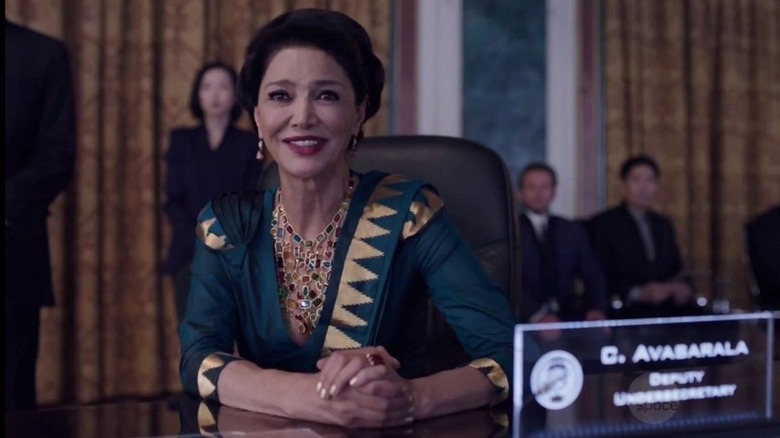 Prime Video
Shohreh Aghdashloo has proven she has real science-fiction sensibilities, and she took those abilities to great use throughout all six seasons of "The Expanse," being one of the only main cast members to stick with the show throughout its entire run. She played Chrisjen Avasarala, the UN Deputy Undersecretary of Executive Administration, who later became the UN Secretary-General. She quickly became a fan-favorite character thanks to her exceptional diplomatic strategy as well as her elegant outfits. 
She grew a lot over those six years, as Aghdashloo outlined in an interview with io9, "She was a shrewd politician to begin with. Now she's with the people because she, like others, has lost her home, has lost her beloved husband, her son, her job, nearly everything. But we know she's not a kind of woman that would give up and say, OK, this was my destiny, so I'm ready to go home. And she's not going to give up, obviously. She's at her best possible ever."
Aghdashloo's character brought a different perspective to the ongoing conflict of "The Expanse." She may not have been on the frontlines, but she demonstrated how the losses of war impact everyone, resulting in one of her most compelling performances to date.
She has a prolific voiceover career, including playing Grayson on Arcane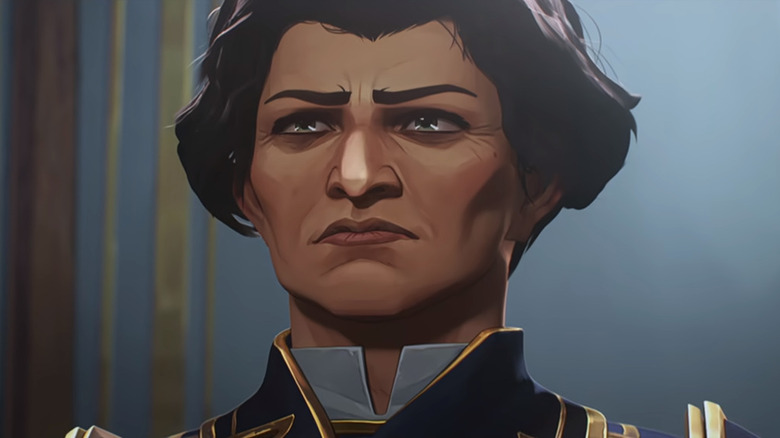 Netflix
Shohreh Aghdashloo is recognizable for a myriad of roles in the live-action medium. However, she's also an accomplished voiceover actress with a distinct tone with a touch of growling to it when necessary. She's appeared in animated sitcoms like "The Simpsons" as well as video games like "Mass Effect 3." However, arguably her most noteworthy animated role came in the form of Netflix's "Arcane," a successful adaptation of the "League of Legends" mythos.
Sheriff Grayson is an enforcer in "Arcane," a harrowing force to be reckoned with, and while she met an untimely end, she certainly made an impact on several critical characters. And "Arcane" came out just as "The Expanse" was wrapping up, so she was part of two critically-acclaimed series around the same time. In an interview with Collider, she spoke about what drew her to the project: "I was told that I'm going to talk to two audiences: one is the audience that will watch it as an animation, the other one, the players, the guardians, that are playing the game. And I was so happy!"
Aghdashloo's career spans live-action, animation, video games, and so much more, with numerous accolades to her name. And it's safe to say many more prolific projects are on the horizon.