Who Plays Shrike On Fear The Walking Dead?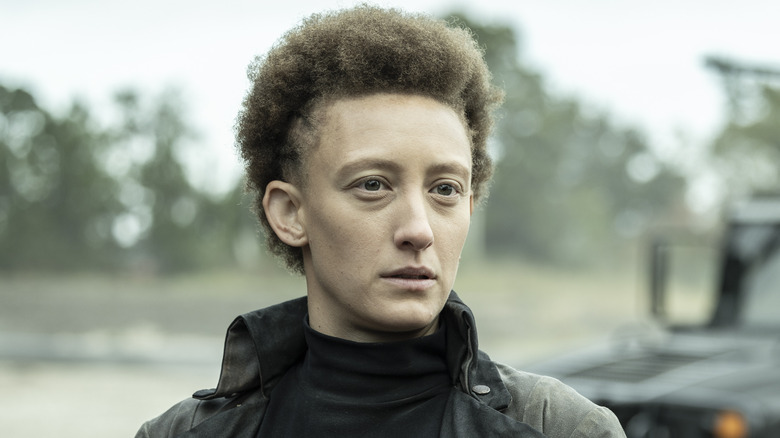 Lauren "Lo" Smith/AMC
Contains spoilers for "Fear the Walking Dead" Season 8, Episode 1 — "Remember What They Took from You"
Season 8 of "Fear the Walking Dead" is officially here, bringing with it a seven-year time jump and a slew of fresh faces for the climactic final season of the most prolific spin-off of "The Walking Dead." The season premiere takes place across seven years of in-universe time, picking up with Morgan Jones (Lennie James) and Madison Clark's (Kim Dickens) attempted rescue of Morgan's adopted daughter, Mo (Zoey Merchant), from the island doomsday shelter "PADRE."
Post time jump, we learn that, although Morgan and Mo were able to escape the island, they were forced to return shortly after, and he's spent the last seven years working as a "Collector" for PADRE, abducting children and bringing them onto the island for combat training and indoctrination. Due to his familial connection with Mo (something that is unacceptable within PADRE), Morgan is relieved of his Collector duties at the end of the episode by a PADRE official named Shrike, who is played by actor Maya Eshet.
Shrike could play a major role in Season 8
Maya Eshet is best known for her recurring role on the supernatural drama "Teen Wolf," playing a banshee named Meredith Walker who serves as the primary antagonist of Season 4. She has also had minor roles on shows like "My Boring Life," "Kroll Show," "Man Seeking Woman," "Love," and "Scandal: Gladiator Wanted."
In 2017, she played Pearl in the Netflix Drama "To the Bone," and in 2018, she was in 10 episodes of the Syfy original series "Nightflyers" as cyberneticist Lommie Thorne. More recently, she showed up in the pilot episode of "Star Trek: Picard," playing a hologram named Index that appears in the Starfleet Archive Museum.
With Shrike shaping up to become a major antagonist in Season 8 of the series, having recaptured Mo and defeated both Madison and Morgan, it appears that Eshet will once again be putting her villainous side to good use for "Fear the Walking Dead."