Guardians Of The Galaxy Vol 3 Just Obliterated Quantumania At The Box Office
The Guardians of the Galaxy are giving Ant-Man and the Wasp a run for their money at the box office.
In its second week at the box office, James Gunn's trilogy-capping "Guardians of the Galaxy Vol. 3" is proving that Marvel still has some steam left in it. Per Deadline, "Vol. 3" grossed $60.5 million during its second weekend at the domestic box office. This is a -49% gross from its debut weekend, making it one of Marvel's best holds in recent memory. Stateside, the film boasts a whopping $213.2 million cume. The film, which opened to a modest $118 million, per The Numbers, has received mostly positive reviews from critics. With an A CinemaScore, "Vol. 3" is nothing short of a crowd-pleaser and could warrant repeat viewings from hardcore fans.
Globally, Gunn's latest stands just shy of $529 million. International markets like China and Mexico continue to boast strong numbers. Box office experts like Scott Mendelson say the threequel could end its run with a gross north of $800 million worldwide. All in all, "Vol. 3" is another success for Marvel Studios, who have desperately needed a win. In only its second week, the Chris Pratt-led film has outgrossed "Ant-Man and the Wasp: Quantumania's" $464 million cume.
While it's not uncommon for post-Phase 2 Marvel films to cross $500 million globally in their second weekend, this milestone says more about the Paul Rudd film's inability to reach it in its entire run. The "Ant-Man" threequel received mixed reviews from both audiences and critics, which compelled to film to have a -70% drop in its second week — one of Marvel's worst.
Guardians of the Galaxy Vol. 3's success is optimistic for Marvel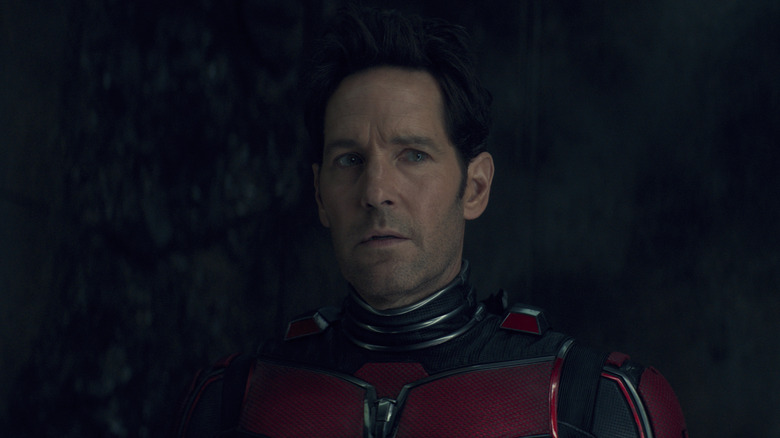 Marvel Studios/Walt Disney Studios Motion Pictures
"Ant-Man and the Wasp: Quantumania" is the lowest-grossing film in the Paul Rudd-led trilogy, over $150 million behind the second entry, which had the benefit of being released between "Avengers: Infinity War" and "Endgame." "Quantumania" was plagued with criticism at the time of its release, most notably towards its visual effects and storytelling. Audiences were vocal, giving it a B CinemaScore, which certainly impacted its financial run.
Many feared that "Quantumania" was the beginning of the end for the Marvel Cinematic Universe, a narrative that seems to creep up all too often these days. "Vol. 3," however, has all but confirmed that Marvel boss Kevin Feige and co. have some time before their superhero monopoly comes crashing down. The studio's upcoming slate looks to be one of its most exciting, with "The Marvels," "Captain America: New World Order" and "Deadpool 3" all set to release within the next two years.
As for "Vol. 3," its second weekend signals strong word of mouth, which should help it brace the upcoming weekends, which include the releases of "Fast X" and "The Little Mermaid."