Extraction 2's Newest Trailer Proves Netflix Has Upped The Ante On Action Flicks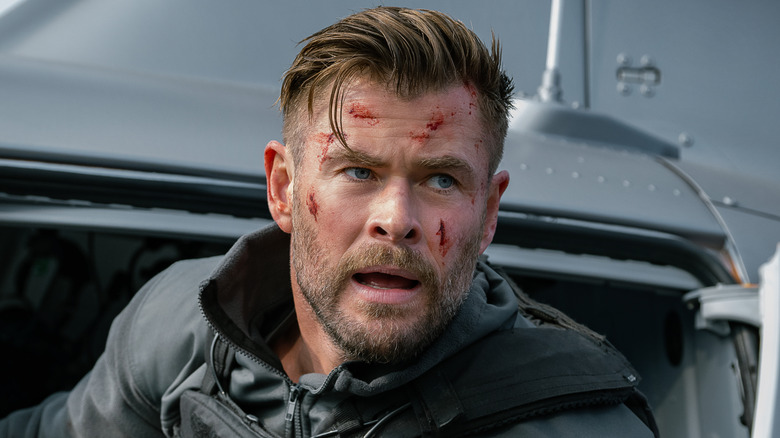 Jasin Boland/Netflix
Tyler Rake (Chris Hemsworth) has returned in the brand-new trailer for "Extraction 2," and neither henchman nor helicopter is safe from this one-man army. Following the 2020 film, which homed a ballistic trek through Bangladesh, Hemsworth's lone hero is back in action. This time around, he's bringing the pain to Prague on a brand-new rescue mission.
Naturally, sticking a "2" on the end of a movie title ups the spectacle, stunts, and stakes of Rake's latest outing. For the sequel, the Aussie black-ops bruiser rescues Ketevan (Tinatin Dalakishvili), the daughter of a Georgian gangster who is being held hostage inside a prison. Now while we've only had one meeting with Rake in the past, it was pretty clear he could break into restricted areas with little effort, so a prison shouldn't be a problem. However, as the latest preview confirms, he may run into some bother getting out again.
Tyler Rake goes on a 21-minute rampage in Extraction 2
Netflix confirmed on Twitter that "Extraction 2" homes what looks to be a stupendous 21-minute one-shot sequence, topping the previous chapter's 12-minute set-piece. It's another impressive effort from director Sam Hargrave, who is turning his former experience as a stunt coordinator to handle directing duties in this bonkers-looking effort.
Looking like a heavy metal song of ice and fire, Rake is going through all the elements to get the job done and is taking a beating in the process. Thankfully, he will be joined by returning supporting stars Golshifteh Farahani and Adam Bessa as hard-edged siblings Nik and Yaz Khan. Will they be enough to help Rake go up against new potential threats like Zurab (Tornike Gorgrichiani) and Konstantine (Daniel Bernhardt)? Will he make it from A to B in one piece, and just how many armed goons will be left tapping out behind him? We can see for ourselves when "Extraction 2" storms onto Netflix on June 16.