Wonder Woman's Daughter Is Being Introduced To DC Comics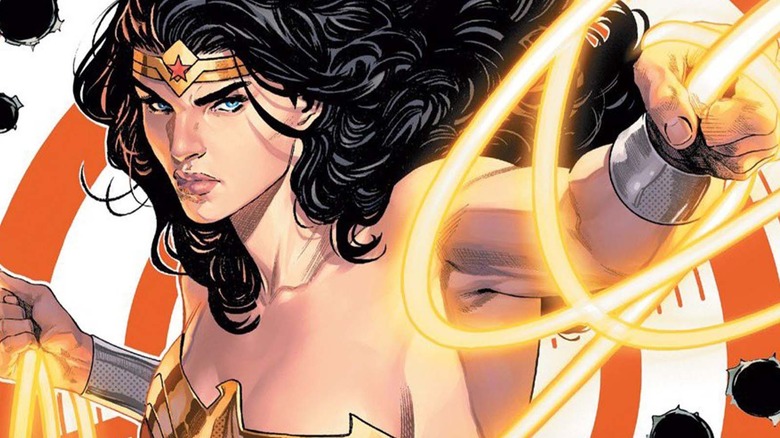 DC Comics
Contains spoilers for "Wonder Woman" #800
The Wonder Woman mythos is expanding in a major way as DC Comics is set to introduce the daughter of Wonder Woman, Trinity. While different versions of Wonder Woman from alternate timelines have had children before, including Fury and Hunter Prince, Trinity exists in the same future alongside Damian Wayne's Batman and Jon Kent's Superman.
DC revealed its relaunch of the upcoming "Wonder Woman" series will feature a glimpse into the future DC Universe. It's where the Justice League hero's daughter, Lizzie, will make their debut. Part of the Dawn of DC Initiative, the future hero, codenamed Trinity, will make her first appearance in "Wonder Woman" #800 anthology. The story from Tom King ("Mister Miracle") and Daniel Sampere ("Dark Crisis on Infinite Earths") is setting the stage for future Wonder Woman stories while starting an all-new future Trinity, with a new Batman and Superman in the future timeline.
Meet Trinity, the daughter of Wonder Woman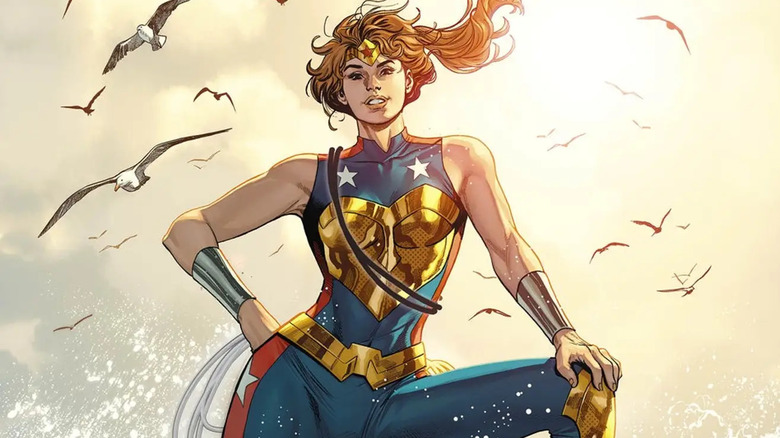 DC Comics
IGN revealed the new hero, Trinity, and spoke with writer Tom King and artist Daniel Sampere about introducing the character in the upcoming "Wonder Woman" #800. King shared that the idea formed after speaking with his frequent collaborator Mitch Gerads ("Strange Adventures"), whose suggestion about doing an all-ages series featuring Damian Wayne and Jon Kent babysitting Mister Miracle's son Jack got him thinking about Wonder Woman's future child. From there, King and Sampere made the idea a reality, with the writer admitting he was excited to add a new dimension to the future DC Universe alongside Damian Wayne's Batman and Jon Kent's Superman. King was asked about the timeline and dropped more details about Lizzie's age in comparison to her two fellow future heroes.
Excellent question. It's confusing because I'm showing you pictures from a future story. In Wonder Woman 800, Lizzie is 19 in a story that takes place 20 years from now. So she's significantly younger than Damian and Jon. https://t.co/Jg5NU1xSG1 pic.twitter.com/lMiSTKfClJ

— Tom King (@TomKingTK) May 12, 2023
IGN also shared an image of Lizzie, which will both appear in the issue and be available as a variant cover. In the art from Sampere, Lizzie's armor is spotlighted, with gold features throughout. Trinity's costume is a tad more colorful than her mother's, as it has blue, red, and white details. Lizzie appears to be wielding multiple Lassos while standing on some rocks with waves crashing behind her.
It's likely Trinity inherited the Lasso of Truth from her mother, but where her other one came from remains a mystery. The look feels very much like Wonder Woman but is unique enough to be identifiable as someone else.
Trinity bonus track

Come meet her in Wonder Woman #800 coming out in June!

Colors @tomeu_morey pic.twitter.com/Ojfv4JG2A2

— Daniel Sampere (@Sampere_art) May 12, 2023
Wonder Woman's new era begins soon for DC Comics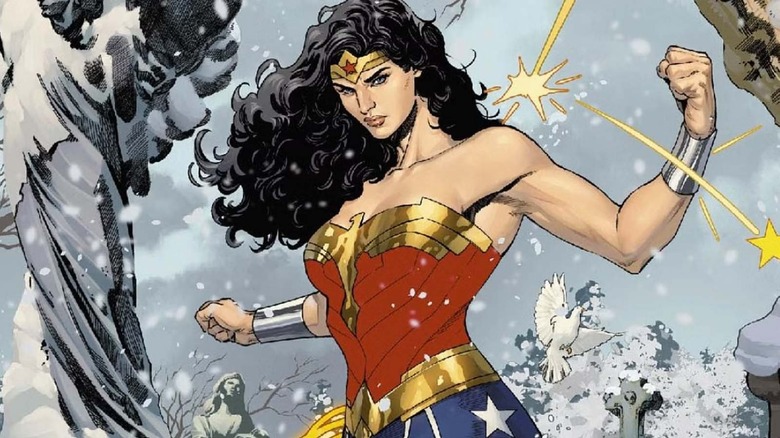 DC Comics
Wonder Woman's next chapter begins in "Wonder Woman" #800 from DC Comics. The issue is the grand finale of Becky Cloonan and Michael W. Conrad's run on Wonder Woman. Cloonan and Conrad initially took over the "Wonder Woman" ongoing series starting with issue #770 alongside Travis G. Moore and a series of artists. In their 30-issue run, they have taken Wonder Woman on a journey through Valhalla, brought her back to the living world from the dead, and seen her take on significant threats to her existence and the world while teaming up with Steve Trevor, Etta Candy, and Cheetah. Tom King and Daniel Sampere's story in the book will be the introduction to the new creative team on "Wonder Woman." The accompanying text solicitation for the giant-sized comic teases the trouble Diana finds herself in while trying to escape a dream world.
Diana's visions become more vivid as she finds herself trapped in the dreams of those around her. As she struggles to escape, her life as Wonder Woman hangs in the balance. When the dust settles, will she still be the Amazons' greatest champion? Find out in this extra-special celebration!
While readers are set to meet Trinity in "Wonder Woman" #800, Wonder Woman #801 (also renumbered "Wonder Woman" #1) will focus on the adventures of her mother in the present day. The first arc features Wonder Woman and all Amazonians being banned from the United States after one of their own is accused of a deadly incident. Wonder Woman will try to adjust to her new normal while dealing with the challenges of being barred from the country she's made her second home.
What does this mean for the extended Wonder Woman family?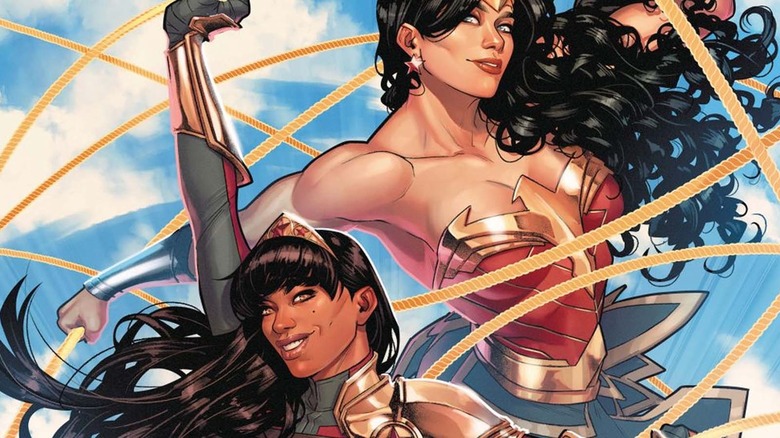 DC Comics
While there's plenty of excitement around Trinity being introduced in the pages of "Wonder Woman," Tom King assured readers on Twitter that other members of Diana's family won't be pushed to the side. When directly asked about the fate of Yara Flor, Cassie Sandmark, and Donna Troy, King revealed they are part of his "Wonder Woman" run, calling them essential to the future of the DC Comics Universe and beyond. Considering the trio of heroes are fan-favorites from readers, it would be bizarre not to feature them in the upcoming "Wonder Woman" ongoing series, especially Flor, who is the Wonder Woman of the Future State timeline, while also being heavily marketed as one of the prominent faces of the Dawn of DC Initiative.
Trinity doesn't appear to be replacing any Wonder Woman-adjacent characters. Instead, the hero will be featured in a future timeline with Damian Wayne's Batman and Jon Kent's Superman. Whether she eventually makes her way into the present day remains to be seen, but the daughter of Wonder Woman will create a new Trinity in DC's future. The big question remains: Who is her father? Is Trinity the daughter of Wonder Woman and Steve Trevor? Or is her parentage connected to another major DC hero Diana has romanced before, such as Batman? Or like her mother, was she sculpted from clay? King told IGN that part of Trinity's quest of self-discovery will be learning what it means to be Wonder Woman's daughter while trying to find her place in the world.
Readers will learn more about Trinity when "Wonder Woman" #800 from DC Comics arrives in comic book stores and online retailers on June 20. Wonder Woman's new series from Tom King and Daniel Sampere begins in September.