Inside Prince's Disastrous Run As A Filmmaker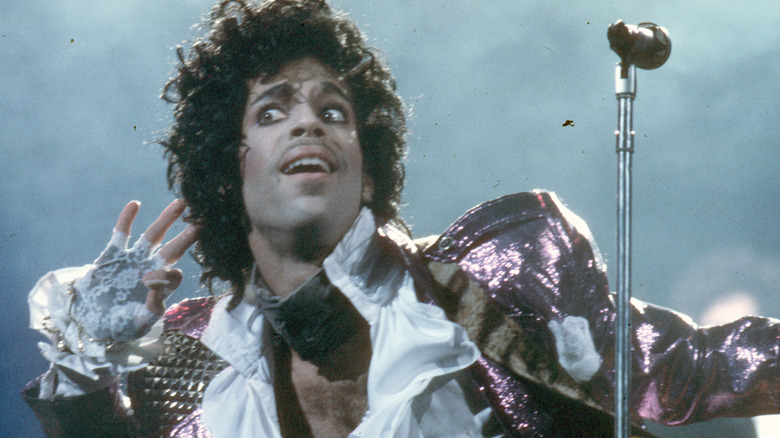 Michael Ochs Archives/Getty Images
Prince was a rock legend, a pop star, and an undeniable creative genius — but his movie track record is a different story. Prince enjoyed wild success with his semi-autobiographical starring role in "Purple Rain," a movie that is part timeless classic, part '80s time capsule, and part pure movie musical that is always ready to rock the eyeliner off your face or the back right off your chaps. But what happened when the sun came out to dry up all that "Purple Rain?"
The rest of Prince's movie career bombed with audiences and critics, at least upon their initial release. Prince might have been labeled box office poison if he were just an actor and not one of the most powerful musical artists of all time. Could it be that the man, the myth, the legend responsible for inspiring "Game, Blouses" was actually just rotten behind the camera? Or was Prince Rogers Nelson truly a misunderstood maestro of stage and screen?
Play a killer lick on the nearest electric guitar, scream-sing his name into the sky on your next motorcycle ride, and read on as we dive into Prince's acting, directing, and screenwriting work to see how he stayed committed to his funky film vision. Dig if you will, the picture: inside Prince's disastrous run as a filmmaker.
Purple Rain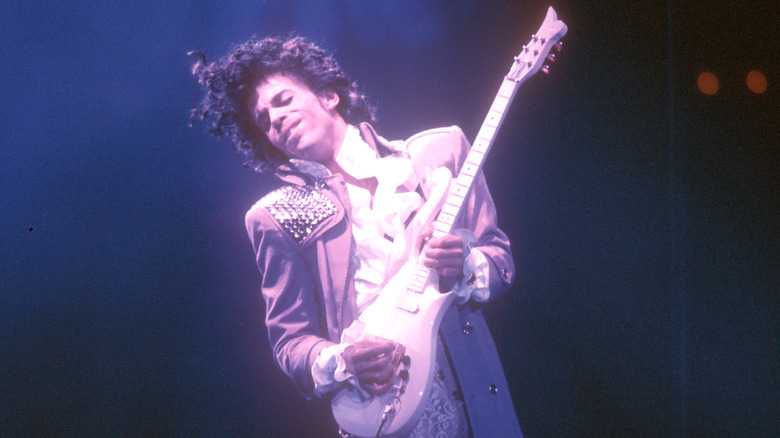 Michael Ochs Archives/Getty Images
To understand just how wild (and wack) Prince's filmmaking could be, one must first understand "Purple Rain." Before Prince made the rock movie to flounce all rock movies in 1984, he was best known for the multi-platinum album "1999" and a handful of music videos on MTV. Prince's androgynous good looks and sensual performing style made him as watchable on screen as he was on stage. Prince's vision for himself didn't end at legendary rock star — he wanted to be a movie star as well. Legend has it Prince pressured his managers into getting him a film to star in, or getting gone. They got him "Purple Rain."
In it, Prince stars as "The Kid," a performer trying to survive the mean, musical streets of Minneapolis best he can. The Kid is one of the all-time greats, and he knows it — which causes a bit of friction between him, his band, and his abusive father. Screenwriter William Blinn fashioned the story from some semi-autobiographical musings from Prince and the film's director, Albert Magnoli. Not exactly a biopic and not entirely not one, "Purple Rain" is a riot of color, music, motorcycle rides, and making out —- plus music scenes that are some of the best ever committed to film. Also, there's a scene where Prince talks to a puppet.
Audiences loved the film — puppets, problematic attitudes toward women, and all — as well as the Grammy and Academy Award-winning soundtrack Prince made for it. The film pulled in a domestic gross of around $70 million against a $7 million budget, and provided Prince with a cinematic blank check for whatever came next.
A bit about The Purple One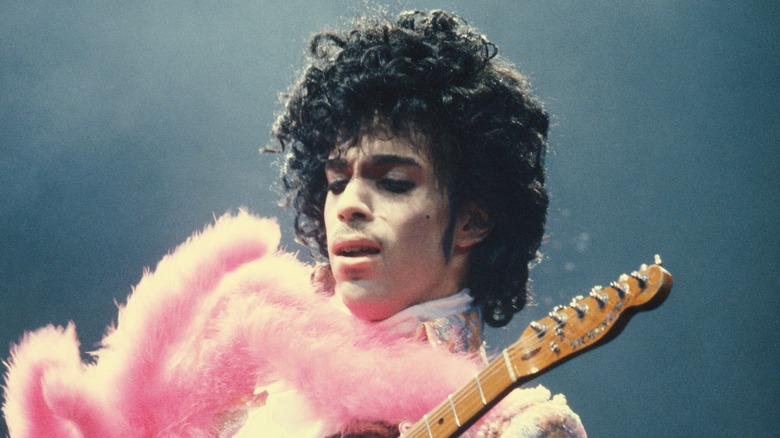 Michael Ochs Archives/Getty Images
Even though the plot of "Purple Rain" sees The Kid learn to collaborate instead of being a control freak, the same is not often said about Prince in real life. A virtuosic performer of seemingly limitless energy, Prince has long had a rep for holding high standards for his bandmates. 
For some collaborators, Prince's meticulous methods and need for final creative say proved oppressive. More than one band member has been known to sever ties with the Purple One. Some, like Morris Day, broke away only to eventually reunite with Prince years later. Wendy Melvoin and Lisa Coleman, members of The Revolution and longtime Prince collaborators, were surprised when Prince broke up the band in 1986. "Being in a band with Prince was like holding onto the tail of a comet. It was great until it flamed out," Coleman told the Los Angeles Times back in 1987.
Prince didn't break up his bands to break hearts — but to make art. "A real musician is always in creative mode," Prince told Essence in a rare interview. Prince was interested in what was new and next, not in repeating himself. And if there's anything movie producers love more than their star calling the shots, it's unpredictability.
Under the Cherry Moon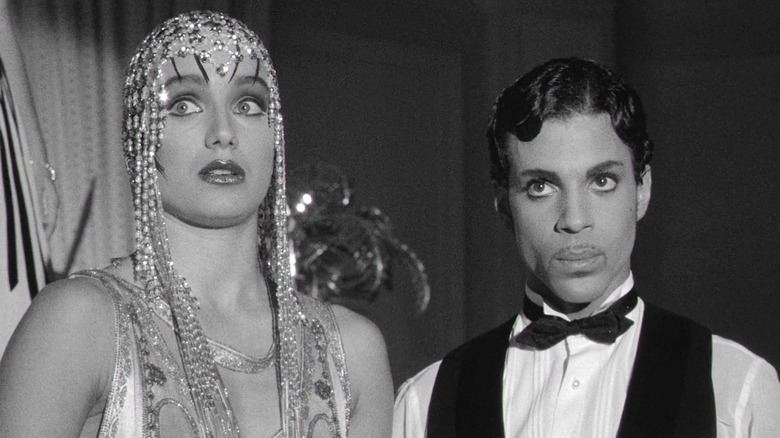 Warner Bros/Amazon Prime
After "Purple Rain," Prince seemed as bankable at the box office as he was on the boombox. Warner Brothers were quick to greenlight Prince's next movie. Audiences hoped for a sequel to "Purple Rain," and studios hoped for another musical smash hit that would sell movie tickets and records. What they got was "Under the Cherry Moon."
This black-and-white love letter to screwball comedies and lamé ensembles stars Prince and Jerome Benton as Christopher Tracy and Tricky, two gigolos prowling Paris for their next mark: a stinking rich English heiress named Mary Sharon. Of course, Prince ends up falling in love with the heiress — and expresses that love by pouting in the backseat of a convertible while wearing sunglasses at night. Not long after, he's shot dead by an evil henchman working for Mary's disapproving dad. Love hurts. "Under the Cherry Moon" was written by first-time screenwriter Becky Johnston (who would later write "House of Gucci"), with plenty of contributions from Prince — including the famous "wrecka stow" scene. Jerome Benton tells Grown Folks Music that Prince wrote the scene from a real-life experience during their travels.
The movie has as many tonal shifts as it does beauty shots of Prince, but only one song from its killer soundtrack is performed within the action of the film. Prince directed the movie himself after original director Mary Lambert left due to creative conflicts. Prince won five Golden Raspberry awards for his efforts. "Under the Cherry Moon" had a budget of 9 million, and grossed just over 10 million. While the film launched actress Kristin Scott Thomas's screen career, it seemed to tank Prince's.
Prince in Wyoming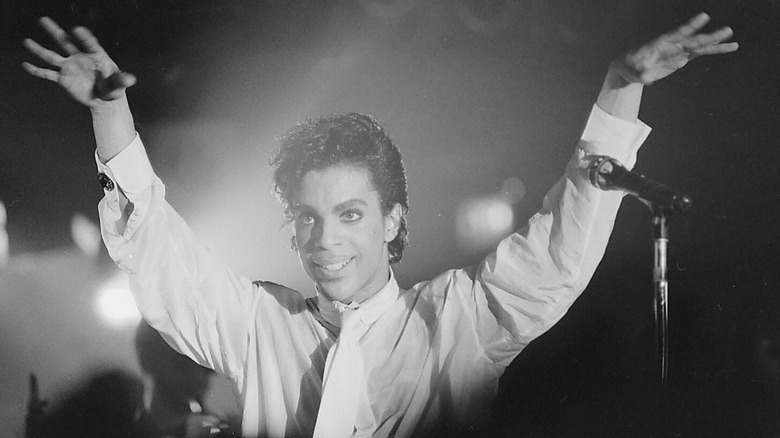 Larry Mayer, Billings Gazette
Even if "Under the Cherry Moon" was destined for lackluster reviews, its premiere was movie-worthy unto itself. Warner Brothers partnered with MTV to drum up serious publicity for the film with a call-in contest. A whole Hollywood premiere would come to one lucky winner. That's how Prince, the Revolution, and a constellation of music stars wound up in Sheridan, Wyoming for one wild night in 1986.
Lisa Barber was the chosen one. The 20-year-old hotel maid became Prince's belle of the ball, and his date to the movie premiere. "I was so nervous, but he told jokes in the car while he drove us to the movie theater, and I could tell he was doing his best to help me relax," Barber told People in a 2016 Prince remembrance. "He helped me to open up a little and feel more at ease about myself. He was kind to me and so natural and down-to-earth."
While the movie premiere reportedly played to slightly puzzled crowds, the post-premiere concert at the town's Holiday Inn was a clear-cut success — for the audience. "I was up on a riser but the ceiling was so low... The keys on the synth curved from the heat. It was so hot on that stage it fried your head," bandmate Lisa Coleman tells Matt Thorne in his book, "Prince: The Man and His Music." Still, Prince told Coleman to soldier on, and that "We're gonna rock Sheridan." Prince rocked Sheridan so hard that Deadline once reported the story was in talks to be made into a movie starring Elizabeth Banks.
Sign o' the Times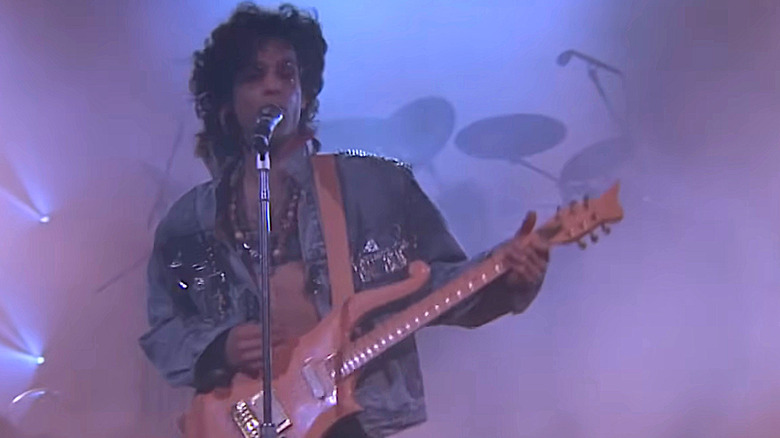 Warner Bros/YouTube
Prince was just 28 when he released "Sign o' the Times" in 1987. The double album began life as a triple album, but Warner Brothers refused to release it as such, kicking off the legendary battle between Prince and his label. The film was meant to serve as a replacement for an American tour for the album, a sonic exploration of survival in Reagan's America.
Concert footage was shot in the final days of Prince's European tour. However, technical issues during the European shoot made the footage unusable, so Prince re-shot concert footage back home in Minneapolis at his own Paisley Park Studios. A mid-June AP report (via The Current) stated, "Prince began working on the film Sunday ... He hopes to complete work on the movie by Friday and have it ready for national distribution by the first week of September." Even though Prince recorded powerful performance footage of him and his band lip-synching to the European tour tracks in one week (!) and turned around some narrative music video connective tissue to boot, the film seemed doomed to obscurity.
The album had been released prior to the film, and its popularity had waned enough that Warner Brothers debuted "Sign o' the Times" in 250 theaters, down from "Purple Rain's" 900 (also via The Current.) The film disappeared from theaters within a matter of weeks and spent the next 30-odd years available only as a rare VHS or bootleg recording. Just as the album has gained appreciation for its epic scope and electrifying performances over the years, so has the film — which received a physical media re-issue in 2019 and became streamable on The Criterion Channel.
Back to life with Batman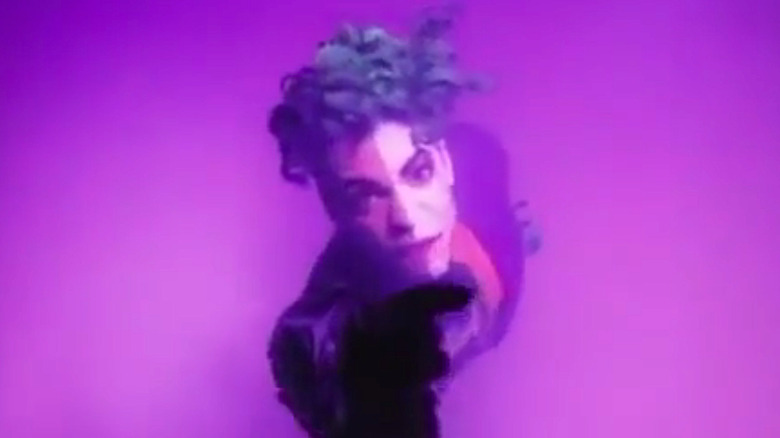 Warner Bros/Vimeo
After the box office disappointments and nonstarters since "Purple Rain," tensions continued to rise between Prince and his label. Prince wanted creative freedom, and his label wanted smash hits — but no efforts would recapture the surprise cross-market success of "Purple Rain" again. Still, one surprising source of inspiration and creative freedom came to Prince during this oppressive time on the wings of a very big, very goth bat.
Tim Burton asked Prince for two new songs to replace some Prince-penned temp music he'd been using to set the tone for his new 1989 film, "Batman." Inspired by a set visit (and the 1960s Batman TV series), Prince got to work — but rather than deliver two neat and tidy soundtrack songs, Prince delivered an entire album instead. Clocking in at 9 songs and around 45 minutes, the "Batman" album pulled together reworked Prince compositions and all-new material. According to a 1990 Rolling Stone interview (via A Pop Life), Prince was so inspired by Jack Nicholson's "Morris Day" energy as The Joker that he wrote "Partyman" about him. The song is used in an extensive museum hijinks sequence in the film.
Prince's passion and productivity made the "Batman" album go double-platinum, but it overwhelmed Burton. A fan of Prince, even Burton's patience was tested when the label pushed for maximum Prince inclusion in the film. "It got to a point where there was no turning back," Burton told Rolling Stone in 1992 (via Dave Breskin), "And I don't want to get into that situation again."
Batdancing the night away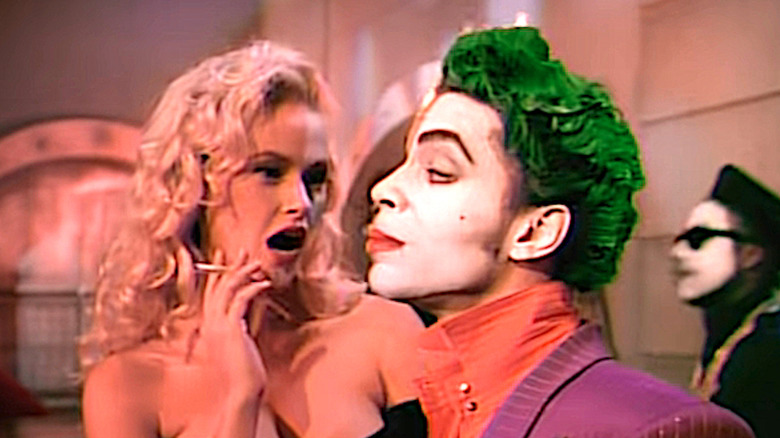 Warner Bros/Youtube
While Prince's "Batman" soundtrack might have given Tim Burton nightmares, it gave the Artist's commercial career a much-needed fuel injection. Prince's return to anything like box-office success boded well for his ability to get financing for film projects. Plus, the soundtrack gave Prince his first hit single since "Kiss" — and a music video for the ages — in "Batdance."
The nearly seven-minute-long video is directed by Albert Magnoli of "Purple Rain" fame. The clip is perhaps even more purple than "Purple Rain," and features Prince as his "Gemini" persona — a literal split between Batman and The Joker. Part performance video and part German Expressionist dance party, Prince is either shredding guitar or dancing around with a dance team of Batmans, Jokers, or Vicki Vales — all styled to look like the film's Vicki Vale, played by Prince's rumored then-girlfriend, Kim Basinger.
In addition to the song being a hit, the video did well on its own merits, and was even up for "best video" awards in 1989, from Soul Train and MTV. Though the song is strange and the video, we repeat, almost seven minutes long, "Batdance" put Prince back on the filmmaking map, and helped him tell possible financiers to "get the funk up!"
The sort-of sequel to Purple Rain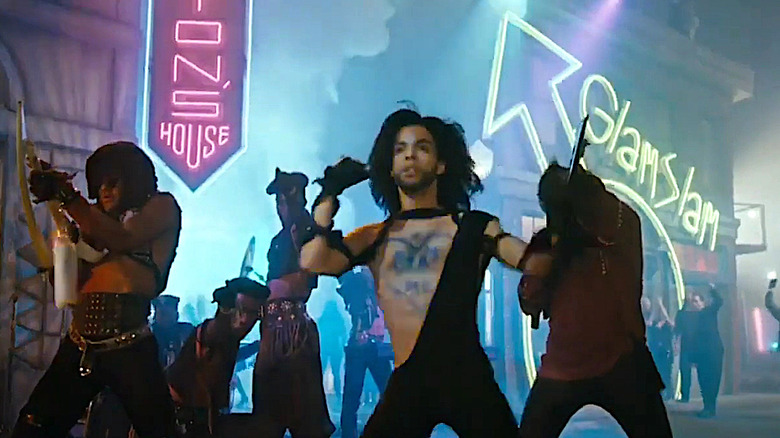 Warner Bros/YouTube
In 1990, Prince was hot enough from "Batman" for movie producers to take a gamble on him again — especially when he promised them their long-awaited sequel to "Purple Rain." The theatrical trailer promises a fun rock-and-roll movie showdown between Prince's The Kid and Morris Day's sly, snarky alter ego from the first film. While such a showdown does occur, just as much screentime is given to poetry, an almost incomprehensible angel played by Ingrid Chavez, and her feather of great significance.
"Graffiti Bridge" was written and directed by Prince and shot in Paisley Park. The story follows The Kid trying to save his nightclub from the overreaching hand of Morris Day's nightclub mob. It looks and feels like a cross between "Blade Runner" and "West Side Story," but makes about as much sense as Ed Wood's "Plan 9 From Outer Space" — the film it is most frequently compared to.
Though the movie can be beautiful at times, the only scenes that operate on any sort of clear logic are the comic sequences with mobster-esque Morris Day and his goons. Critics skewered the film, which grossed $4.5 million against a $7.5 million budget, but the soundtrack went gold. Prince was also unbothered by the film's "failure," telling USA Today, "(It was) one of the purest, most spiritual, uplifting things I've ever done. It was non-violent, positive and had no blatant sex scenes. Maybe it will take people 30 years to get it. They trashed 'The Wizard of Oz' at first, too."
3 Chains o' Gold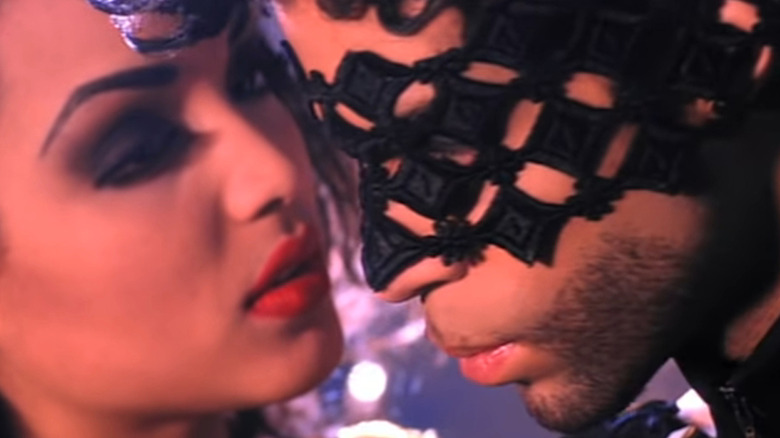 Paisley Park/YouTube
By 1994, producers and financiers couldn't be asked to give Prince another swing at a studio movie, so Prince just made his own. A direct-to-video movie in music videos, "3 Chains o' Gold" tells the story of Prince falling in reluctant love with a dancing princess whose father was assassinated, leaving her with three chains (o' gold) and a desire for Prince's help — and heart.
Featuring songs from Prince's "Love Symbol Album," the film stars Prince and Mayte Garcia, then his future girlfriend (and later ex-wife.) Prince presages the success of both "John Wick" and "Scott Pilgrim vs. the World" by battling seven versions of his assassin self (and dating someone much younger than him) in the film's sequence for "7."
"3 Chains o' Gold" had better initial luck than its predecessor in the "o'"-lympics, "Sign o' the Times," by achieving an actual physical media release and hitting number 69 (nice) on the Billboard home video sales charts. The movie hasn't received any major reissues since. Fans can still find clips online — even some starring Kirstie Alley, who cameos in the film as a journalist covering the story of Prince and the battle for his timeless, royal love.
The most super Super Bowl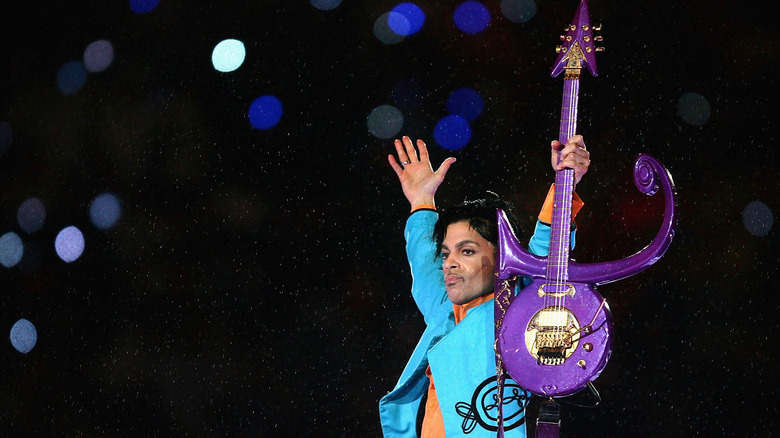 Jonathan Daniel/Getty Images
Even if Prince's directorial career technically ended with "3 Chains o' Gold," it never ended in his own mind — and why should it have? His singular, shifting style might have missed audiences at first, but the work Prince made served his own vision. Even when the rest of the world might have wiped his film legacy away like tears in purple rain, Prince insisted more was just around the corner. "Man, what I'd do with a $25 million budget," he told Rolling Stone in 1990. "I'll need a big success to get that, but I'll get it, I will get it."
Prince did get a nice budget for the 2007 Super Bowl Halftime Show, and used it to create a truly impressive spectacle played in the pouring rain. The Miami deluge made the performance extra electrifying — yet amazingly, not electrocuted. Even before the relentless downpour, the night was one for the books — Prince created a set list featuring hits of his own, as well as a medley of surprising cover songs. Jon Pareles, music critic for the New York Times, encapsulated the world's amazement with Prince's performance in a video for the NFL, stating, "He's not promoting himself. He's just making music ... And it's just one performer, shaking the entire world."
"Prince was like, 'Don't change nothing,'" vocalist Shelby J. recalled to The Ringer. Prince's personal assistant, Ruth Arzate, added that when executives suggested Prince play a previously recorded track instead, Prince refused, saying, "I'm Prince, I'm gonna play live." The show is a 12-minute movie of its own. Just like Prince, it's small but mighty.
Prince on New Girl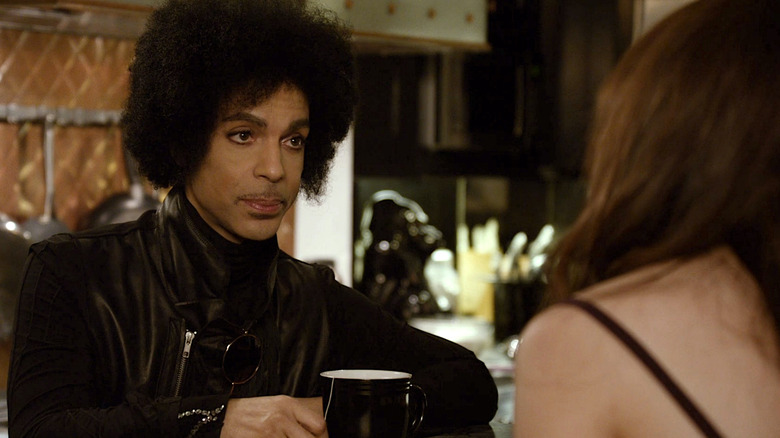 20th Century Fox/Peacock
Seven years after his Halftime Show, Prince created one more Super Bowl slice of cinematic greatness by doing a guest appearance on the 2014 Super Bowl lead-in episode of "New Girl." A fan of the sitcom, Prince reached out to stars Zooey Deschanel and Hannah Simone to request a role. Of course, he had a specific vision, wanting to play someone who helps Nick and Jess get and stay together.
Prince's excellent comedic abilities are used to great effect in the episode, but Prince was far more involved than simply being funny onscreen. Show creator and writer Liz Meriwether told NME, "He wanted to choose the name of the non-speaking chef character, the chef's wardrobe, the paintings on the walls... His vision of the episode was all-encompassing, but I never felt overpowered." She told Vulture, "He was an artist down to the bone... Obviously he could see things and hear things that no one else could, but what amazed me was his ability to defend and cultivate that vision until it became real in everyone else's heads, until we could all see it too."
Prince's vision had lasting effects beyond his guest episode. Jake Johnston, who plays Nick on the show, told Kelly Clarkson (via Billboard) that Prince is the reason Nick and Jess are together. "He wanted them together and we wanted Prince! Prince is the best." The Prince episode is the most-watched episode of "New Girl" — and whether you are a fan of the show or have never seen it, the scene where Nick and Jess meet Prince and freak out is sure to stand the test of time.
Why you wanna treat me so bad?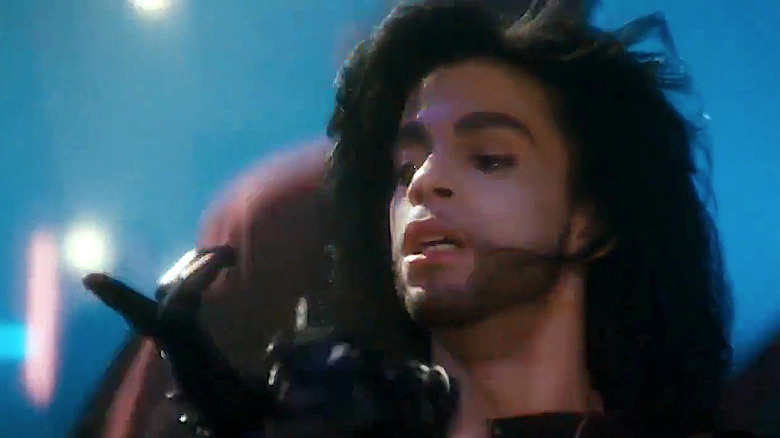 Warner Bros/YouTube
So, looking back, are Prince's cinematic duds really so deadly? Sure, at the time of release, critics and audiences were harsh. Naysayers might have been right on the money with their critiques — but even with a quick come-hither second look, it's clear that plenty of Prince films contain positive elements that don't deserve their Razzies. Plus, "Under the Cherry Moon" inspired a great "How Did This Get Made" episode.
"Under the Cherry Moon" truly turned the critical tide against Prince, and likely set the rest of his film career up for less-than-success. The late '80s and early '90s were absolutely toxic when it came to portrayals of masculinity, let alone anything approaching gender fluidity. Part of the backlash to the film may have been inspired by this, and how much pleasure Prince takes in himself onscreen. The film is a bit of a vanity project from the first frame, which includes a slow camera pan up Prince's skin-tight leggings and the first close-up of one of several women to give Prince bedroom eyes.
Though Prince is not without sin, is reveling in ego really one of them? It's curious to wonder if, much like Keanu Reeves, Prince's early critics hated his beauty first — and his eclectic interpretation of film narratives second. "Good" or "bad," one thing is true about Prince's film career: like his music, it's legendary.