Bill & Ted 3 Might Not Actually Happen, Says Keanu Reeves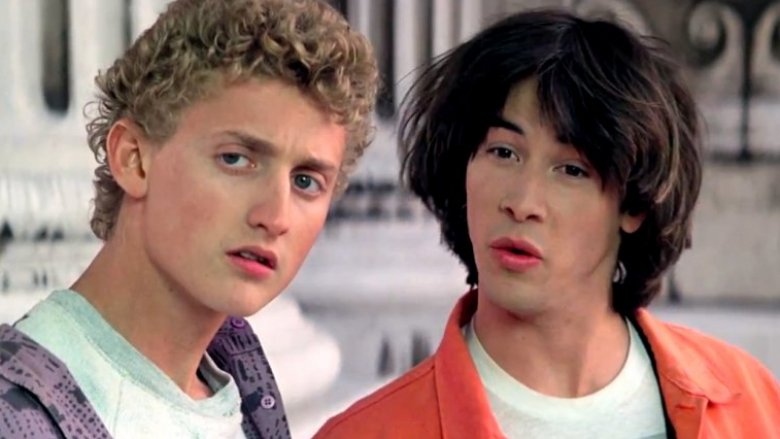 This is decidedly un-excellent. 
Two months after it was announced that a third Bill & Ted movie, titled Bill & Ted Face the Music, was officially in the works under director Dean Parisot, star Keanu Reeves has cast doubt on the whole operation. 
The actor, who played Ted "Theodore" Logan in 1989's Bill & Ted's Excellent Adventure and its 1991 Satan-slaying sequel Bill & Ted's Bogus Journey, told Yahoo! Entertainment that he isn't sure a third time-traveling, music-filled trip with the titular duo will actually happen.
"I don't know if it's a reality," Reeves said. "We've been trying for a long time to get that film made, and it still has its challenges."
The good news out of this sour statement is that none of the hurdles are creative clashes — so don't go thinking that screenwriters Chris Matheson and Ed Solomon butted heads behind the scenes, that Reeves' partner in crime Alex Winter (the man behind Bill S. Preston, Esquire) dropped out, or anything horrible like that. In reality, the third Bill & Ted film isn't just facing the music — it's also facing the same troubles it has for quite some time. As Reeves put it, it's down to "financing, rights, [and] deals." 
"I really love the characters, and I think we have a good story to tell. Part of it is show business stuff," the actor explained, adding that he's still excited to play an older (but maybe not wiser) Ted in Bill & Ted Face the Music. "It'll be interesting to see what that's like. There'd be a lot about him that would be the same, I'm sure; his kind of optimistic naïveté in the face of the darkness will still be there. He has a child now, so I'm sure he's matured."
Before Bill & Ted Face the Music, which is intended to follow the now middle-aged pair as they venture to write a song that will secure the fate of the universe, was confirmed in May of this year, Reeves kept a level head about the possibility of the film escaping development hell. "In show business, there's show and then there's business," he said, which sounds eerily similar to his remarks here. 
Securing adequate finances, wading through the wordy sea of legal agreements, and working out rights issues to get a film made isn't easy, and though it's a bonafide bummer to hear that Bill & Ted Face the Music is once again on a rough road in its development, the small silver lining is that this all seems like pretty standard Hollywood stuff. Hopefully studio Orion Pictures can smooth over the bumps and get our favorite slacker buddies up on the big screen soon.