Bill & Ted 3: Keanu Reeves And Alex Winter Open Up About Possible Sequel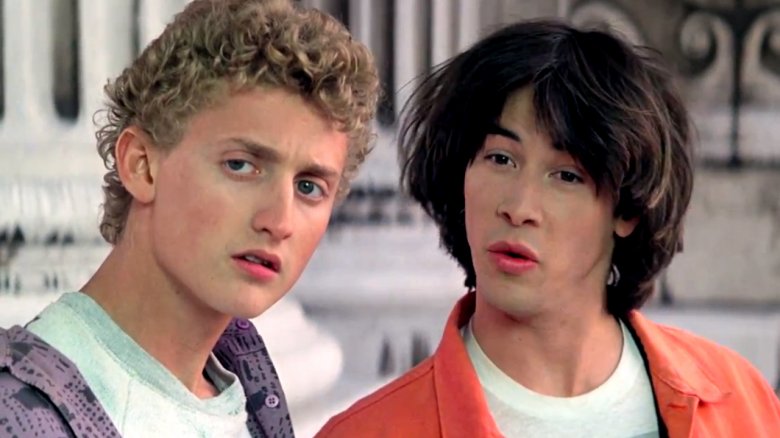 If you've been holding out hope for the long-awaited third installment of the Bill & Ted franchise, this should be most excellent news.
After a decade of development, it sounds like there's been actual progress on Bill & Ted Face the Music — the proposed follow-up to 1989's Bill & Ted's Excellent Adventure and 1991's Bill & Ted's Bogus Journey. 
Keanu Reeves and Alex Winter, who played the time-traveling slackers in the first two movies, and series writers Chris Matheson and Ed Solomon recently told Entertainment Weekly where things are with the third flick, and they're all pretty optimistic that the project will make it out of development hell. 
"Chris and Ed came to us in 2007 with the idea of doing it," Reeves said. "They pitched us an idea. It sounded great ... [but] in show business, there's show and then there's business."
However, they finally have a script they believe is strong, and they're all on board with it. "We wanted to get it right," Solomon said. "We wanted to have it be something that we — all four of us, Chris and I, Alex and Keanu — could stand behind, and know we're doing this for the right reasons."
Reeves previously said the movie will catch up with Bill S. Preston (Winter) and Ted "Theodore" Logan (Reeves) as middle-aged family men who have moved past their travels through time, space and the afterlife. They were told they would one day write music that would unite the world and teach all of humanity to be excellent to each other, but they just kept putting it off. 
"You're told you're gonna save the world," Matheson said. "And now you're 50 and you haven't done it. Now they're married, and it affects their marriages, and it affects their relationships with their kids, and it affects their everything."
Winter said the plot has parallels to themes we can all recognize. "There's certain comparisons," he said. "A rock band that never goes to the place it thought it was going to get to. Having that moment in their life of going: 'Do we try to get there, or give up the dream?'"
Bill and Ted would then be visited by someone from the future who gives them a nudge. "I think it's kind of like A Christmas Carol with Bill and Ted," Solomon said. "Looking at their lives, and really kind of rediscovering what they're about."
But this isn't just talk anymore. "We went out and found a director," Winter said. "Dean Parisot, who we love, did Galaxy Quest, which is a masterpiece."
There's also a high-profile name attached to produce, and a fan-favorite character set to return. "Steven Soderbergh is one of the producers on it," Solomon said. "Along with Scott Kroopf, the original producer [of Excellent Adventure and Bogus Journey]. Bill Sadler is back, returning as Death, and a few delicious cameos by people to be named another time."
We might actually hear something definitive about it very soon. "We are hoping to close a deal with some financiers," Solomon said. "Hopefully within the next month or so, we'll have news that will stick."
But it's good to hear that Reeves is definitely into another trip with Bill and Ted. "I love the characters so much — who they are, the spirit of their voice that Chris and Ed have given [them]," he said. "You can't go wrong with: 'Be excellent to each other.' And: 'Party on!' I mean, it might actually be the beginning, one of the first examples of contemporary modern apocalyptic art."