Ted Lasso Season 3's Hate Is Disproportionate To Its Quality (And Its Genre Could Be To Blame)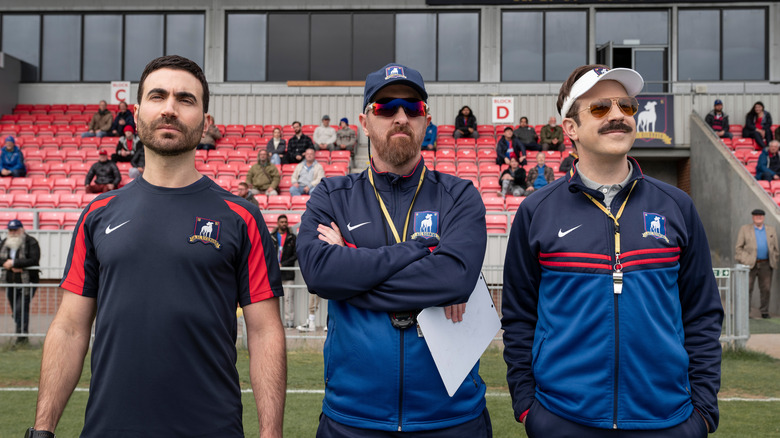 Apple TV+
Let's not beat around the bush; "Ted Lasso" Season 3 has been getting a lot of hate. The episodes are longer. The cast is bigger. And somewhere along the way, the Apple TV+ dramedy has lost some of the focus that made it an early pandemic-era hit. There's no denying that Season 3 is denser than ever, a little bloated, and rough around the edges. But the level of vitriol that's been directed its way is pretty egregious given the show's actual quality.
To be fair, expectations rise when you earn 40 Emmy nominations and 11 wins in just two years on the air. That run has included back-to-back victories for outstanding comedy series — a prize the show likely won't be receiving this year. But even so, is the bar so high that a dip from universal acclaim means the show is terrible? Surely not. Unless you ask Reddit, or Twitter, or any corner of the internet where TV hot takes fester and grow. Some have called Season 3 some of the worst television they've ever seen, which ... how much television do you watch, exactly?
Here's a pretty lukewarm take: "Ted Lasso" Season 3 is lackluster, but it's still entertaining for what it's trying to be. It falls short of the standard set by its preceding two seasons, but if you liked what it provided before, you'll probably still like it now. Fans are allowed to be critical and disappointed, but the level of hate has gotten out of control. Maybe that's just what happens in a culture where the zeitgeist of dunking on things is way catchier than discussing what we like.
Even with its flaws, Ted Lasso is still better than most shows on television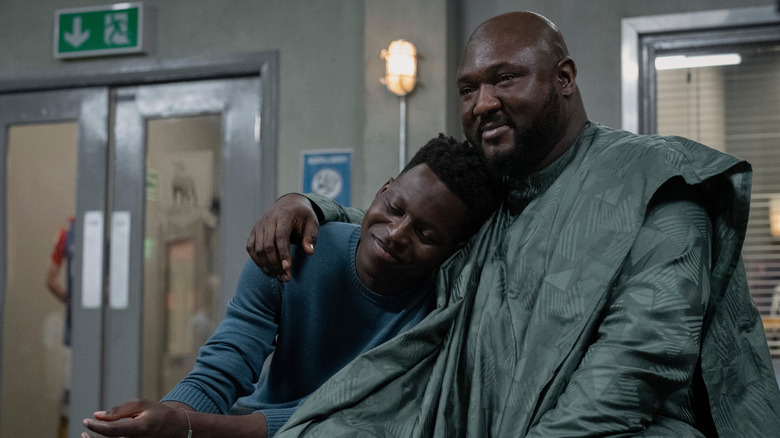 Apple TV+
If you've watched all of "Ted Lasso" up to this point and still believe Season 3 to be some of the worst TV you've ever seen, it might mean you need a wider sample size. Netflix, Hulu, Prime Video, Apple TV+, and every other platform drop hot garbage on the regular. Did you see half the "Star Wars" shows on Disney+ recently, or the Marvel shows, or Jon Bernthal's inexplicable "American Gigolo" reboot? Did you see that "Witcher" spin-off? Did you see "The Witcher," for that matter? How about "The Morning Show," "Emily in Paris," most things on The CW, or whatever Ryan Murphy's been trying to do at Netflix?
We are surrounded by bad TV. In the streaming era, we're practically drowning in it. And plenty of people like a lot of these shows. Guess what: That's okay. It's okay to like what you like, just like it's okay to be critical. But critical doesn't mean hyperbolic. So no, "Ted Lasso" is not the worst show on television. It isn't even close.
Yes, there are flaws. The episode lengths have gotten downright bloated, and "Ted Lasso" Season 3 has a major side character problem. New players like Jade (Edyta Budnik) and Jack (Jodi Balfour) get a fraction of the development that the established characters have, which is particularly disappointing in a show that's generally written women well. And yes, the writing can get pretty preachy overall. But none of that explains the almost militaristic hate that the series has received lately.
The Ted Lasso hate isn't new, and it's never been fully justified
Apple TV+
If you know anything about "Ted Lasso," you'll know that the hate didn't start in Season 3. It can be traced back to Season 2, when plenty of viewers complained that the "lack of conflict" was ruining the show, or even back to Season 1, when folks found the overall cheery demeanor too corny. That's not to say that all of these critiques are the same (they're not). But it is interesting to note that for the entirety of its run, there have been vocal opponents to "Ted Lasso," many of whom have targeted the series' upbeat sensibilities.
That's what the show is, though. It's going to spit platitudes. It's going to deliver some corny monologues. It's going to try to make you feel good. "Ted Lasso" has never hidden its rom-com inspirations, so why are they taken to task as if they were cardinal sins? Maybe it's because the show does all that and still wins Emmys. Maybe it's because once a show hits a certain level of popularity, everyone decides they have to have a strong opinion about it, even if it's just not their thing.
If you don't like locker room speeches and "Believe" signs, that's fine. You don't have to watch "Ted Lasso." You also don't have to act like it's somehow ruining pop culture by offering an alternative for folks who just want to laugh at some corny jokes and feel okay.
It's not a perfect show, but it offers something unique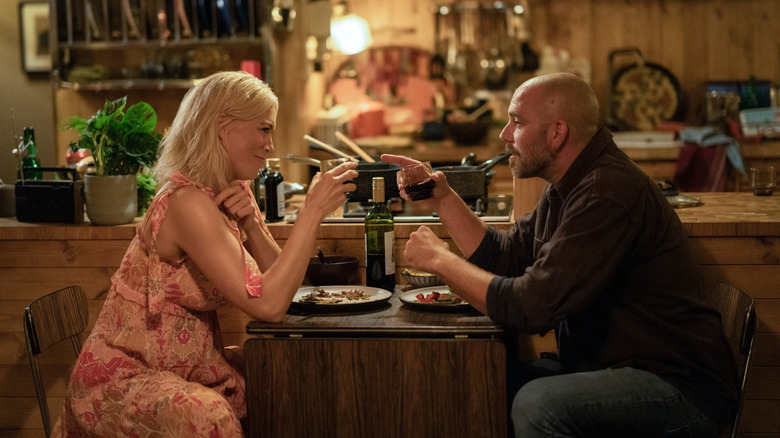 Apple TV+
"Ted Lasso" Season 3 has problems, but they're specific, not foundational. There are issues with pacing, character development, and plotting. Some arcs feel a bit rushed, and others a little neglected. But the core of the show is the same as it always was, as is the cast. Hannah Waddingham, Brett Goldstein, Juno Temple, Phil Dunster, Toheeb Jimoh, and the rest of the ensemble are still great, even if their writing occasionally suffers. That's how most good shows that run for a few years go: They have ups, downs, and problems.
So what sets "Ted Lasso" apart? What makes the discourse around it so fully centered on how bad it is or isn't? Maybe its rom-com stylings make it come across as a show for normies, or boomers. Or maybe we've just gotten so used to depressing prestige TV that we don't notice the flaws as much. The same issues that plague "Ted Lasso" Season 3 have also afflicted "House of the Dragon," "The Umbrella Academy," "Mindhunter," "True Detective," and dozens of other shows at different points. But maybe the reason we let those flaws just be flaws, rather than the totality of a show's silhouette, is because TV has become so obsessed with trauma and cruel characters that we've mistaken those tropes for good writing.
Once again, this is far from a new argument, and it's frustrating to have to make the same case again and again just so the people who don't like watching gore and emotional torment in their free time can have a show.
Ted Lasso Season 3 was doomed to get hate from the start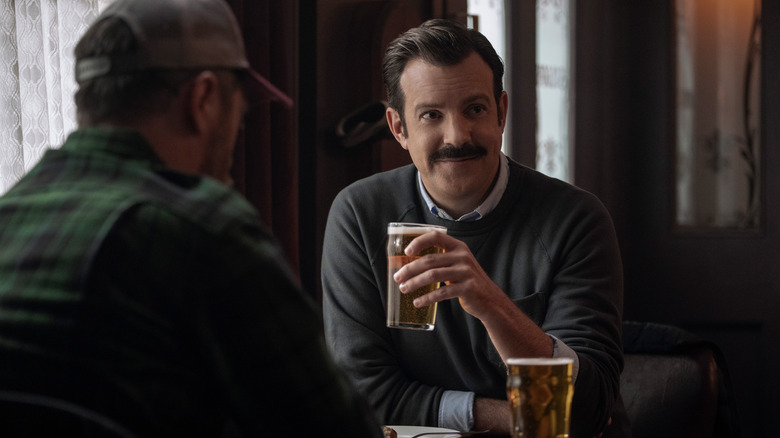 Apple TV+
When you catch lightning in a bottle like "Ted Lasso" Season 1 did, it's almost impossible to keep it there long-term. Shows that stick around for more than a couple of seasons will inevitably change because of shifts in the writers' room, rotating actors, the natural ending of original storylines, or all of the above. That doesn't excuse poor writing. It also doesn't justify tarring and feathering.
In reality, "Ted Lasso" Season 3 was probably doomed from the start. The show started out with a very clear journey in mind for its characters — one that likely didn't involve international acclaim and success. Its groundedness makes it difficult to constantly up the stakes, leading to some arcs simply being drawn out or new storylines getting tossed in to shake things up. Those decisions are the very ones that have led to so much of the recent criticism, but what if it had just done things the same? What if the core cast had stayed together at Richmond? There likely would have been other critiques about how repetitive the show had become.
Again, there's no excuse for poor writing. There are always better ways to tell a story. But when that story was already mostly told in two previous seasons, you're stuck trying to write a square peg into a round hole. "Ted Lasso" Season 3 can still redeem itself, but it may wrap up being just passably mid. And that's okay. We'll all survive to hyperbolically roast the next big show. Promise.