The Brooklyn Nine-Nine Star Who Appeared On Breaking Bad & Better Call Saul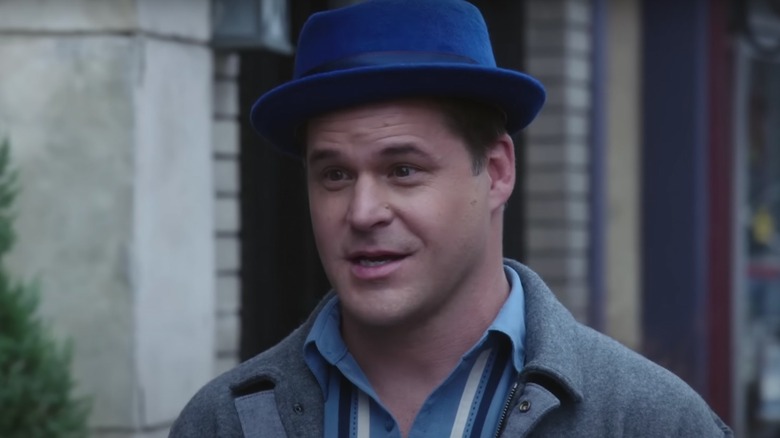 Fox/YouTube
"Breaking Bad" and "Better Call Saul" have boasted innumerable guest actors throughout their runs. Filled to the brim with strategically placed cameos and character actors, the two Vince Gilligan-led shows have succeeded in part due to their expansive and diverse cast. What fans of the two crime drama shows may not realize is that deeply embedded in the cast list, is a star from the hit sitcom "Brooklyn Nine-Nine."
Remember Lieutenant Teddy Ramos? Amy Santiago's (Melissa Fumero) ex-boyfriend? The two hit it off in the first season and became attached, only for their relationship to crumble in Season 2, sort of thanks to Jake Peralta (Andy Samberg). While Teddy primarily functioned as a foil to Jake's feelings for Amy in the first two seasons, the cop continued to show up sporadically throughout "Brooklyn Nine-Nine's" run, making him a fan-favorite character.
Teddy Ramos, who proposes to Amy as often as he sees her, is played by veteran actor Kyle Bornheimer. In addition to "Breaking Bad" and "Better Call Saul," audiences have also seen the actor in HBO's "Avenue 5." While speaking with TV Insider, Bornheimer opened up about how the "Brooklyn Nine-Nine" writers used Teddy as a vehicle for chaos. " What's been fun the last few times is now the writers are having a real fun time being surprising with how Teddy shows up," Bornheimer said. "... The writers always hit the right note with that, the perfect amount of time to spend with Teddy and on Teddy with that."
While Bornheimer's "Brooklyn Nine-Nine" character is a lovable dork, his "Breaking Bad" and "Better Call Saul" character Ken Wins is an entirely different beast who just can't stop getting bullied. 
Ken Wins just can't win
There's no one more annoying than braggadocious finance bros. Audiences will remember the "Brooklyn Nine-Nine" actor as Ken, or the annoying stockbroker who finds himself in the middle of Walt's (Bryan Cranston) crosshairs at the bank in Season 1 Episode 4 of "Breaking Bad." Kyle Bornheimer plays Ken Wins, a small role that ultimately dictates Walt's new life path. After seeing the stockbroker loudly have a conversation via Bluetooth at the bank, Walt stumbles upon him at the gas station. Annoyed and angered by his existence, Walt ends up blowing Ken Wins' car. 
The character later returned in "Better Call Saul," this time getting the short end of the stick thanks to Saul (Bob Odenkirk) and Kim (Rhea Seehorn). In Season 2, the two toy with Ken by hearing him out on a business proposition, while he pays for $50 shots that he definitely can't afford. It's a brief scene, but one that makes Vince Gilligan's universe feel all the more connected.
While speaking with The Hollywood Reporter, executive producer Thomas Schnauz talked about how the "Better Call Saul" scene demanded a douchebag. The creatives eventually landed on the return of Ken Wins because, well, he was already a part of the universe. "People don't have to recognize him from 'Breaking Bad,'" Schnauz said about the cameo. "It's a fun thing if they do and it certainly helps the storytelling. He's such a fun actor and he was so great."
Since his "Better Call Saul" and "Brooklyn Nine-Nine days," Bornheimer has appeared in projects like "Broke" and "Marriage Story."