Why Mayim Bialik Just Stepped Away From Jeopardy! For The Rest Of The Season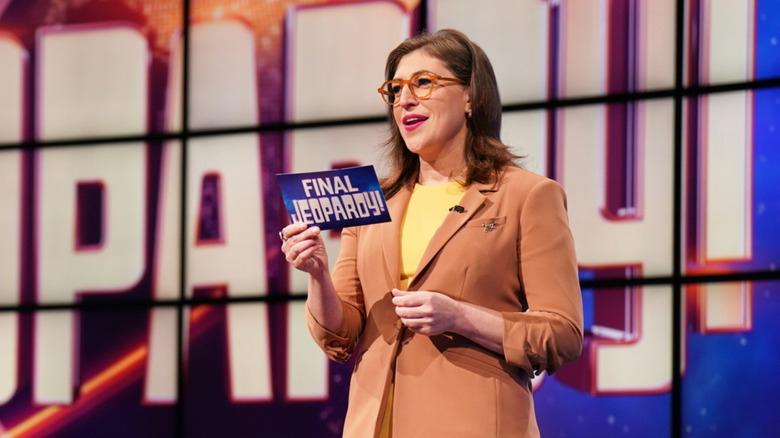 Sony Pictures Television
"Jeopardy!" just had a major switch-up.
Following the death of Alex Trebek, "Jeopardy!" returned to television screens with a revolving door of guest hosts. The iconic game show ultimately landed on "The Big Bang Theory" star Mayim Bialik and game show personality Ken Jennings as its two rotating hosts. When she originally started off as a guest host, Bialik described working on the show as an "unbelievable honor" in an interview with Today, saying, "I'm especially honored to be able to represent women who love game shows and facts and all things geek — especially when they combine with something as entertaining as 'Jeopardy!'"
Bialik and Jennings assumed their official, permanent hosting roles in 2021 and have basked in the glory since, ushering the show into Season 39. Bialik, however, has made a striking choice that will impact the rest of the season. Deadline says that the personality is stepping away from her "Jeopardy!" hosting duties. Why? Bialik, like other Hollywood creatives, is choosing to stand in solidarity with the Writers Guild of America's striking workers. While not a member of the WGA, Bialik is a member of the Screen Actors Guild — American Federation of Television and Radio Artists, a union that continues to express its support for writers on strike.
With only a handful of episodes left to film before the summer hiatus, Jennings will take over hosting "Jeopardy!" duties in Bialik's stead.
The Jeopardy! writers share their thoughts on the WGA strike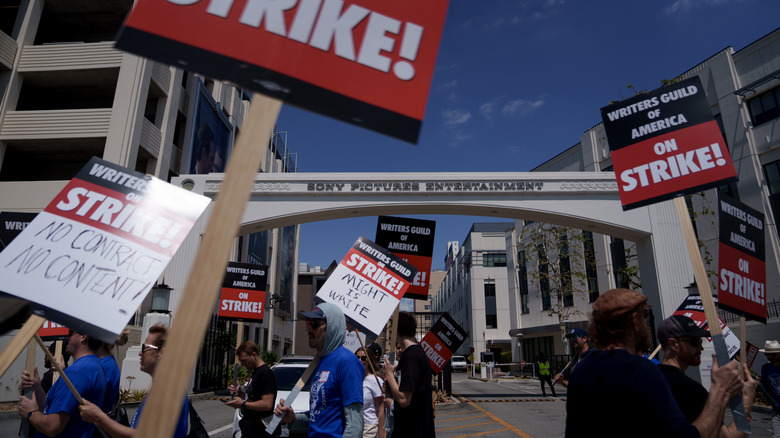 Bloomberg/Getty Images
The WGA strike began on May 2 2023. Questions for Season 39 of "Jeopardy!" were written in advance of the strike, but the game show still features contributions from WGA writers. It's unclear how, besides Ken Jennings taking over as host, the final batch of episodes and their scripts will be impacted.
Deadline confirms that "Jeopardy!" writers and WGA members Michele Loud, Jim Rhine, and Billy Wisse are currently on strike. The "Jeopardy!" scribes were seen picketing at Sony Pictures Studios in Culver City on May 6, where they candidly discussed their issues with Variety. "Our words are on the screen every night," Loud said to the outlet. "There is no 'Jeopardy!' without writers. Without us it's just an empty blue screen." Loud, Rhine, and Wisse have lent their talents to "Jeopardy!" for over two decades, helping shape its legacy.
Mark Gaberman, another "Jeopardy!" writer, took to Twitter to thank Mayim Bialik for supporting the WGA. "This means more to us than we could ever say," Gaberman wrote. "Thank you so much."
Fans weigh in on Ken Jennings' decision to stay on as host
Ken Jennings will film "Jeopardy!" Season 39's final batch of episodes from May 16 to 19. Jennings' decision has proven to be controversial, with many labeling the game show host as a scab, a term used for those who work during strikes. "Gained respect for Mayim Bialik and lost it for Ken Jennings," wrote Twitter user @dianarowland. "Don't be a scab." User @carterforva expressed disappointment at the news as well, saying, "Ken isn't 'Jeopardy!,' the 'Jeopardy!' writers are 'Jeopardy!'"
Others have been more sympathetic to Jennings, who rose to prominence after winning 74 consecutive games on the show. "Ken is making the right choice here," wrote Reddit user u/jedberg. "There are a lot of people who would lose their paycheck if no one shows up to host." The user continued by pointing out how Mayim Bialik has duties as a SAG member to support the WGA. Weeks before the strike began, Jennings took to Twitter on April 17 to show support for WGA members. Many "Jeopardy!" fans on social media continue to speculate as to why Jennings is staying on as host, and if his decision to do so is for the benefit of the show's crew, which boasts countless non-writing staff members, per the show's credits.