David Harbour Compares Gran Turismo To Hoosiers Rather Than Other Video Game Films
Despite "Gran Turismo" being based on a popular video game franchise, the way the film version is handling its story sets it apart from other similar adaptations. This different approach is something that David Harbour — who co-stars as Jack Salter — thinks gives the film more substance than others. "This is great because... the video game is a part of the movie," he told IGN. "I mean, it's about a guy who played video games very intensely, and then took that video game experience and put it on the track. It really becomes, to me, like a great sports movie."
For Harbour, the film comes much closer to "Hoosiers," one of the best sports movies of all time, than it does something like "Need for Speed," the 2014 film based on the video game series of the same name. "Hoosiers" is loosely based on the underdog story of Indiana's Milan High School, who, with a total of 161 students enrolled in the school, became the smallest high school to win a single-class state basketball title. "That is the same story of this kid who's playing video games and nobody believes in him," Harbour explained about the "Hoosiers" comparison. "Nobody thinks he can do this, everyone's against him. And he overcomes these incredible odds and really achieves this incredible thing."
The Gran Turismo player's story sets it apart from other video game adaptations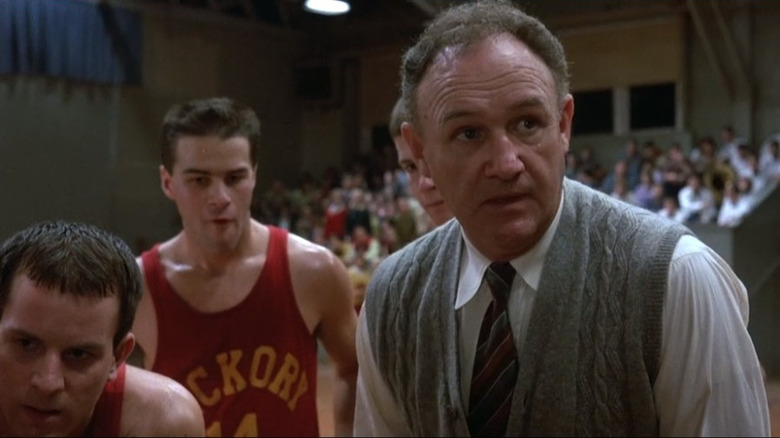 Orion Pictures
Video game adaptations have often missed the mark, and many have found it difficult to conjure up a viable storyline that brings the elements fans love from the games to the big screen. It has only been in recent years that they've taken a turn, with players and viewers praising films like "Sonic the Hedgehog" and "Werewolves Within" as true to the game and having an intriguing story.
David Harbour, who counts himself as a video game lover, feels the reason why most video game film adaptations don't work is obvious. "Part of that reason is because what we love about video games is that we're the player playing them... we're controlling the action," he told IGN. "We don't necessarily want a director and a team of people to control our point of view, to tell us what the story is within it. We ourselves want to carve that story for ourselves."
Director Neill Blomkamp agrees, affirming that he didn't want to make a film about a racing simulator, but he loved Jann Mardenborough's story. "Jann's story is unbelievable because he went from playing Gran Turismo in his parents' house on a console – like a driving system console that he built – to placing third at Le Mans," Blomkamp said. "It was this very organic merging of a video game backbone with a real-life, real-world set up and characters that work organically."
"Gran Turismo" races into theaters on August 11, 2023.