Jordan Calloway On Black Lightning's Black Representation & Portrayal Of Family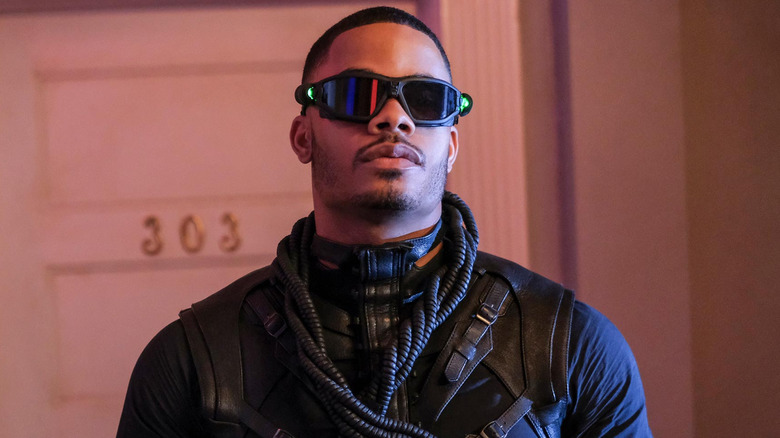 The CW
The Arrowverse is officially dead at The CW, and with it goes every superhero that once dominated the network for better or worse. "Black Lightning" is the perfect example of a show that never got its chance to shine, ending with Season 4 in favor of a spin-off that never happened.
Jordan Calloway, whose character Painkiller would've led the spin-off, spoke to The CW on how "Black Lightning" pushed the boundaries of Black representation. "I would also say the importance for someone like me being portrayed for kids that, you know, are African American, it's a level of identity," he said. "It's easier to receive wisdom or receive guidance and be encouraged by others that look like you because it's easier to picture yourself that way. I think for kids that are Black, that are in the communities, and that are watching our show, not just the 'Painkiller,' but also 'Black Lightning,' what we give is not just entertainment to them, but we also give them a sense of courage and entitlement."
"Black Lightning" masquerades as a superhero show, but at its core, it's about family, according to Calloway. He stressed the value of showing a Black family working together, stating that it's important for kids to see these characters fail just as much as they succeed. As children start to discover their identity, he hopes that they can find more than just entertainment, but rather develop courage and pride from watching the entire "Black Lightning" cast.
Black Lightning was always a beacon of inspiration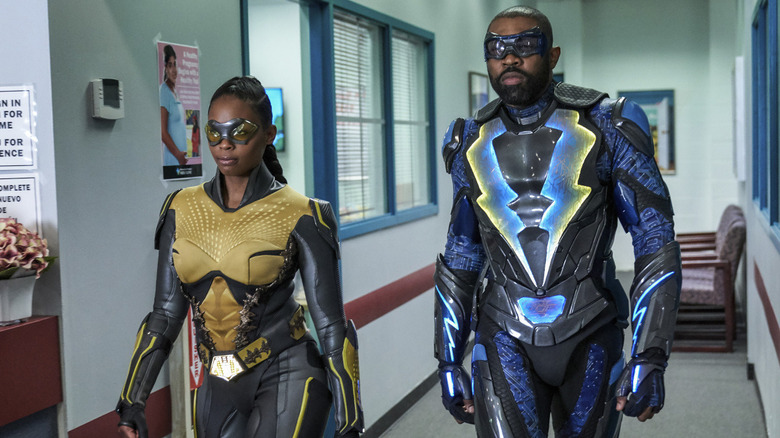 The CW
In the era of the Arrowverse, it became hard for shows to drastically differentiate themselves from one another, but that was never the case for "Black Lightning." The series used its unique voice and predominantly Black cast to represent and inspire the next generation.
During their San Diego Comic-Con panel in 2018, series co-creator Salim Akil offered a similar opinion to Jordan Calloway's emphasis on family, saying that it allowed "Black Lightning" to explore the humanity of its characters, instead of solely relying on comic-book heroics to save the day. "Representation is important," Nafessa Williams said regarding her young lesbian hero. "That's my only job as an actor: to take on jobs that are going to inspire. We gotta be who we are unapologetically."
Akil also recognized the importance of giving younger audiences characters to look up to, remembering how he didn't have that inspiration as a kid. He told a story of dressing up as a superhero when he was younger, but his bare hands stood out from his costume. "I never, never want another young Black girl or Black child to have to hide their skin again to be a hero," the showrunner said, describing what was one of the pillars that built "Black Lightning."