Hasbro's New 24-Hour Dungeons & Dragons Streaming Service Is Peak Geek (& We're Here For It)
The formerly nerds-only enterprise of "Dungeons & Dragons" is experiencing a new level of mainstream popularity. After "Dungeons & Dragons: Honor Among Thieves" rolled okay at the box office for its opening weekend, it continued to build on positive word of mouth for a successful theatrical run that has brought the franchise to a brand new audience. Hasbro, the corporate owners of the roleplaying game, is striking while the Adamantine is hot with a brand-new streaming platform devoted to programming drawn from the game.
Variety reports that Dungeons & Dragons Adventures will be a 24-hour streaming channel coming soon to "a number" of platforms near you sometime in the near future.
The programming slate is enough to make any "Dungeons & Dragons" fan eager with anticipation.
Among the upcoming programs are "original celebrity-focused unscripted series" with titles like "Encounter Party" (based on the podcast of the same name), "Faster, Purple Worm! Kill! Kill!" (an improv comedy take on "D&D"), and "Heroes' Feast" (a "D&D" themed cooking show) which will give viewers opportunities to enjoy the classic game in new ways
Dungeons & Dragons Adventures will include both new original programming and classics from the D&D catalog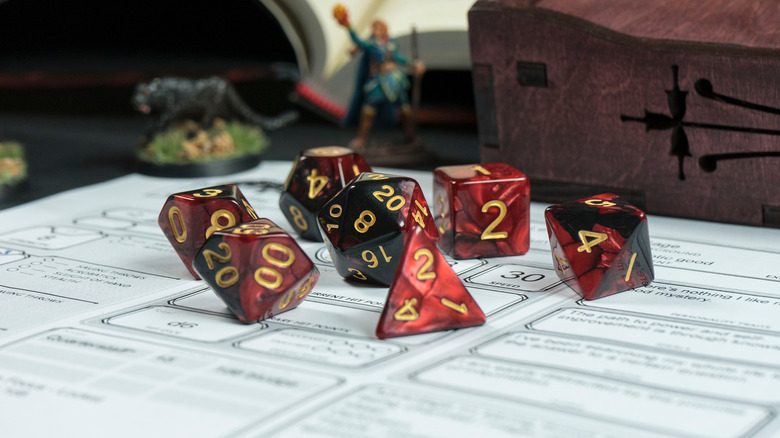 CiEll/Shutterstock
In addition to new original programming, The Dungeons & Dragons Adventures streaming channel's schedule will be rounded out by catalog programming from the history of the franchise, including the "Dungeons & Dragons" animated series from the 1980s (which recently served as the inspiration for a humorous response to fan criticism of "Dungeons & Dragons: Honor Among Thieves").
The service also intends to feature a wealth of content from internet influencers and other creators, with a reported emphasis on "live gameplay." As Dan Rawson, SVP of Hasbro's Dungeons & Dragons at Wizard of the Coast, put it in the press release: "This is an amazing opportunity to create and highlight exciting, engaging Dungeons & Dragons content, to both serve our wide audience of existing fans and welcome a new wave of fans to the community. We look forward to bringing this channel to life and continuing to build out the thrilling D&D universe with even more content, partnerships and innovative formats."
Typically for any "Dungeons & Dragons" effort, a schedule for the rollout of Dungeons & Dragons hasn't been worked out yet. But Hasbro says it's working on getting distribution deals finalized and plans to offer the free service sometime in the near future.