Candace Cameron Bure Got Fired Up Over This Hallmark Movie Misconception
Candace Cameron Bure may have gotten her start as a child actor on "Full House," but as an adult, she became known as a Hallmark Movie queen. Bure made her Hallmark Movie debut in 2008 in the classic "Moonlight & Mistletoe," but even with all of her years of acting experience, she had to audition for the role. "That was one of my first jobs after taking a 10-year break and being a stay-at-home mom," she told Variety in 2022. "And I was like, 'Okay, let's start auditioning again.'"
So perhaps it's no wonder that Bure gets a tad bit testy when people assume that working in a Hallmark movie is a piece of cake. During a 2021 appearance on Paula Faris' "Faith and Calling" podcast, Bure revealed that she is often approached by people who think they can do her job. "I get that all the time, 'How hard is it to be in a Hallmark movie?'" she said at around the 31:15 mark. Bure revealed that when people ask if they can be in a Hallmark movie too, she simply replies, "Are you a professional actor? No... then no, you cannot."
The "Full House" alum added that anyone can be a background person — or an "extra" — in a movie. "If you don't have a speaking part, that's easy," she said. "But if you have a speaking part we have to make sure you can do the job."
Candace Cameron Bure said making made-for-TV movies is hard work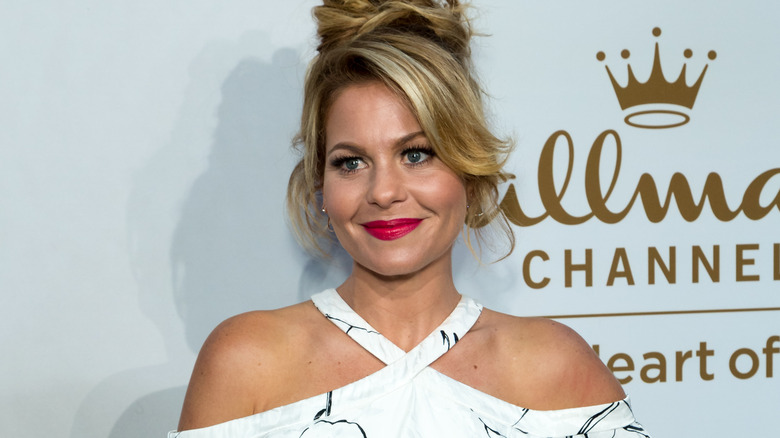 Greg Doherty/Getty Images
Candace Cameron Bure's acting resume boasts a long list of Hallmark Movies, many of the set during the Christmas season. Some of her made-for-TV films include "Christmas Under Wraps," "A Shoe Addict's Christmas" and "Christmas Town." In a 2019 interview with Good Housekeeping, she revealed that working in the fast-paced Hallmark Movie world was harder than any other job she ever had. "The reality of making them is a much tougher job than 'Fuller House' or any other series, really," she said of the TV movies. "This is definitely some of the hardest work that I do because they're such a grind: long hours, quick turnaround, putting on your happy face every day, and going out there to make Christmas happen."
In 2022, Bure surprised fans when she left Hallmark to make movies for the Great American Family network. At the time, she told the Wall Street Journal that Hallmark had changed over the past decade due to turnover at the upper management level. "It basically is a completely different network than when I started because of the change of leadership," she said. Bure also explained that she wanted to focus her career on more meaningful, faith-driven programming and that GAC was a better fit for her -– for acting roles and for a role as a chief creative officer for the network.