Chicago Fire: Stella's Season 10 Absence Had Writers Reworking Scripts On The Fly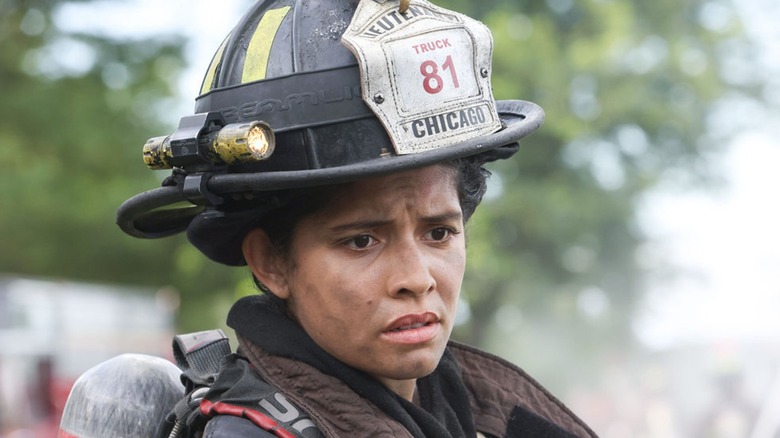 Adrian S Burrows Sr/NBC
As a key player amid the extended ensemble cast of NBC's smokin' hot action-drama "Chicago Fire," Miranda Rae Mayo's Stella Kidd has been keeping Chi-Hards glued to their screens ever since arriving on the show back in Season 4. Gearing up for action on over 150 episodes of the show that launched the entire One Chicago-verse, Mayo's Lt. Kidd is a persona that fans of the show expect to see in action week after week, whether she's battling blazes or doing her bit as half of the Stellaride equation.
But as dedicated "Chicago Fire" buffs know all too well, Lt. Kidd suddenly went from a reliable series' presence to missing in action during the first part of Season 10. The truth is, starting with Episode 4, "The Right Thing," Mayo received a "Credit Only" billing all the way up through Episode 8, "What Happened at Whiskey Point?"  Then, with the next installment, "Winterfest," Stella Kidd returned in the flesh, no doubt to the relief of anxious fans, especially those eagerly anticipating her marriage to Taylor Kinney's Kelly Severide. And, as revealed by showrunners Derek Haas and Andrea Newman on an episode of "Meet Us at Molly's," Kidd's absence from the show was a totally unscheduled event. Asked about Stella suddenly dropping off the radar, Haas admitted that her absence was a bit of a crisis for the series' writers and execs. "All I can say is it wasn't planned and we had to adjust on the fly," he said.
Chicago Fire writers had to scramble to fill the Stella Kidd gap in Season 10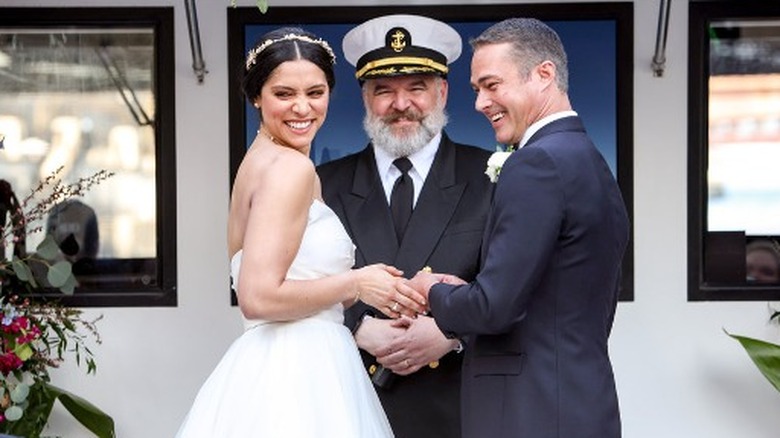 Adrian S. Burrows Sr./NBC
As "Chicago Fire" showrunner Derek Haas explained during the "Meet Us at Molly's" Q&A, the scriptwriters were forced to adapt to a situation that was simply beyond their control when Miranda Rae Mayo had to take time off from the show. "There were many, many things going on at the beginning of the season in terms of health-related incidents," Haas said. And while not going into detail on what these issues were with respect to Mayo and the rest of the cast, he added, "I mean we were rewriting scripts when the scripts were already being shot, so not just for her, for all sorts of things going on." The writers' solution: have Stella Kidd leave town for a while in order to launch her Girls on Fire educational outreach program.
Adding her own glass-half-full perspective, showrunner Andrea Newman noted, "When you get thrown wrenches like that, they often work for you in lots of ways." As such, she said it was entirely in Lt. Kidd's character to take some time away from the firehouse to evaluate everything going on in her busy life, i.e., getting married to Kelly Severide, being promoted to lieutenant, and tending to her Girls on Fire outreach. "And that just worked for us for the Stella character, to have her take that beat, take that step back," Newman added.