Hallmark's Always Amore Star Tyler Hynes Had A Concussion In The Film's Final Scene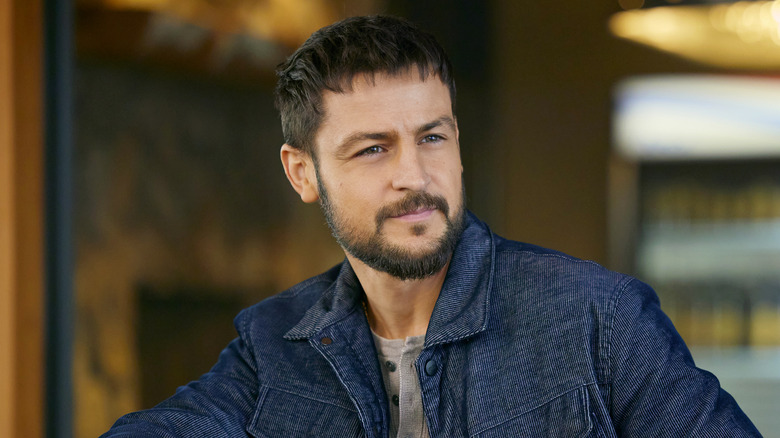 Allister Foster/Crown Media United States LLC
Hallmark Channel has pretty much led the league in cranking out unabashedly schmaltzy made-for-television fare since its inception. But the network has kicked things into overdrive over the past decade or so, dropping new romantic fables at a truly staggering pace. The network's output has been bolstered by the contributions of an impressive stable of actors — some of whom have fronted numerous productions for the greetings card company. And if you're one of those people who love Hallmark movies, you probably know that Tyler Hynes has become one of the network's regulars.
What you may not know is that the former "Warehouse 13" cast member delivered one of his finest Hallmark performances yet right after suffering a serious head injury. As the actor told Remark the Show during a recent interview, that Hallmark production was 2022's "Always Amore." And it seems he worked through part of the movie's shoot with a full-blown concussion. "I got a concussion while making this movie in the last two days," he told hosts Kevin and Kris, continuing, "I've had some spills in my time, this one really rocked my noodle. I was out of it."
After suffering the injury, Hynes called one of the producers on "Always Amore," and they confirmed he likely had a concussion. That didn't stop the actor from getting back to set, however. As Hynes confirmed, "Definitely the last — the last scene of the movie I was fully concussed."
Hynes apparently hurt himself badly while skateboarding off-set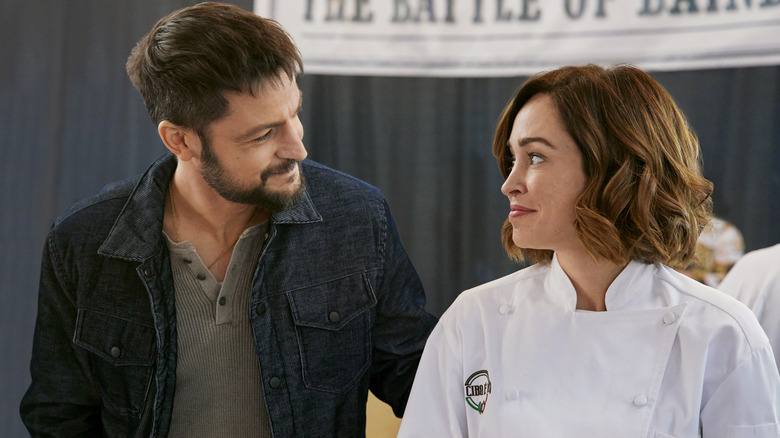 Allister Foster/Crown Media United States LLC
As Tyler Hynes noted, he indeed suffered the injury off-set, and not during the actual shooting of "Always Amore." That's hardly surprising, as the film finds him playing a professional restaurant fixer hired to help a chef (Autumn Reeser) keep her late husband's Italian eatery afloat. And given that non-evasive setup, there were likely few opportunities for Hynes to injure his head so severely.
While the actor himself didn't confirm precisely how the injury happened during the Remark the Show interview, the topic came up as Hynes — an avid skater — was discussing several past injuries he's suffered atop a skateboard. Some of those injuries sound quite gnarly indeed. And with that bit of context, another boarding incident seems a possible culprit.
Whatever the case, Hynes went on to detail his "Always Amore" injury was indeed quite serious, noting, "I was by myself, just head in my hand, blood in my hands." Despite admitting he believed he was "fully concussed," Hynes still found the strength to shoot those last few key scenes for "Always Amore." And if you've seen his work in the movie's final moments, you know it's all the more impressive considering he was grinding through the romantic action in such a hindered state.