Scream 6's Liana Liberato Didn't Know The Ghostface Twist When She Landed The Role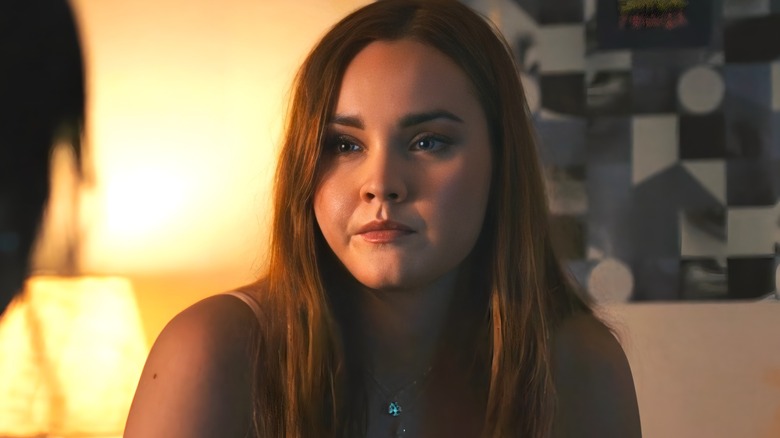 Paramount Pictures
Horror movies always like to keep audiences on edge. Besides the psychological tenseness of an ever-present fear, horror films also enjoy their twists and blindsides that almost immediately cause viewers to wonder what hints and foreshadowing they may have missed. "Scream 6" is a legacy film that acts as a continuation of the movies that came before it, which is probably best represented by the presence of original actors like Courteney Cox, Hayden Panettiere, and Skeet Ulrich. Of course, there are also new characters, though new additions almost always have some connection to previous installments — just like the character Quinn Bailey (Liana Liberato) in "Scream 6."
Although "Scream 6" keeps audiences guessing as to who the killer might be, it is eventually revealed that there isn't just one, but three killers. These three Ghostface killers are all connected to Richie Kirsch (Jack Quaid) from 2022's "Scream," and Quinn is not only one of the murderers but one of Richie's siblings as well. However, it turns out that Liberato had no idea about this shocking twist when she signed on, and only found out about it later.
Speaking with Esquire, Liberato explained that she only received the first two acts of "Scream 6" when she signed on. It was later that a costume designer told her that the directors wanted to talk with her. She continued, "They were on Zoom, and they were like, 'Hey, we actually forgot, we have one more outfit for you to try on.' They brought in the Ghostface outfit, and I was like, 'What? Wait, that doesn't make any sense? I'm dead.' And they were like, 'You are Ghostface.' I was so excited. But there was a good two months when I did not know."
Liberato was initially bummed out because she thought she died halfway through the movie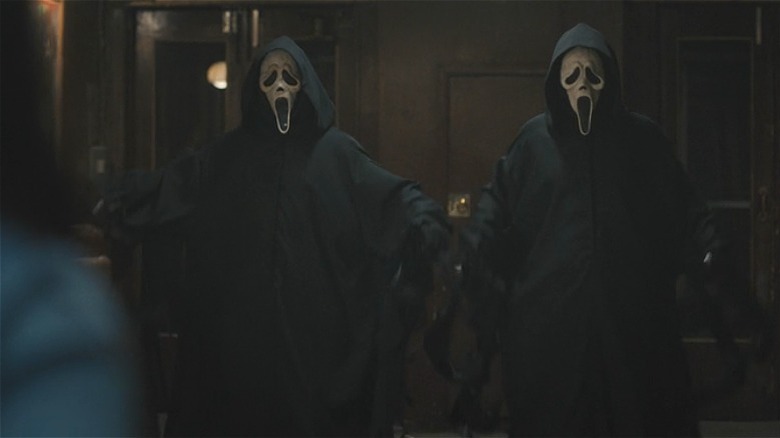 Paramount Pictures
This statement truly shows that Liana Liberato did not know about the final act of the movie and that she was just as surprised as anybody else. By saying that she thought her character was dead to the directors, viewers of "Scream 6" may have realized that Liberato was only up to the point where her character is seemingly killed, which is one of those classic horror misdirections that throw audiences off the trail of the killer(s). Liberato also said that they kept her co-star Jack Champion in the dark as well, and that he found out much like she did — when the costumers brought out the famous Ghostface costume.
Liberato added, "Knowing that you're going to take on such a big responsibility and a cool legacy — I still feel very shocked about it. At first, when I thought I died offscreen halfway through, I was so bummed. If you're in a 'Scream' movie, you either want to be Ghostface, or you want to be the final girl, or you want an epic kill. I got none of that initially. But I was so stoked just to be a part of it. When I read that big reveal, I was like, 'Wow, great!'"
The production of Scream 6 went to great lengths to keep the ending secret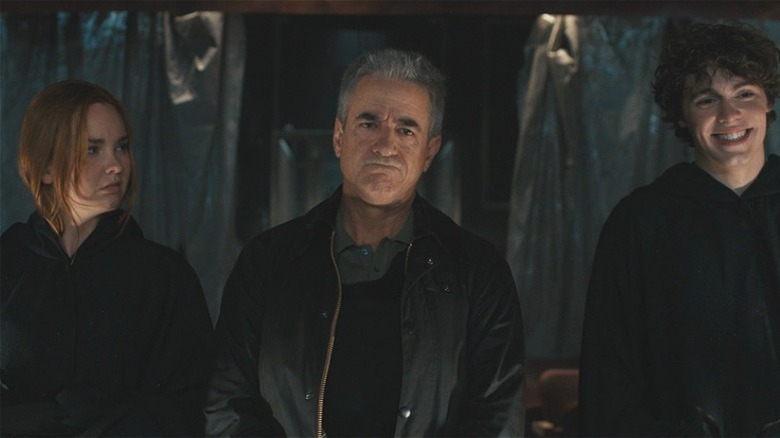 Paramount Pictures
Liana Liberato was then asked what it was like to play such a villainous and evil character in "Scream 6," and she replied, "It felt really fun. I have never played such a mean person before. When we were filming the last part of the movie, I was screaming so much and [I was] bloody and sweaty. I would come back to my apartment at the end of the day — and I would feel so good. Which feels weird to say, but it was so therapeutic to just be so untamed, so wild. And I hope that the fans are surprised simply because I don't play roles like this that often."
Unsurprisingly, it seems as if the rest of the cast was also kept in the dark about who the villains of "Scream 6" were. In an interview with Teen Vogue, Melissa Barrera, who plays Sam Carpenter, told the publication that nobody was told who the killers were going to be in the movie, and that they only received the script up to page 70. Barrera then said that she often pleaded with the directors to let her know, or at least let her see the full script, which they denied. 
She added that 2022's "Scream" had multiple endings to keep the true one secret, but stated that the production of "Scream 6" simply withheld the final act. Hearing the lengths that "Scream 6" went to in order to keep the ending from being spoiled is certainly a fascinating story, and it must have been a fun surprise for those playing Ghostface killers to find out the way they did.