Evil Dead Rise Becomes Most Successful Film Of The Franchise At The Box Office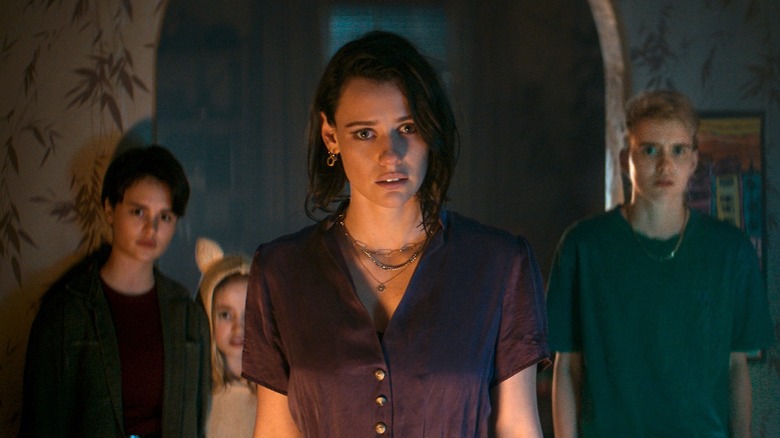 Warner Bros. Pictures
Writer-director Lee Cronin's bloody horror thriller "Evil Dead Rise" has risen to the occasion by becoming the highest-grossing "Evil Dead" movie at the global box office.
As of this writing, "Evil Dead Rise" — which is the fifth film in the "Evil Dead" franchise — has grossed nearly $117 million at the box office worldwide, eclipsing the final global take of $99 million for the 2013 version of "Evil Dead."
The film debuted in theaters on April 21, 2023, after Warner Bros. opted to release it on the big screen instead of HBO Max as originally intended. "Evil Dead Rise" had an opening weekend domestic box office take of $24.5, enough to comfortably surpass the film's $19 million production budget. Breaking down the worldwide numbers to date, "Evil Dead Rise" has made nearly $56 million so far in North America and $61 million overseas.
"Evil Dead Rise" marks a departure of sorts for the franchise. Director Fede Álvarez's 2013 film — as well as the first two films in the "Evil Dead" trilogy from director Sam Raimi, producer Rob Tapert, and actor-producer Bruce Campbell — are all set in a desolate cabin in the woods. "Evil Dead Rise," on the flip side, mostly takes place in a broken down, suburban Los Angeles high-rise apartment building.
All of the films in the franchise, however, involve a Necronomicon, aka "The Book of the Dead." In the case of "Evil Dead Rise," Ellie (Alyssa Sutherland), a single mother of three, becomes demonically possessed by an evil force when the book is opened and incantations are played from a recording that accompanied it.
Raimi, Tapert, and Campbell guided Cronin on Evil Dead Rise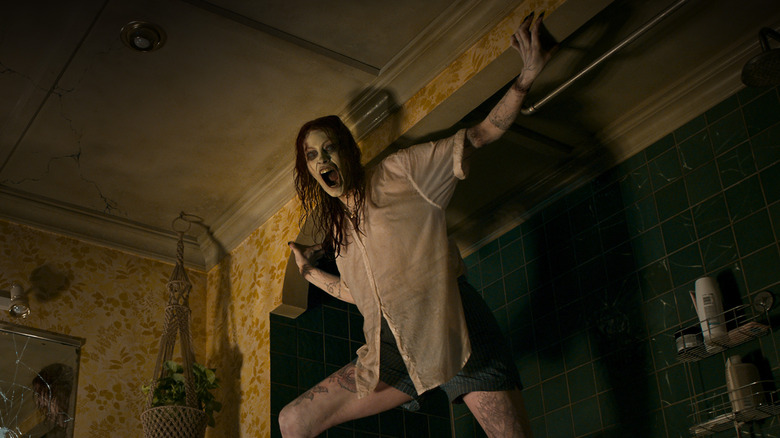 Warner Bros. Pictures
The "Evil Dead" saga has become a career-long endeavor for Sam Raimi, Rob Tapert, and Bruce Campbell, who released the first film in the series, "The Evil Dead," in 1981. The film had a straight-up horror tone, which morphed into the horror-comedy arena for its 1987 sequel, "Evil Dead II," and threequel, "Army of Darkness," in 1993.
In the latter films, Campbell's everyman character, Ash Williams, became a chainsaw-wielding and shotgun-toting badass, and he went on to expand the character in the STARZ series, "Ash vs. Evil Dead." Tapert is a producer on "Evil Dead Rise," while Raimi and Campbell serve as executive producers.
In an exclusive interview with Looper, Raimi and Tapert said it was evident on the pages of Lee Cronin's script that he understood the tone of their first "Evil Dead" movie. Plus, like the 1981 film, Cronin went strictly down the horror route. "The horror in 'The Evil Dead,' he knew, came from the fact that these demons possess people you know, and they can use those memories of you and their relationships with you against you, and that they're a very playful, wicked entity," Raimi told Looper. "He really understood that, and we knew from talking with him and from reading his script and giving him notes on it that he understood what made 'The Evil Dead' work. So, as Rob says, it wasn't a giant surprise when we saw the dailies being very effective with what felt like an authentic 'Evil Dead' flavor to them."
"Evil Dead Rise" is playing in theaters and just made its debut on digital video.