Renfield's Director Chris McKay Only Ever Saw Nicholas Hoult In The Lead Role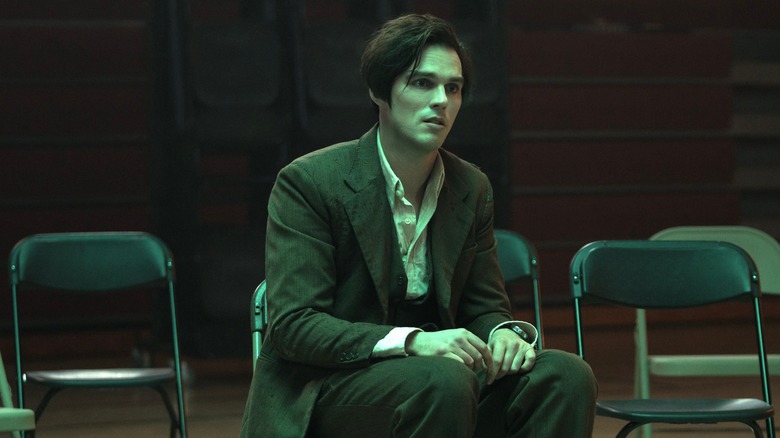 Universal Pictures
Much of the conversation around "Renfield," director Chris McKay's modern reimagining of cinema's most famous vampire story, has centered on Nicolas Cage's role as Dracula. Indeed, the combination of Cage's signature intensity and the ancient vampire's bloodlust is a ferocious one, but Cage is the story's villain. As suggested by the title, the protagonist, the character through whom audiences experience the world of the film, is Nicholas Hoult as Dracula's familiar, Renfield. And according to McKay, it's a role written specifically with Hoult in mind.
Speaking to the "Nightmare on Film Street" podcast, McKay noted that he had long hoped to work with Hoult and that his mind immediately went to "The Menu" star when he read the script. He saw an emotional depth and willingness to come off as unsympathetic that seemed to work for the role of Renfield. "[Hoult is] somebody I've been wanting to work with for a long time," McKay said, "and the only person that, when I read this script, I saw as Renfield because Nic Hoult is unafraid to do things that are strange and weird and potentially unlikeable."
But unlikability is only one side of Renfield's personality, and McKay sought Hoult for the role due to his ability to convey an emotional truth that counterbalances the character's darker side. According to the director, "He's fearless as far as that goes, and at the same time he's incredibly vulnerable and charming, and audiences want to root for him. You need somebody like that and I don't think this movie could work without Nic Hoult and Nicolas Cage."
Nicholas Hoult has the vulnerability needed for a character like Renfield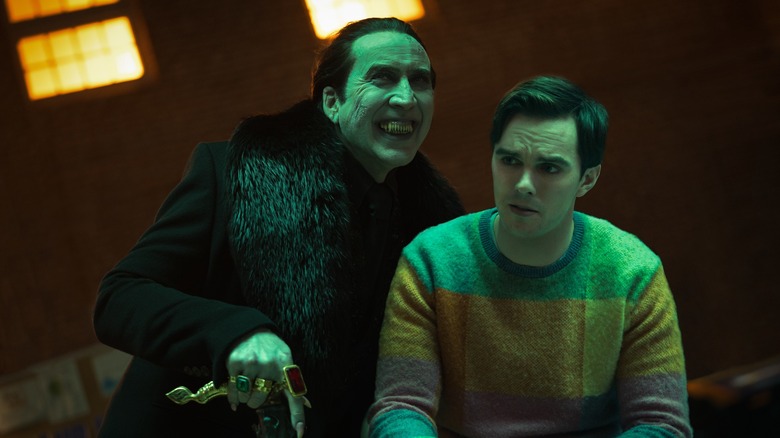 Universal Pictures
Nicholas Hoult's work has spanned genres, from playing the mutant Beast in Fox's X-Men movies to portraying a young J.R.R. Tolkien in 2019's Tolkien. In last year's surprise foodie-themed horror-comedy mashup "The Menu," he took on the role of a faux fine dining connoisseur with a performance that allows a nerdy confidence to give way to a simmeringly fragile ego coupled with a sociopathic streak. It is easier to hate the character with every second that passes by onscreen.
"Renfield" reverses that formula. As the titular familiar to Nicolas Cage's Dracula, Hoult frontloads reasons to despise Renfield, telling us in voiceover that he began as a fortune-seeking lawyer all too happy to abandon his family and serve at the vampire's feet, bringing his master fresh victims in exchange for some bug-powered abilities of his own. Only in contrast to Dracula is he redeemable, since Cage leans into the ferocity and hunger of his own character, reminding us that vampires are, in fact, supposed to be terrifying monsters, and are most emphatically not chisel-jawed dreamboats as in "Twilight," nor lovable fools a la "What We Do in the Shadows." But he becomes ever more admirable as the film progresses.
That's not to say the film sacrifices fun. Rounding out its cast with Ben Schwartz, who has been delivering exhilaratingly scummy characters since his "Parks and Recreation" days and here plays the cocaine-fueled heir apparent to a New Orleans crime family. "Renfield" has the kind of cast that carries its admittedly thin plot, and all three leads are a delight to witness — even during moments when the wheels have come off and the movie lands firmly in the realm of schlock.
Renfield is currently in theaters and streaming on demand.