Who Plays Meiying In Meg 2: The Trench?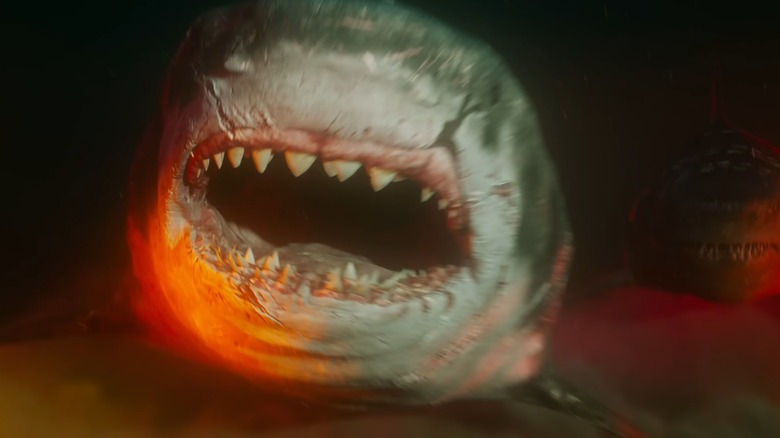 Warner Bros. Pictures
Despite a Rotten Tomatoes' Tomatometer score of 46%, audiences flocked to see "The Meg" in 2018. The thriller was about a giant megalodon shark found deep underwater that has attacked a research crew's submarine, the Origin, leaving them stranded and losing oxygen. Of course, despite an entire team of scientists trying to figure out how to save them, their only hope is Jason Statham's rescue diver Jonas Taylor.
One of the members of the team is Suyin (Li Bingbing), who decides to go out on her own to save the vessel. While Jonas prepares to follow, Suyin's daughter, Meiying, asks him if he's the crazy person everyone is talking about and then bluntly asks him if her mother is going to die. Despite only being a child, Meiying is not only adorable but proves that she's wise beyond her years. After she comes face to face with the megalodon while she stands in front of a window of their underwater facility, the Mana One, everyone rallies together to figure out a way to kill it before it can do more damage.
Shuya Sophia Cai, who plays Meiying, hasn't been in Hollywood long, but after her scene-stealing role in "The Meg" and her return in "The Meg 2: The Trench," she may be one actor to keep our eye on.
She made her debut in Somewhere Only We Know
Shuya Sophia Cai's first screen role was in the Chinese romantic drama "Somewhere Only We Know" in 2015. She plays Ni Ni, the daughter of Peng Zeyang (Kris Wu). Zeyang plays the love interest of Jin Tian (Wang Likun), joining her on her journey to find an old lover of her grandmother's, Chen Lanxin (Xu Jinglei), when she finds love letters from him after Lanxin dies. Ni Ni doesn't have much screen time, but she already shows how charming and lovable she is.
In 2021, Cai had a small role in Joseph Gordon-Levitt's Apple+ series, "Mr. Corman." The series focuses on Josh Corman, a public school teacher in the San Fernando Valley in California. Cai plays Maggie in a blink-and-you'll-miss-her part as one of Josh Corman's (Gordon-Levitt) students, who is giving a report about bats to the class with three other students.
Cal received a Young Artist Award nomination for her role as Meiying in "The Meg," and with the actress now a teenager, we can't wait to see if she plays a bigger part in "The Meg 2: The Trench," set to be released August 4, 2023.