How Many Episodes Are In Ted Lasso Season 3?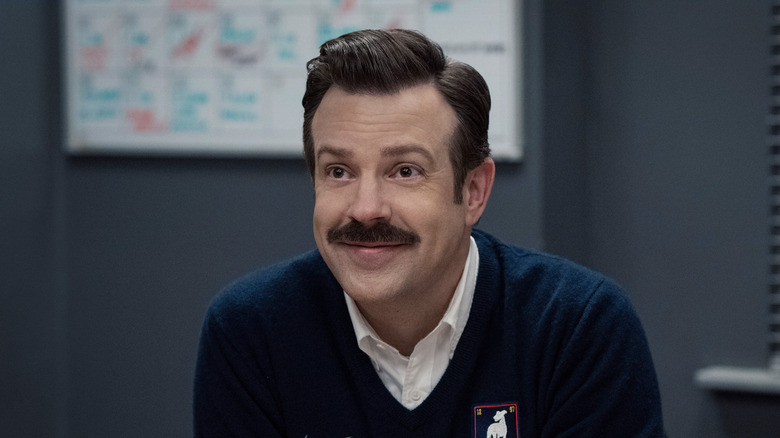 Apple TV+
Things are coming to an end for "Ted Lasso." As has been well-publicized, the third and current season of everyone's favorite feel-good football show will be its last. All the questions we've had since the beginning of the series — including those which have morphed and taken on different forms over the course of two-and-a-half seasons — are (hopefully) nearing an answer. Will AFC Richmond regain their dominance in the Premier League? Have we seen the last of Zava (Max Osinski)? Will Ted (Jason Sudeikis) come to terms with the dissolution of his marriage and the new shape of his family? 
Is redemption in the works for Nate the Great (Nick Mohammed)? Who, or what, will bring Rebecca the fulfillment and happiness she's been foretold to find? What kind of book is Trent Crimm (James Lance) going to end up writing? What, if anything, will come of Keely's (Juno Temple) connection with Roy (Brett Goldstein)? Or, for that matter, what will come of Roy's relationship with Jamie (Phil Dunster)?
All are — at least, theoretically — bound to be answered over the course of the last handful of episodes. But exactly how many episodes are we talking about here? According to IMDb, Season 3 of "Ted Lasso" will have 12 episodes. It's the same number of episodes as Season 2, though the first season of "Ted Lasso" had only 10. As has been the case in both previous seasons, new episodes have dropped every Wednesday on Apple TV+. 
This may not be the end for Ted Lasso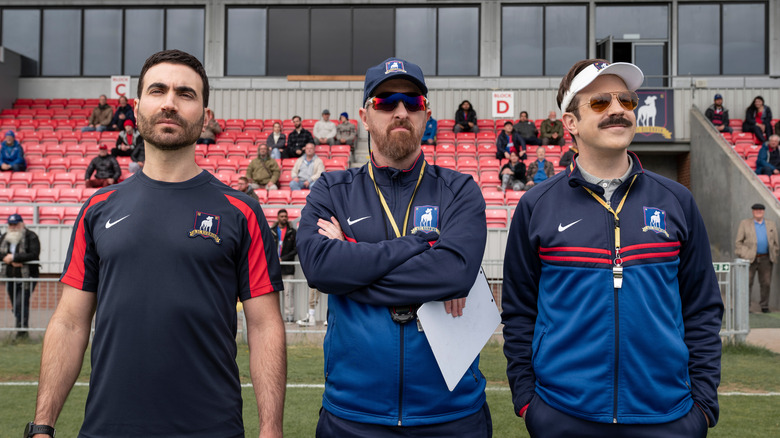 Apple TV+
The final episode of "Ted Lasso" will be airing on Wednesday, May 31. We would be a tad bit hasty, however, to think that this will be the absolute last we hear from Ted, Rebecca, Roy, or any of the rest of the AFC Richmond gang. While pretty much everyone has gone into this season under the assumption that it will be the show's last, and Jason Sudeikis has said that this is the end of the story that the writers and producers wanted to tell, others seem to be keeping the door open. 
Warner Bros. Television Group Chairman and CEO Channing Dungey previously told Deadline that viewers will be pleased with the end of Season 3. "But there's also a way to crack open a door," said Dungey. "If we're fortunate enough to do more, we can keep on going."
This is a rather sly way to set up, if not a fourth season of "Ted Lasso," perhaps a spin-off of the show. That's a possibility that Sudeikis himself has also discussed in past interviews. What story such a spin-off would tell, and which characters it would focus on, is an open question. However, the events of Season 3 do seem to be painting Ted as feeling the strain of being away from his son, Henry (Gus Turner). 
Are we going to get to watch the trajectory of a post-Lasso Richmond? At this point, it's impossible to tell, though that won't stop fans from looking for hints in the final handful of episodes.