Evil Dead Rise Drops Its First 10 Minutes Online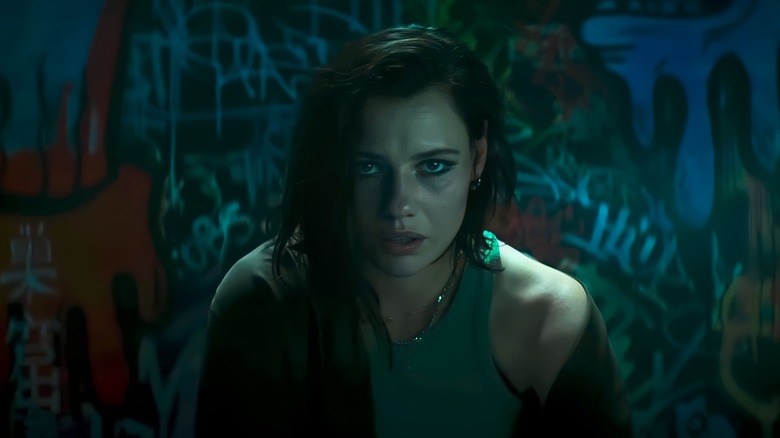 Warner Bros. Pictures
"Evil Dead Rise" is still scaring up a whole lot of cash at the box office and the film has officially hit home media with a May 9 digital release. If you're still not sold on the bloody chaos that an "Evil Dead" film can bring and want to sample a little more of the movie without committing to its $24.99 purchase price or a $19.99 rental fee, then there's some good news ahead. Warner Bros. Pictures has released the film's first 10 minutes for free on its official YouTube page as an extended preview.
The "Evil Dead" series has leaned several times on the innate horror of losing a sibling. "Evil Dead Rise" takes that notion to the extreme, putting siblings Beth Bixler (Lily Sullivan) and Ellie (Alyssa Sutherland) head-to-head when Ellie is possessed by demonic forces after her son Danny (Morgan Davies) accidentally summons the evil by playing a recording from The Book of the Dead. Beth must confront her ambiguous feelings about motherhood and responsibility while trying to keep her nieces and nephew from hell's clutches. But Ellie's new, twisted version of motherhood means reuniting her family in death.
The movie's first 10 minutes show off its gore factor
The above clip simply shows what happens in the film's first 10 minutes, minus its now-iconic title card sequence. "Evil Dead Rise" initially focus on Jessica (Anna-Maree Thomas), her friend Teresa (Mirabai Pease), and Jessica's boyfriend Caleb (Richard Crouchley) as they take a trip to a secluded cabin in the woods. It turns out that there's something very wrong with Jessica, who soon loses her life. Jessica's body, now inhabited by a demon, soon turns on her friend and boyfriend, resulting in bloody carnage. Fans also get to see one of the film's famous force POV shots — which turns out to be from Caleb's drone, which is eventually employed against him.
Viewers also meet Beth Bixler for the first time as she takes a pregnancy test that will change the course of the rest of her life. Beth's discovery takes her off the road and brings her to the doorstep of her sister, Ellie, and Ellie's three children. The whole family is in crisis mode, as the children's father has left the family unit and their home is set to be demolished. That definitely sets the film up for a rip-roaring climax that will impact the family's dynamic forever.
"Evil Dead Rise" is still in theaters, can be purchased or rented digitally at most retailers, and will see a physical home media release on June 27.