The Banshees Of Inisherin: Is Inisherin Island A Real Place?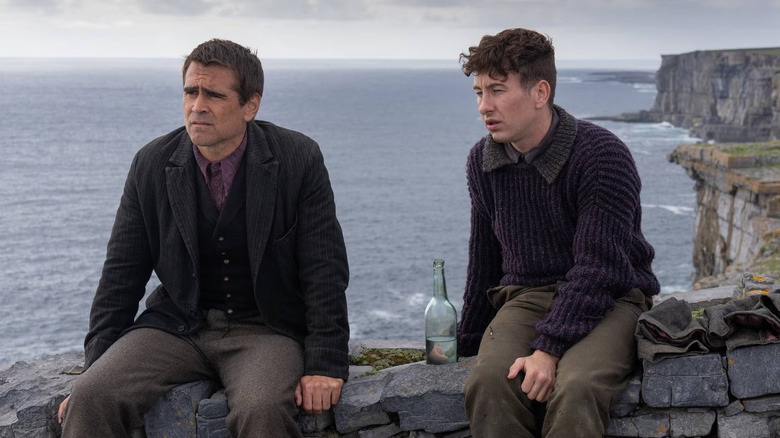 Searchlight Pictures
Martin McDonagh's "The Banshees of Inisherin" blew audiences away in 2022, telling the sometimes funny, sometimes sad story of a friendship falling apart. While Brendan Gleeson and Colin Farrell give masterful performances, the film's cinematography elevates it to a new level, making the beautiful island town of Inisherin its own character in the story.
However, don't go looking for Inisherin on a map, as McDonagh created the island for the film. "Inisherin is a fictional island, so I didn't want it to be specifically one place," the director told Disney. "I wanted it to be more mythical. So, we explored each of the Aran Islands. Inishmore ticked most of the boxes. I'd been there as a kid. My parents were living in Galway along the coast, and you can see the Aran Islands from where they were."
While those hoping to make a quick stop on Inisherin during their European vacation are out of luck, fans of "Banshees" can still visit the real-life locations used to bring the village to life. The crew built Pádraic (Farrell) and Siobhán's (Kerry Condon) home on Inishmore, the largest of the Aran Islands, while they went north to Achill Island to shoot the pub scenes. McDonagh called the locations "beautiful" and "majestic," saying they perfectly brought out the beauty within Ireland.
The cast appreciated filming on-location in Ireland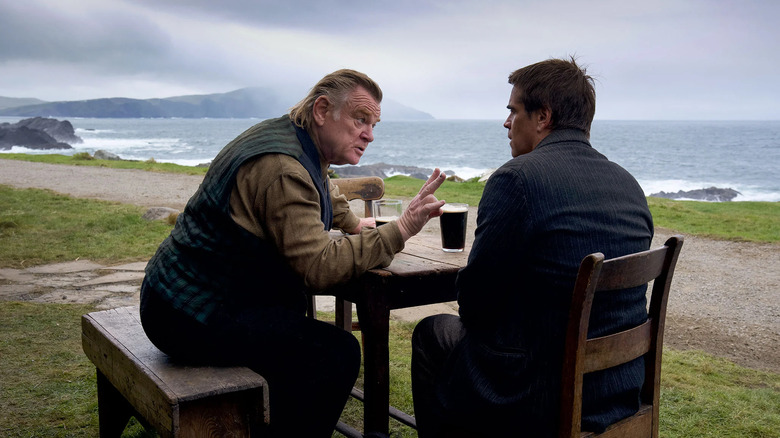 Searchlight Pictures
Although the Irish aren't huge fans of "The Banshees of Inisherin," the movie's cast certainly loved returning to their home country for its truly Irish story. "It was so exciting. The people there were so glorious and generous," Colin Farrell said in an interview with Disney, reminiscing on taking the ferry into Inishmore for filming. Shooting on location helped immerse him in Martin McDonagh's story, allowing him to fully understand Pádraic and what the director needed from his performance.
Brendan Gleeson shared a similar opinion, saying that the variety of environments "Banshees" used during filming encapsulates the "broadness of Irish life." "The two locations are very different," he said. "Achill has massive mountains; Inishmore has no trees. Yet they have an intimacy about them that's very real. It was a dream to be able to come to these places." The actor and longtime collaborator with McDonagh thinks that geography plays a significant role in the story, with the tragedy surrounding Achill's mountains lending itself to a similar tragedy in "Banshees."
In an interview with Screen Rant, fellow Irishman Barry Keoghan called filming on the two islands "mythical," saying that he sometimes had to step back and appreciate the environment he was in. "It was a magical shoot," he said, and working with an entirely Irish crew only made the experience better.