Colin Farrell And Brendan Gleeson's Friendship Began Behind The Scenes Of In Bruges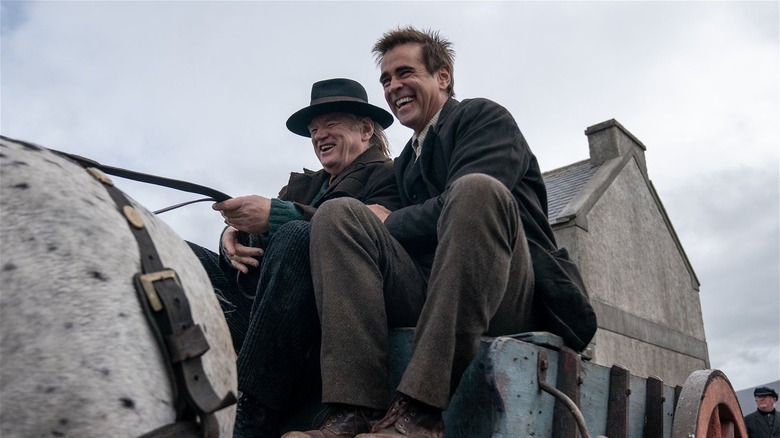 Jonathan Hession/Searchlight Pictures
In his 20-plus years in the entertainment industry, Colin Farrell has refused to be put in a box. From early work in the Steve Spielberg-directed "Minority Report" to his prosthetic-heavy role in "The Batman," no two roles have been the same. Now he has accomplished a personal first in his Oscar nomination for "The Banshees of Inisherin." Farrell stars in the film opposite Brendan Gleeson as two estranged friends, Pádraic and Colm, respectively. After almost two hours of heartache, "The Banshees of Inisherin" ends in a devastating commentary on the Irish Civil War of the 1920s.
Those familiar with the actors will note that this is not the first time the two have appeared together in a movie directed by Martin McDonagh. Their first collaboration was in one of Farrell's best movies, "In Bruges."
Contrasting to their "Banshees of Inisherin" characters, hitmen Ray (Farrell) and Ken (Gleeson) are closer than brothers. Like brothers, they have natural conflicts. Even so, Ken proves that he would die for Ray. When Ray mistakenly kills a child in a hit gone wrong, crime boss Harry (Ralph Fiennes) orders Ken to kill him. But after Harry mortally wounds Ken, he jumps from a tower in a sacrifice to save Ray. This close bond between characters was the result of two actors who cultivated a close camaraderie offscreen.
If you or anyone you know is having suicidal thoughts, please call the National Suicide Prevention Lifeline​ by dialing 988 or by calling 1-800-273-TALK (8255)​.
Reality imitated art even before filming
Colin Farrell and Brandon Gleeson may have a cool two decades between them, but that didn't stop bonds of brotherhood from forming. The close connection of their respective characters was reflected in real life when they first met. After being cast in "In Bruges," the two met up at New York's Chelsea Hotel where Gleeson offered him a drink. Farrell was recently sober and still coming to terms with how to navigate those troubled waters. But before he had a chance to respond, he was immediately put at ease. Gleeson went over to the mini-fridge and offered him two options, which he had gone out and personally bought.
"He said: 'I have still or sparkling [water],'" Farrell recalled on The Hollywood Reporter's "Awards Chatter" podcast earlier in February. "And at that moment, I kind of fell in love with the man." Farrell had admired Gleeson for his previous work and went on to explain the intricacies of what made the moment so significant to their dynamic.
"You just realize in that moment .. something happened today where [Gleeson] said the words: 'Could I have a bottle of still and a bottle of sparkling?' And I just thought: That is a fellow that will look after you." Farrell was touched that Gleeson had not only thought of him but also put so much thought into making him comfortable. After a few tumultuous years in Hollywood, "In Bruges" was the start of a new chapter for Farrell's career, as well as a life-long friendship and scene partner in Gleeson.