Stranger Things Season 3 Set Photos Show New Look At Millie Bobby Brown's Eleven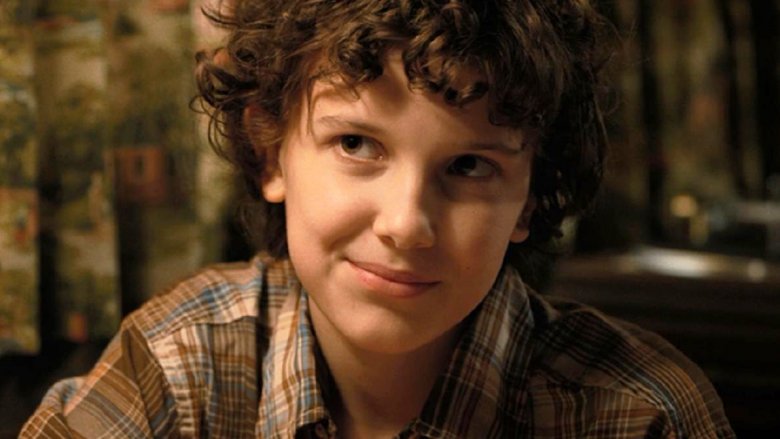 The kids are growing up fast. 
Two new photos from the set of Stranger Things season 3 hit the net on Tuesday, and they show the first look at lead actress Millie Bobby Brown in character as Eleven for the forthcoming collection of episodes.
Uploaded to Just Jared, one of the snaps features Brown wearing a navy blue top, pale blue and white skirt, and circle-framed glasses. Her hair, a nearly-bald buzz cut in Stranger Things season 1 and a curly mop-turned-temporary mohawk in season 2, has grown out into a chin-length bob. 
Now that the young Stranger Things cast has entered their teen years (their characters are gearing up to begin high school in season 3), an updated 'do is all but a necessity. And since Stranger Things season 3 takes place over the teens' summer vacation — and is about "the swimming pool and campfires and parades and Fourth of July and fireworks," according to executive producer Shawn Levy – Eleven sporting a breezier look (let's not forget the leather-and-black-eyeliner get-up of season 2) makes perfect sense.
A second set picture sees Brown's co-star Sadie Sink, who portrays the scrappy Max Mayfield, standing beside Brown's stunt double as she pushes a bicycle along the street through the rain. (Brown is currently recovering from a knee injury, so it's best for her safety and the smooth sailing of Stranger Things' production that the actress avoid any possible slip-and-fall accidents.) This photo gives fans another idea of what Eleven will look like, at least in terms of her attire, in season 3.
Brown's Eleven, now legally named Jane Hopper after David Harbour's Chief Jim Hopper adopted her at the end of season 2, has always been an important part of the overall Stranger Things story, but season 3 will push her even further in the spotlight. As Brown previously revealed, the new season will tell Eleven's coming-of-age tale, following her as she forges her own identity. "It's a beautiful storyline for Eleven this season. It's really a coming of age for her and understanding what being a normal teenage girl is," Brown told Variety. 
After watching Eleven stare down the face of fear for two full seasons, first escaping the terrors of Hawkins National Laboratory and then enduring long days of solitude in a cabin in the woods, it will be interesting to see how she handles all the annoying things about being a typical teenage girl — bad perms and immature boys most likely included. 
Stranger Things season 3 doesn't have a set release date as of yet.