Tom Holland Shows Off His Scary Side In The First Trailer For The Crowded Room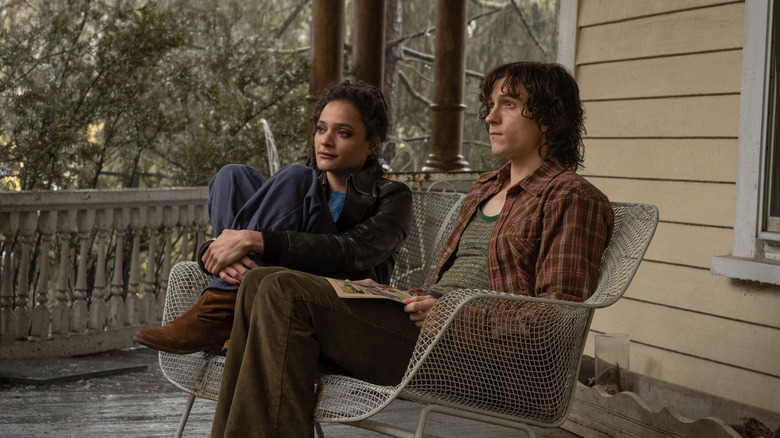 Apple TV+
Tom Holland's newest role is about as different from your friendly neighborhood Spider-Man as you can get — and the first trailer is out now.
Holland is teaming up with Apple TV+ for their new crime series "The Crowded Room," which casts the MCU staple as Danny Sullivan, a man arrested after he's involved in shooting at New York's Rockefeller Center in the summer of 1979. Faced with interrogation by detective Rya Goodwin, played by Amanda Seyfried, Holland's Danny tried to explain why he turned to violence after a difficult past. "A Beautiful Mind" writer Akiva Goldsman will helm the series, and Holland serves as executive producer.
The overall series is adapted from Daniel Keyes' book "The Minds of Billy Milligan," focusing on the titular Milligan and his string of assaults and rapes on Ohio State's campus during the same time period (the summer of 1979). After lengthy interrogations and an official diagnosis from a psychiatrist, Milligan became the first person in legal history to be acquitted of a serious crime over a mental health issue, as he was diagnosed with disassociative personality disorder... and his lawyer argued that, due to his multiple personalities, he couldn't be held accountable for his crimes.
Who else is involved with The Crowded Room, and what happens in the trailer?
Alongside Holland, "The Crowded Room" boasts a pretty impressive cast. Seyfried, of course, will be the other major lead with Holland, and her real-life husband and "Newsroom" star Thomas Sadoski joins her in a supporting role as Matty Dunn. "Shameless" alum Emmy Rossum will play Holland's mother, Candy Sullivan, and Jason Isaacs — yes, Lucius Malfoy himself — will also appear as Jack Lamb, and other cast members include Christopher Abbott ("Girls"), Will Chase ("Nashville"), Emma Laird ("Mayor of Kingstown"), and Sasha Lane ("Loki").
So what happens in the trailer? As Rya starts talking to Danny, she realizes he has a ton of missing memories, and the two have to work together to unpack why he would commit such a crime. Mystified by how someone as young and seemingly innocent as Danny could possibly be involved in a shooting as well as the disappearance of a young girl. "I have these blank spots," Danny keeps repeating — indicating that it's possible that he's responsible for far more crimes than anyone knows.
Tom Holland said the role of Danny Sullivan affected his mental health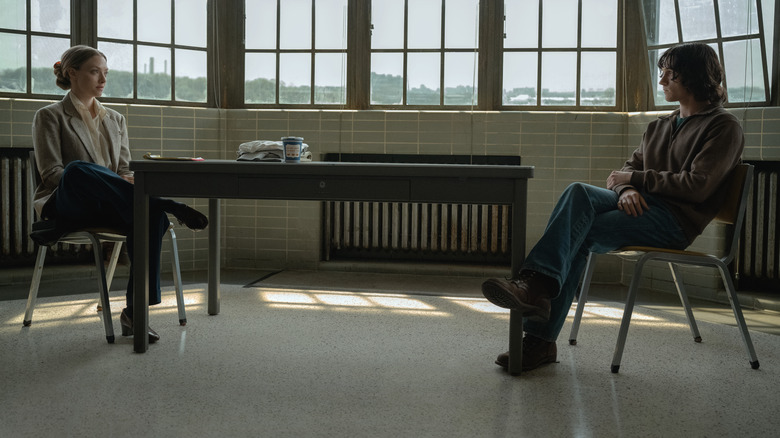 Apple TV+
Speaking to Entertainment Weekly about his role as Danny Sullivan, Holland admitted that the process of playing a character like this was extremely intense — and even troubling for his own mental health.
After telling his team that his dream role would be something like Edward Norton's in "Primal Fear," Goldsman came along with the script for "The Crowded Room," and Holland was hooked. Playing such a different character was a new struggle for Holland, though; he's used to intense physical stunts thanks to the MCU, but he didn't know how emotionally taxing Danny would be.
"I'm no stranger to the physical aspects of the job doing the whole action-movie thing," he admits. "But the mental aspect, it really beat me up and it took a long time for me to recover afterwards, to sort of get back to reality."
Ultimately, it contributed to his understanding of mental health issues. As Holland told EW, "Learning about mental health and the power of it, and speaking to psychiatrists about Danny and Billy's struggles, has been something that has been so informative to my own life." He also noted that he hopes the series help viewers "have more respect and more sympathy for people who are going through mental health issues," he says, adding, "I hope that people will feel educated about the powers of mental health, the struggles, [and] our incredible abilities to survive."
"The Crowded Room" drops on Apple TV+ on June 9, 2023.