Ted Lasso Star Nick Mohammed Doesn't Think Nate Has Redeemed Himself Either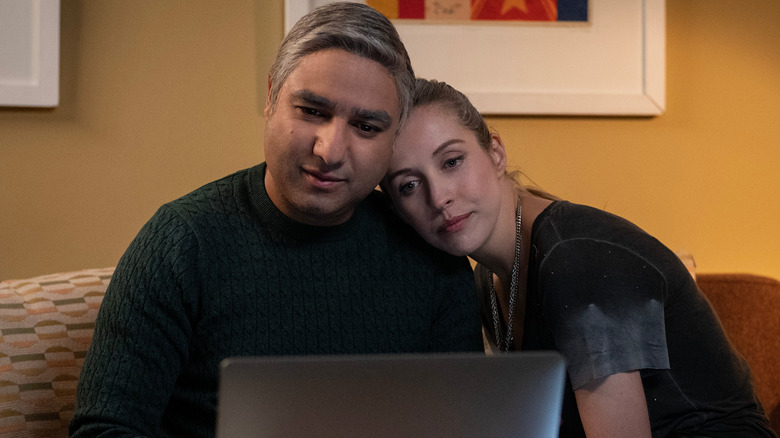 Apple TV+
This week saw a first on "Ted Lasso," as former Greyhound Nate (Nick Mohammed) turned down an offer to spend some quality time with his boss, the borderline villain in need of a mustache to twirl, Rupert (Anthony Head). While we have yet to see just how many feathers might've been ruffled between the partnership we've learned to hate, it's another hurdle that Nate has crossed on his road to redemption. With a new love interest playing a part in setting him straight, it feels like he's realizing that it isn't about impressing idols and fame but just being there for the people that mean the most to you. 
A wonderful lesson to learn, but in the case of Mohammed's character, it still doesn't feel like a discovery he deserves to make and hasn't since the show returned. What's interesting is fans aren't the only ones that think so, either.
Taking to Twitter following the release of this week's episode, Mohammed provided a polite bit of feedback on his character's current situation. "Quickest of reminders that 'Ted Lasso' is still a work of fiction!" He clarified. "But to those demanding I justify Nate's arc ... Has he done enough to redeem himself: no. Does him saying no to Rupert offer hope: yes." Following these viewpoints, the "Ted Lasso" star added with a subtle tease, "But I understand why so many of you are angry. I, personally, remain curious."
Nick Mohammed accepts there might not be a road to redemption for Nate
Apple TV+
Curiosity isn't the vibe among fans at the moment. Rage levels haven't dissipated since we were left with a silver-haired Nate on enemy grounds after turning his back on Ted at the end of Season 2. While audiences may have wanted a strong case of 'what goes around, comes around,' it's worth remembering that "Ted Lasso" just isn't that kind of show. This has been a series filled with characters that have learned the error of their ways (Rebecca, Jamie, Roy), but whether Nate deserves to join that group, Mohammed believes, isn't up to him.
Speaking to Games Radar about the final season, Mohammed revealed he wanted Nate's redemption to be up to viewers. "That's up to the audience as for some people, what he did at the end of season two is too much, and they will never forgive him," Mohammed explained. "For others, he might be able to do enough, and they can welcome him back, but I think he will never be the same." 
In the end, it's an impressive feat that the timidest character has fallen the furthest and may come away the worst because of it. "It's a cautionary tale, be careful what you wish for — sadly, Nate is that figure in the show." We can only see if he changes tactics before the final whistle as "Ted Lasso" reaches its inevitable end.