Who Plays Adrian On The Vampire Academy Series?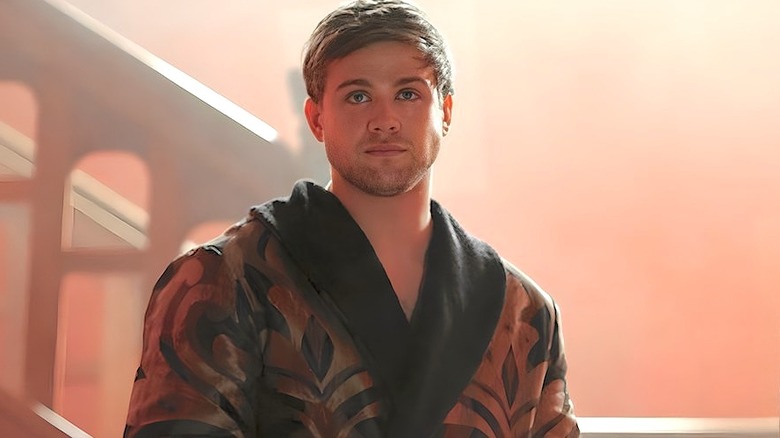 Jose Haro/Peacock
After an attempt to adapt the "Vampire Academy" book series by Richelle Mead into a film didn't work out, a second attempt at an adaptation has proved to be a bit more successful. The TV series "Vampire Academy" — this time co-developed by Julie Plec, the co-creator of "The Vampire Diaries" — premiered on Peacock in September of 2022 to much better reviews. With this reboot came a whole new cast, including Leo Woodall, who plays Adrian in two of the 10 episodes of Season 1.
Adrian Ivashkov, who first appears in Episode 5, is a royal Moroi who happens to have some rare artifacts that Lissa (Daniela Nieves), a fellow royal Moroi, thinks will help her quest to learn more about her Spirit element. In the following episode, Adrian and Lissa venture into the human world together.
It's a short arc, but a memorable one. Woodall's career is also getting started, but he's appeared in the film "Cherry" and one of HBO's most popular series of the 2020s.
Woodall is a fairly new actor — who you likely saw on The White Lotus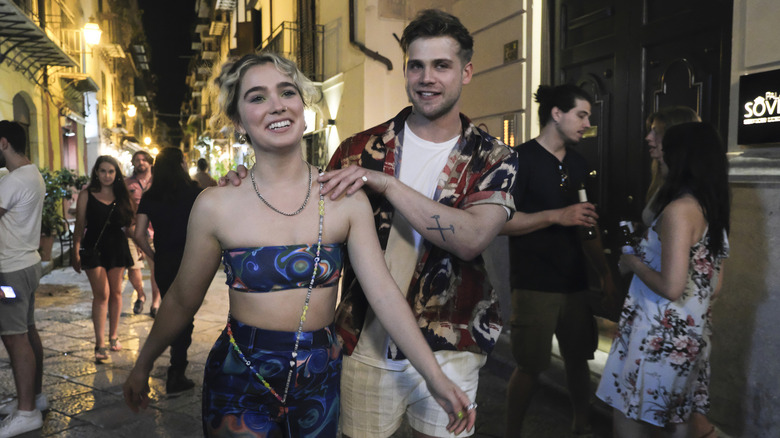 Courtesy of HBO
Leo Woodall's career is just getting started. His first on-screen role was in the 2019 short "Man Down." In the same year, he also had a one-episode arc in "Holby City," the long-running British medical drama. Then, in 2021, he starred alongside Tom Holland in the crime-drama film "Cherry," which was followed by his stint in "Vampire Academy."
Next, Woodall had his most significant role yet with his supporting role in "The White Lotus" Season 2, which still has a few unanswered questions. In the series, he played Jack, the "nephew" of Quentin (Tom Hollander). He helped with the scheme to take down Tanya (Jennifer Coolidge) by seducing Tanya's assistant, Portia (Haley Lu Richardson). Woodall is a part of one of the most memorable and pivotal scenes of the season. In it, Tanya catches Quentin and Jack having sex, giving her the first inclination that the two are likely not related and Quentin hasn't been honest with her.
Following "The White Lotus," Woodall appeared in two episodes of the Amazon Prime series "Citadel" in 2023. For his upcoming projects, Woodall will be starring in "One Day," the series adaptation of the 2009 book of the same name by David Nicholls, as well as a film called "Nomad."