Law & Order: SVU's Betty Buckley Lobbied To Earn A Recurring Role On The Series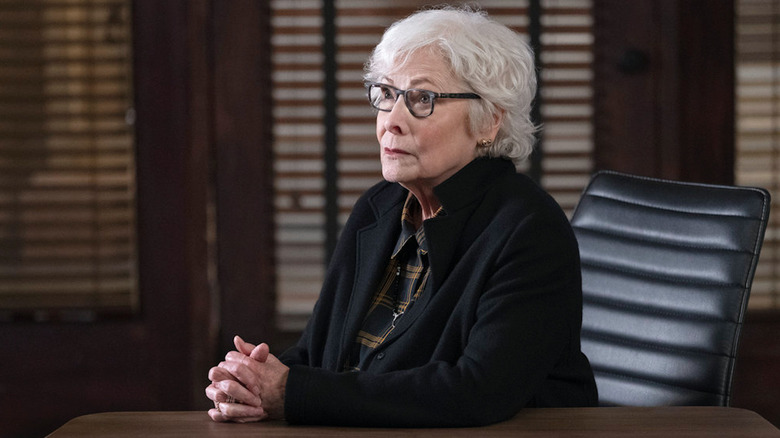 Scott Gries/NBC
A veteran of both the stage and the screen, Betty Buckley is a Tony Award-winning actress known for her decades-spanning roles in "Eight Is Enough," "Carrie," "Split," and "Preacher." She's also known for not one but two different parts on "Law & Order: SVU." Between 2006 and 2008, Buckley appeared three times as Defense Attorney Walsh.
In the heady aftermath of COVID isolation and with television sets reopening, Buckley had a hankering to return to the world of "SVU." She reached out to writer and then showrunner Warren Leight the best way she knew how: she slid into his DMs. "I sent him a private message saying if there's a role on 'SVU' that I could do, I sure would like to come back," Buckley told Today. A few weeks later, Leight responded. "He said, 'You want to be Carisi's boss?' And I was like, 'Yeah!'"
Buckley made her debut as Trial Division Chief Lorraine Maxwell in 2021 and has since made six more appearances as the recurring character. "Every time they call me for a show, I'm just thrilled," Buckley continued. "I love them all."
Buckley has a hands-on role as Lorraine Maxwell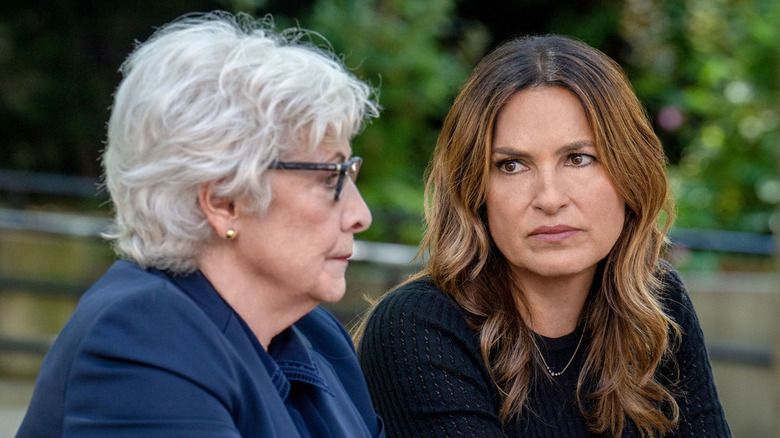 Zach Dilgard/NBC
Seeing as Betty Buckley had the chutzpah to ask for her own "SVU" character, it's no surprise that the actress has remained hands-on when it comes to Lorraine Maxwell. For her most recent appearance as Maxwell in the Season 24 episode "Bend the Law," Buckley pitched the idea for the episode herself.
"I actually pitched the idea for the story to ['SVU' writer] David Graziano and our head writer, executive producer Julie Martin," Buckley told NBC. "We had a Zoom meeting, and they really liked the storyline, and then David took it and ran with it and made it what it is in the episode. I was really gratified that they picked up the idea and wrote the episode for me."
"Bend the Law" puts Maxwell — normally a legal arbiter — front and center when her husband, Roger Briggs (Tom Irwin), is named a person of interest in an investigation regarding underage girls at a members-only club.
Buckley pitched the idea at the behest of her friend Mariska Hargitay and hopes that one day Hargitay, who has helmed eight episodes of "SVU," will direct her in an episode. "I want to do an episode where she directs it because she's a brilliant director, too," Buckley told Today. "Being with her, we have a very natural chemistry, and it just makes me feel really good to be in her presence."