How Did Leslie Shay Die On Chicago Fire?
As Kelly Severide (Taylor Kinney) so eloquently puts it, Leslie Shay (Lauren German) is part of the DNA of Firehouse 51. From the very beginning of "Chicago Fire," she makes quite the impact as she holds her own against her male colleagues, proudly informing them that she's gay, and forming special friendships with everyone, especially Gabriela Dawson (Monica Raymund). Therefore, when Shay meets her demise in Season 2, Episode 22 ("Real Never Waits"), it's a tough blow for everyone to grapple with.
While everyone is trying to celebrate the wedding of Chief Wallace Boden (Eamonn Walker), Firehouse 51 receives a call for a building fire. While inside caring for an injured man, there's a massive explosion that causes a pipe to fall on Shay, killing her. Though Dawson, and later Severide, try to resuscitate Shay, their attempts are futile. It's later discovered that serial arsonist Trenton Lamont (Robert Knepper) is behind the building fire.
Tragic, unexpected deaths are commonplace in TV dramas, but what was the purpose of writing Shay out of "Chicago Fire" so early in its run? According to executive producer Matt Olmstead, it was nothing personal.
Chicago Fire creators killed off Shay to make a big impact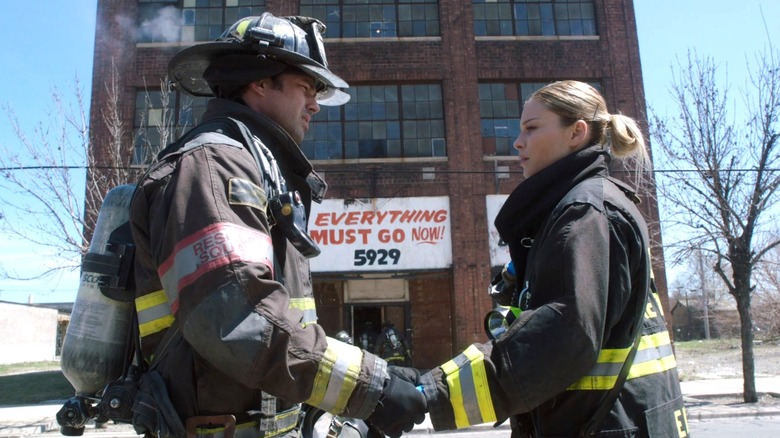 NBC
In an interview with TV Line, "Chicago Fire" executive producer Matt Olmstead reflected on Leslie Shay's surprise exit from the series. While some stars — like Antonia Thomas from "The Good Doctor" — leave a show on their own accord to try something new, others are written off purely for the shock factor. This, explained Olmstead, was the case regarding German.
He said, "Going into it, we knew if we were going to do it, it had to be someone who was going to give us a big impact, as opposed to going for a lesser-known character, which would equate to a pulled punch. So, as opposed to approaching it with timidity, we thought we'd go for it." Pros and cons were considered for each character, but the final decision was made due to one factor: "We came back to Shay because it affected the most people."
According to Olmstead, Lauren German took the news very professionally and even joked that she was glad to be rid of Chicago winters. Still, a decade later, fans continue to mourn the loss of Shay. On Reddit, many agree that her death hits harder than other fictional losses, and that "Chicago Fire" hasn't been the same since.