The Time Law & Order: SVU Surprised A Cancer Survivor With A Guest Role
In case you hadn't checked the news, "Law & Order: Special Victims Unit" is currently one of the longest-running scripted series to ever grace the airwaves. And given the continued adoration the show draws from procedural-loving viewers, it's starting to look like "SVU" may never actually end. Like virtually every other offering in the "Law & Order" franchise, "SVU" has also been a hotbed for providing early roles for actors on the rise during its small screen run. It's also seen some serious heavy hitters pop in for guest spots, including Bradley Cooper, Carol Burnett, Pedro Pascal, Sarah Paulson, Adam Driver, and the late Robin Williams, among others.
During the series' 18th season on the air, however, "SVU" bosses added an unexpected guest star to that already impressive list. Her name is Sarah Malone. And she was not an actor looking for her big break when she made her "SVU" debut. Rather, Malone is both a "Law & Order" superfan, and a cancer survivor who was gifted a role on her favorite series as part of the "Bucket List Granted" segment on the "Today" morning show.
If you're unfamiliar, the segment finds "Today" co-anchor Hoda Kotb treating one worthy subject with a once-in-a-lifetime opportunity. In this case, it was Malone, who reportedly watched "SVU" on a near-endless loop when recovering from her cancer treatments. And to see her face when she walks onto the "SVU" set is to know it really was the gift of a lifetime.
Sarah Malone even got a line of dialogue during her Law & Order cameo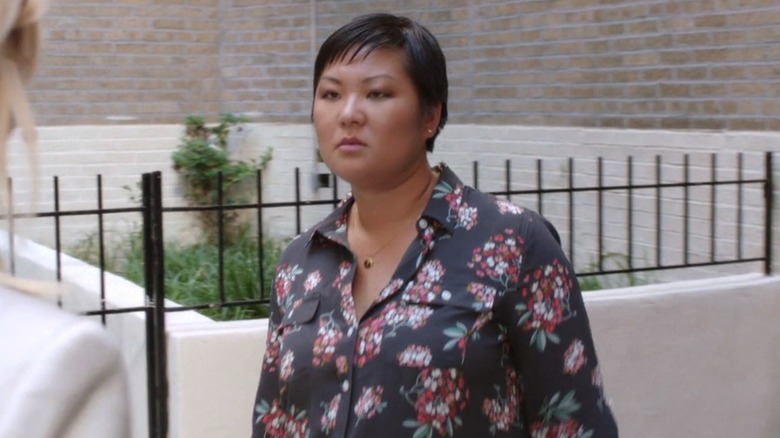 NBC
It's detailed a bit during the "Today" segment, but Sarah Malone's surprise "Law & Order: Special Victims Unit" appearance was the result of some major planning, and a little loving misdirection from key members of the cancer survivor's inner circle, including her husband and her best friend. The planning paid off and then some, as the joy displayed by Malone as she meets and greets the cast of the long-running drama is absolutely infectious.  
As covered in a separate article from Today.com, Malone was given the full star treatment for her "SVU" cameo too, going through the hair, makeup, and wardrobe process, and even getting her very own star trailer. And she was not the only guest star for the Season 8 episode as then-Vice President Joe Biden and "E.T. the Extra-Terrestrial" star Henry Thomas joined the action for guest spots.
Given the history of "SVU" stories, the narrative driving Malone's episode is every bit as troubling as you might imagine. Thankfully, she wasn't cast into the deep end to trudge through some of the show's signature soul-crushing drama. Rather, Malone walks in and out of a single scene early in the action and briefly interacts with series regulars Kelli Giddish and Peter Scanavino, who play Detectives Amanda Rollins and Sonny Carisi respectively. Malone even got a line of dialogue in the scene, telling the detectives, "Check the roof," when prompted about a suspect. And yes, she sold the line like a pro.