Transformers: Rise Of The Beasts - Who Voices Optimus Primal?
While "Transformers: Rise Of The Beasts" will serve as a prequel to the 2007 live-action "Transformers" that kicked off the now-sizable film franchise, it will also mark the series' first appearance of characters from "Beast Wars," who transform into animal-like robots rather than vehicles. For plenty of fans, Peter Cullen's iconic Optimus Prime voice was a highlight of the first "Rise of the Beasts" trailer, given his ongoing importance to the franchise. In "Rise of the Beasts," however, Optimus Prime has a foil in Optimus Primal, a large gorilla robot who leads the heroic faction of beast transformers.
Prolific actor Ron Perlman voices Optimus Primal in "Rise of the Beasts," whose most recognizable roles include the titular character in Guillermo del Toro's "Hellboy" movies, main villain Nino in "Drive," and club president Clay Morrow on "Sons of Anarchy." These roles are merely scratching the surface, however, of a filmography comprised of hundreds of credits across virtually every genre of film and TV. For instance, at the start of his career, Perlman worked closely with acclaimed French director Jean-Jacques Annaud on "Quest for Fire" — his feature film debut — and "The Name of the Rose." Most recently, he guest starred as Sterling Frost Sr. in Peacock's serial detective series "Poker Face."
As a voice actor too, Perlman is a regular in popular movies, TV shows, and even video games, so there's a good chance viewers might recognize the man behind Optimus Primal even without his iconic visage appearing on camera.
Ron Perlman is an accomplished voice actor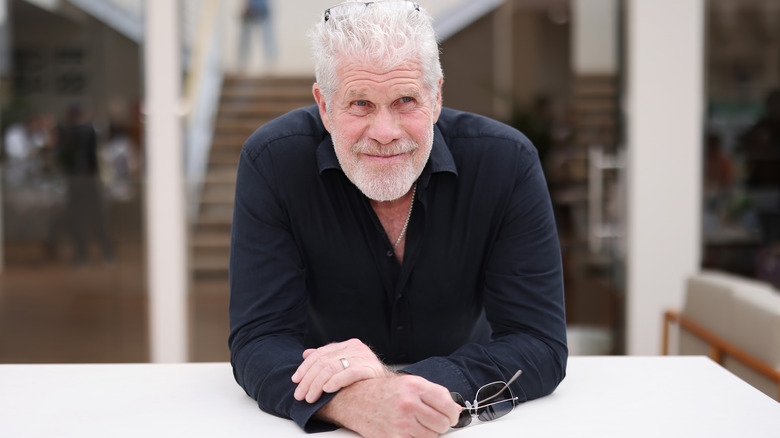 Tim P. Whitby/Getty Images
Since the 1990s, Ron Perlman has interspersed his countless screen acting roles with voice acting gigs, like the villainous Mr. Grasping in the third "American Tail" movie, titled "An American Tail: The Treasure of Manhattan Island," in 1998. Notable films boasting Perlman's vocal talents include "Tangled" and "The Book of Life."
Meanwhile, since 1997, Perlman has regularly contributed to the "Fallout" video game series, including as the narrator of the franchise's first entry. He also appears as a powerful military officer, Fleet Admiral Lord Terrence Hood, in the second and third "Halo" games, as well as a character whose digitized appearance matches his own in "Call of Duty: Black Ops III."
Some of Perlman's most iconic voice roles are on animated TV shows, including the "Teen Titans" cartoons, in which he voices main villain Slade. He's also Justice in the anime series "Afro Samurai," and the Lich in "Adventure Time." He even voices Optimus Primal for a run of seven episodes in the web series "Transformers: Power of the Primes." Perlman, then, is no stranger to animation, and even has prior experience as his "Transformers: Rise Of The Beasts" character, making him an altogether obvious choice for the role.