Severance: The Real Reason Ben Stiller Knew Adam Scott Was Perfect For The Show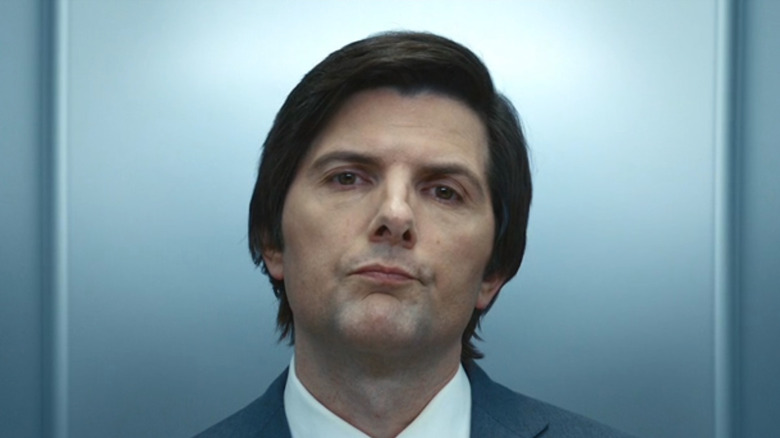 Apple TV
Apple TV's "Severance" was one of 2022's unquestioned TV hits, earning a whopping 97% approval rating from critics on Rotten Tomatoes along with 14 Emmy nominations and two wins in its first season. 
In the show, the main characters have undergone a procedure that allows them to live completely separate work and personal lives. They work in the Macro-Data Refinement (MDR) department of Lumon Industries, crunching inscrutable numbers to complete tasks with no clear goals. Their transitions from "innie" to "outie" life are made via the company elevator, and MDR team lead, Mark Scout (Adam Scott), starts to connect his two halves when he learns his former "innie" best friend, Petey (Yul Vazquez), has been killed. 
Scott earned one of the show's two Emmy nominations for his performance, and series executive producer and director, Ben Stiller, shared with The Hollywood Reporter how he came to cast Scott in the pivotal lead role. Stiller said he had worked with Scott before and had long been a fan of his, and thought "this character is living his life and not really thinking about what it is that's going on around him in his innie world, and then on the outside, [he has] so much more baggage in his life going on." Stiller continued: "I thought it would really be interesting to see Adam do that, because I felt like we've seen him a lot in these comedies and he's really amazing at that, but I also knew he was a really great dramatic actor, too, so it seemed like a perfect fit."
Adam Scott is surrounded on Severance by an amazing roster of co-stars
Stiller surrounded Scott with a roster of talented and accomplished actors. John Turturro and Zach Cherry play his MDR co-workers Irving and Dylan, and Britt Lower plays Helly, the newest addition to their team. Burt Goodman (Christopher Walken) works elsewhere in the building in Lumon's research department, and all of them fall under the piercing watchful eye of Lumon boss Harmony Cobel (Patricia Arquette). 
Scott told the Los Angeles Times that he was initially intimidated when he learned who he would be working with on the set of "Severance," thinking "Oh, my God, I really need to know what I'm doing here." Of Arquette, he said, "When you're working with Patricia, you are watching someone who is totally fearless. She's unbelievably well prepared, but she's also good enough to know that once you're there and the camera's rolling, it's time to throw all that out and just experiment. Every time I had a scene with Patricia, I got up and ran a little faster to work that day." 
Stiller said his prior experience working with Arquette had also keyed him into what would make her a good fit for the role of Harmony Cobel. "She has so much going on and she can do very little and be so fascinating and so intimidating," Stiller said. "She was one of the first people I thought of also."