Severance: John Turturro Helped Christopher Walken Land The Role Of Burt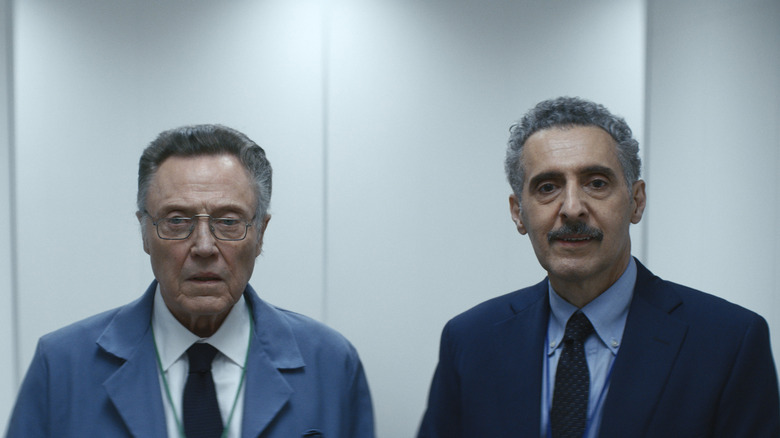 Apple TV+
Apple TV+'s Emmy-winning series "Severance" pairs exceptional performances with bold and inventive storylines for a one-of-a-kind viewing experience. The plot calls for an intensive exercise in acting as the characters possess two entirely different personalities. Inside the Lumon Industry offices on "Severance," the employees only remember their work life and when they leave, they only think of their personal life, thanks to startling technological advancements.
In the series, John Turturro plays Irving who has a complicated and intimate relationship with a co-worker named Burt (Christopher Walken). With Gold Derby, Turturro revealed how he was integral in casting Walken for the role and even suggested the esteemed actor himself. He had dinner with "Severance" creator Dan Erickson and episode director Ben Stiller, and he personally named Walker for the part, "They said, 'You have this relationship with this person who you connect to in this world even though you are severed,'" he continued. "And I said, 'Yeah, that would be really important who I would do that with.' They said, 'Do you have any ideas?' and I said, 'Yeah, I do. Christopher Walken." 
Turturro's choice was integral in ensuring he had the right chemistry with this on-screen partner. Their relationship importantly blurs the lines between the two severed personalities, which makes viewers further question the ethical nature of it. Turturro continued sharing why he felt Walken was right for the role based on their rewarding work experience together.
John Turturro chose Christopher Walken based on their shared work history together
Apple TV+
John Turturro and Christopher Walken previously worked together on the musical comedy "Romance & Cigarettes." Turturro directed Walken in this standout New York tale which explores the joys, trials, and tribulations of the resilient working class with an all-star cast. On set, the two formed a special bond during their time working together, as evident in his decision to bring Walken onto "Severance." 
He continued sharing illuminating details from their past work experience with Gold Derby, "I love Chris," continued Turturro. "I love working with him and it's easy to pass the ball back and forth with him. I directed Chris and I've also admired his work on stage and film. It's just a delight to work with him. It's easy if you have a strong feeling towards someone already as a person and they have an openness. He really dances with his partners. They said, 'Do you think Chris would be open to it?' and I said, 'I'll give him a call.'"
Thankfully, Walken was available and interested, which gave us one of the most refreshing and heartfelt television relationships on television. This is also one of the many behind-the-scenes facts that make "Severance" an enjoyably unique and unpredictable viewing experience.