Why Was Ugly Betty Canceled? The Real Reason ABC Ended The Series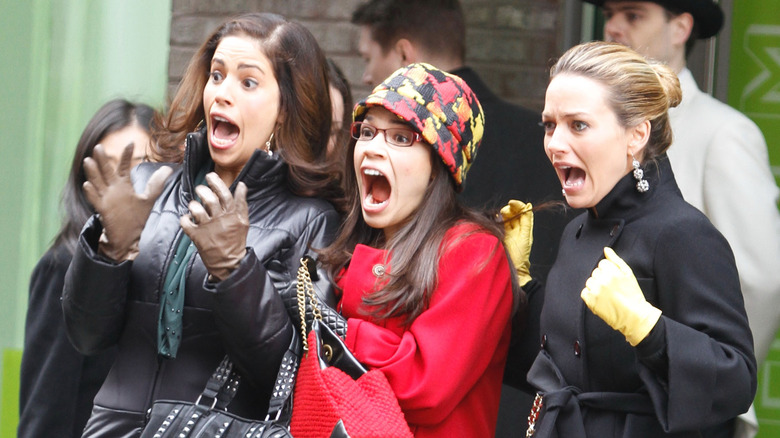 Marcel Thomas/Getty Images
"Ugly Betty" managed to break through the pack of ABC's post-"Desperate Housewives" wave of quirky dramedies by anchoring itself in two things: America Ferrera's winning performance as ugly-duckling-turned-fashionista Betty Suarez and the way it refused to take itself seriously. Based on the Colombian telenovela "Yo soy Betty, la Fea" and co-produced by Salma Hayek, the show packed in enough jaw-dropping drama and charming humor to fill two successful seasons of romance, cutthroat boardroom antics, and wild fashion missteps. And then there was Vanessa Williams, whose iconic Wilhelmina Slater drove huge chunks of the plot.
Alas, a significant ratings dip during Season 3 caused ABC to pull the plug on "Ugly Betty," making the fourth season the final one and allowing the show to do what it needed to do to give Betty the Cinderella ending she deserves. What caused the cancellation of "Ugly Betty"? Those classic bugaboos that have haunted many a television series: timeslot juggling, low ratings, and cast and plot changes.
The show never really had a stable timeslot after its Season 1 debut, shifting from Thursday nights, where it acted as a lead-in for "Grey's Anatomy," to Friday nights to Wednesday nights; in each timeslot, they failed to maintain the strong ratings they had during Season 1; the show slipped from 8.3 to 5.3 million viewers from its second to third season. During its run, the show also had a heavy turnover of backstage personnel, resulting in erratic writing choices that met with a mixed reception from viewers. It also lost some key cast members during Season 3 and Season 4. All of these factors combined helped put an end to "Ugly Betty."
Cast losses, writer's room shuffling and ratings losses all contributed to the cancellation of Ugly Betty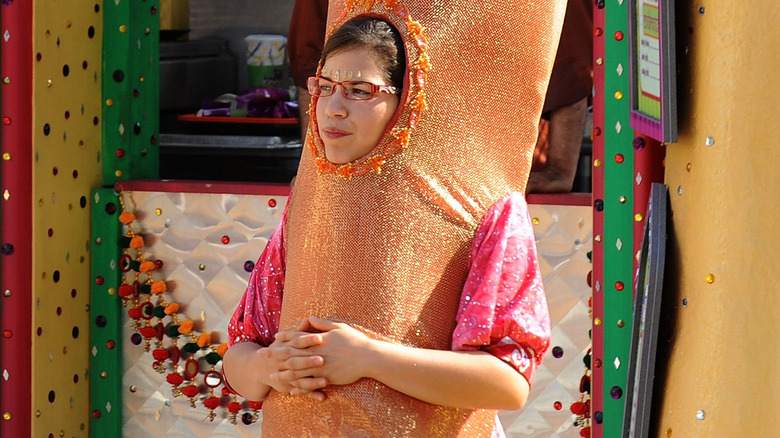 James Devaney/Getty Images
Aside from constant timeslot juggling, "Ugly Betty" suffered from both far-fetched plot complications and far too many love triangles featuring our titular heroine. Every season, two guys would express their simultaneous love for Betty, leaving audience members wondering who they should be rooting for her to end up with. Ultimately the show zeroes in on Betty's attraction to Daniel Meade (Eric Mabius), the true heir to the MODE Magazine throne. But after so many triangles and on-again-off-again dances, the show didn't bother to invest in their emotional bond until Season 4, leaving only the possibility that they'll end up together. At least the series finale gets Betty out of New York and to London, where she's seen as a fashion maven.
Then there's the over-the-top soap plotting: perfectly acceptable on a telenovela but sometimes a little too outlandish for a nighttime drama, even in the '00s. Comas, paternity mysteries, and other soap opera staples loomed large during the show's run and may not have provided enough of a realistic hook to keep its audience invested long-term.
And let's not forget that the show also had a tendency to lose regular cast members. Rebecca Romijn (Alexis Meade) left after the second season, appearing in only four episodes of Season 3. Ashley Jensen (Christina McKinney) popped in and out during Season 3 and disappeared during Season 4, depriving Betty of a close friend and sounding board.
And yet "Ugly Betty" definitely impacted broadcast television; it proved that the dramedy was back and worth its salt. It also won an Emmy for America Ferrera and earned several prominent award nominations for the cast. Its legacy has definitely outlasted its uneven broadcast reputation.