Daisy Jones & The Six: Riley Keough Wanted To Use Daisy As A Way To Break Into Music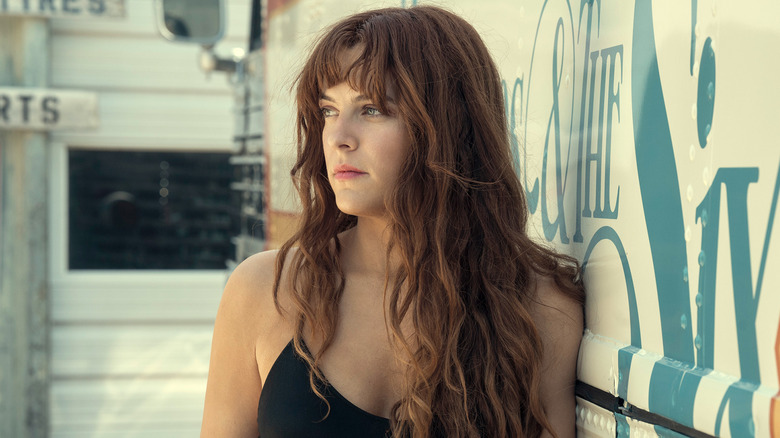 Amazon Studios
Based on the novel by Taylor Jenkins Reid, "Daisy Jones & The Six" premiered in early 2023 on Amazon Prime and became an immediate hit for the streamer, with fans and critics praising its music and central performances most of all. Not every actor is necessarily a great singer, but the series made a wise move in casting Riley Keough — Elvis Presley's granddaughter — as Daisy Jones.
Family doesn't guarantee that someone can sing, but Keough has incredible charisma and an excellent voice. In fact, according to her, she hoped the role would help her break into music. Speaking to Vanity Fair, Keough confirmed she did have to audition for the role. 
"I think I wanted it really badly because I wanted the opportunity to try something that I'd never tried before, which was singing and playing music," Keough said, "and just being able to do it in a way that felt like she'd been doing it for years. They were rock stars. It wasn't an amateur thing. For me, I had never sang before. I'd sang a little bit here and there with my husband because he plays guitar, and I know that I have a sort of musical ear, but in terms of actually using my voice, I'd never done that before."
Riley Keough's first love was acting, not music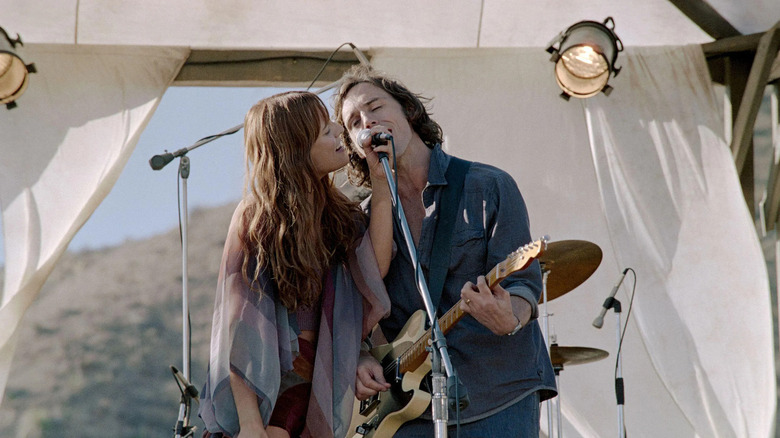 Amazon Studios
One would think that, as Elvis' granddaughter, Keough wouldn't be a stranger to the music industry. Apparently she avoided it for a long time. This was not because she was concerned about being viewed as a "nepo baby," but it was more so because she fell in love with acting first.
"I don't think I shied away from it on purpose," Keough said. "From as far back as I can remember, I was just obsessed with movies and acting and writing, and I wanted to direct. I don't think I really thought about it. I loved music, but it wasn't something that I felt drawn to in the same way that I did with film."
"Daisy Jones & The Six" is the first time Keough has shown off her talents as a singer and musician. Before the series, she was most known for roles in movies like "Logan Lucky," "Magic Mike," "Mad Max: Fury Road," and "Zola," as well as her starring role in the Starz reality series "The Girlfriend Experience." Now, with one of her buzziest roles yet, Keough is honoring her family legacy, but as it turns out, she came close to not getting the part because her singing voice wasn't strong enough.
Riley Keough nearly missed out on the part of Daisy Jones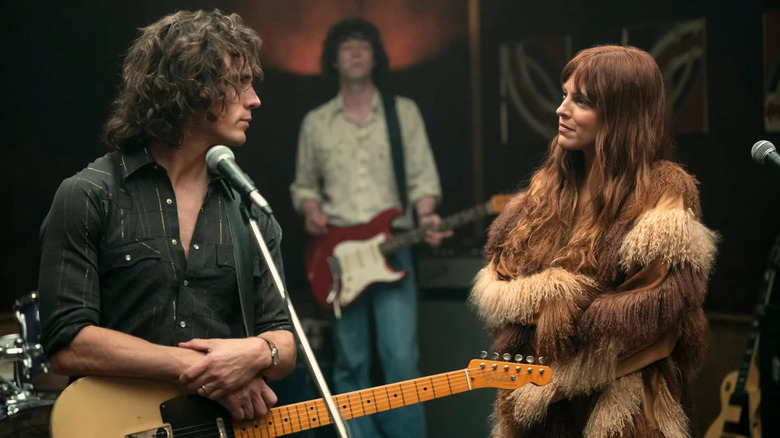 Amazon Studios
Keough told Vanity Fair that during the audition process, she had to send in an acting tape as well as a self-tape of her singing. She sent in a video of her singing, but she was told her voice wasn't strong enough. On some advice from her agent, Keough tried to record herself singing the powerhouse ballad "Shallow" — originally sung by Lady Gaga in the 2018 remake of "A Star is Born" — but this didn't go well either. 
"I was sitting in the car, and I pulled over and just tried, and it just sounded so bad," Keough said. "It just sounded so horrible, and I sat there, and I started crying because I was just so frustrated. It wasn't even just about getting the role. It was that I'm not gonna be able to do something that I had an idea that maybe I could do if I put work in."
Thankfully for "Daisy Jones" fans, Keough forged ahead, and after she let herself sulk for a little while, she got a vocal coach. Ultimately, working on songs in the right key for her voice — like Lynyrd Skynyrd's "Simple Man" — helped her start belting again, and the rest is history.