Every Actor From The Suicide Squad Who Appeared In Guardians Of The Galaxy Vol. 3
The Marvel Cinematic Universe barrels forward as the newest installment of the franchise brings to a close the trilogy of films in the current iteration of the Guardians of the Galaxy. James Gunn returns for what many believe to be his final film at the helm of the series now that he has taken over the entirety of the DC franchise with the new revamped DCU. With "Guardians of the Galaxy: Vol. 3" as his apparent swan song, there is much to look out for while watching the film.
Of course, no James Gunn film would be complete without spotting multiple people that he often works with and sneaks into his movies. From Nathan Fillion to his brother, Sean Gunn, these actors are always fun to catch in sometimes small, sometimes pivotal roles in his films. Of course, Gunn taking over the DCU primarily comes from the success of his "Guardians of the Galaxy" tenure, but it could also be related to his successful righting of the ship of the DC franchise with "The Suicide Squad." 
We took a look at both films and noted the fun little appearances by some of the James Gunn faithful in both superhero outings.
Sylvester Stallone is King Shark and Stakar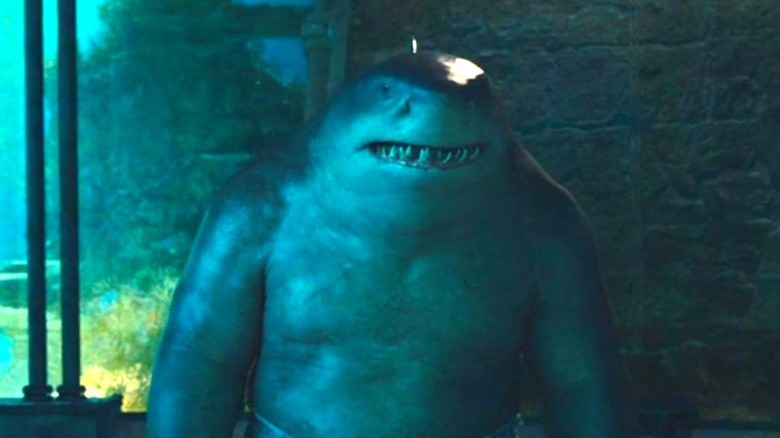 HBO Max
Sylvester Stallone is one of the biggest stars in Hollywood. From doing battle in every major terrain on the planet as the troubled soldier John Rambo to doing battle in every major city's boxing ring as Rocky Balboa, he is used to big battle scenes and big franchises. He made his James Gunn debut in "Guardians of the Galaxy: Vol. 2" as Stakar Ogord, one of Yondu's (Michael Rooker) original teammates. While he was a relatively minor role, he is making his return in the next installment.
He also appeared in the DC Extended Universe when Gunn tapped him again to appear in his rag-tag team-up across the comic aisle. In "The Suicide Squad," he is a little harder to spot, mostly because fans could only hear his voice as King Shark. There were a lot of standouts in "The Suicide Squad," but Stallone's portrayal of the character was surprisingly entertaining, and King Shark was one of the film's brightest spots.
Sean Gunn is Calendar Man and Kraglin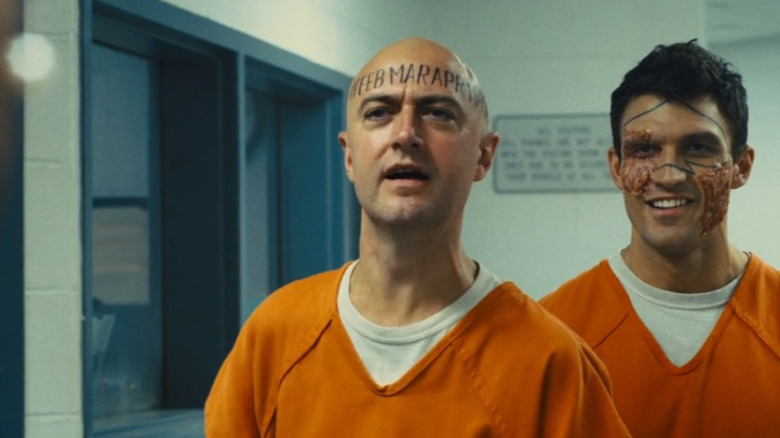 HBO Max
Family is family, and James Gunn never forgets to include his brother, Sean Gunn, in his projects. His brother appears in the "Guardians of the Galaxy" franchise as Kraglin, a mainstay in Yondu's crew. In true Sean Gunn style, his appearance is short but memorable in that he is one of the center points of comedic relief in the crew. He also appears in a similar, but even more minor role, in "The Suicide Squad" as the popular Batman C-level villain, Calendar Man. He is seen briefly when he taunts one of the team recruits and then is never heard from again.
While James Gunn is a household name now, Sean remembers when he wasn't and pinpointed his MCU debut as the film that honed his filmmaking prowess in an interview with Screen Rant. "'Guardians' helped James, as a creator, stop circling around the bullseye and really find it," Sean Gunn said. "It's almost like 'Guardians' was the key that unlocked the door that now is open to all sorts of different things. I think there's so much more to explore."
Nathan Fillion is TDK and Master Karja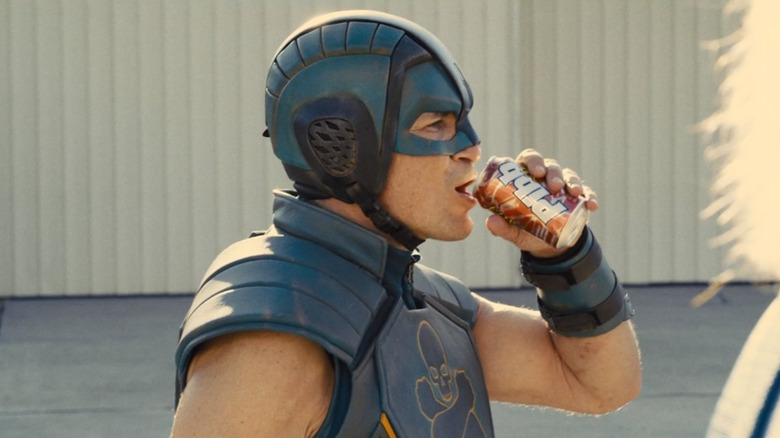 HBO Max
Nathan Fillion, one of the more fun actors in Hollywood, is a funny, charming, and seemingly genuine person. He can be seen as the lead in "Firefly," Joss Whedon's low-budget but fun space western that felt like a bit of a Han Solo homage, "Castle," as the sarcastic man-child murder mystery writer-turned-detective, and "The Rookie," as LAPD's oldest rookie officer. His time with James Gunn is extensive, as he has appeared in every one of his directorial pursuits in one way or another. He began in "Slither" and "Super" and continued in "Guardians of the Galaxy" and "The Suicide Squad."
In "Guardians of the Galaxy," Fillion appeared as a giant blue alien that tried to bully the new prisoners until Groot put limbs up his nose. He then appeared in the sequel as Wonder Man, only to see the scene cut. In his appearance in the final "Guardians of the Galaxy" film, Fillion shows up as a blundering leader of the security group in the Orgogroup headquarters. Of course, he also appeared in "The Suicide Squad" as one of the most useless on the team, The Detachable Kid.
Daniela Melchior is Ratcatcher 2 and Ura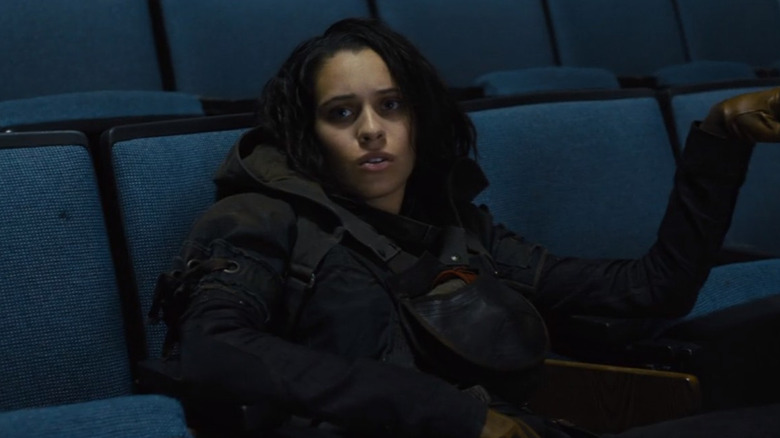 HBO Max
Daniela Melchior is a mostly unknown actress but is on the cusp of exploding. While she has a role in the upcoming "Fast & Furious" installment, "Fast X," and a role in the Jake Gyllenhaal remake, "Road House," she has yet to make herself a household name. Of course, she made a splash when she appeared in "The Suicide Squad" as Ratcatcher 2, where she is made fun of by Peacemaker (John Cena) for being a millennial.
She can also be seen in Gunn's "Guardians of the Galaxy" finale as Ura, an administrator at Orgoscope, where she walks Peter Quill (Chris Pratt), Nebula (Karen Gillan), and Gamora (Zoe Saldana) into the company. In an attempt to recruit her into their mission, Quill does what he does best and flirts with her, much to the annoyance of the rest of the team. While the role is relatively small, she is primed to take over Hollywood with significant roles coming up.
Jennifer Holland is Harcourt and a security guard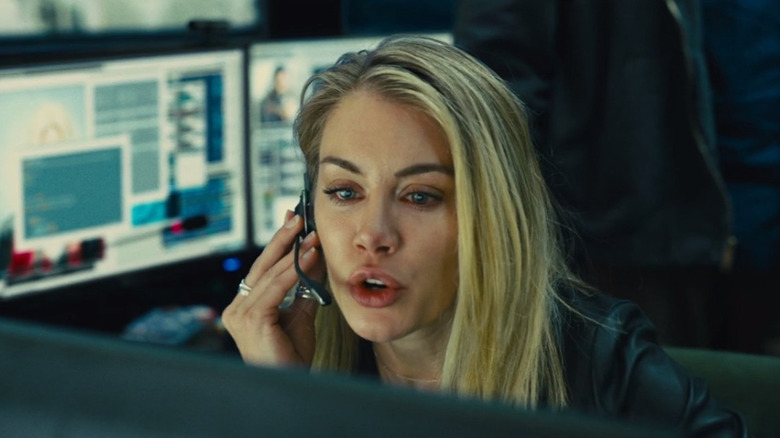 HBO Max
In 2022, James Gunn married his seven-year girlfriend, Jennifer Holland. Holland appeared in the DCEU as ARGUS Agent Emilia Harcourt in "The Suicide Squad." After some criticism from fans for casting his wife in his films, he responded after she appeared in "Black Adam," noting that he only cast her in "The Suicide Squad" and that he did not cast her in the other films.
Gunn also brought Holland into the MCU with an appearance in "Guardians of the Galaxy: Vol. 3." Even though it is a much smaller role than her DC appearances, Holland shows up as Administrator Kwol. She alerts the Orcocrop to the infiltration of the Guardians, which gets her a shot in the leg from Gamora. Fans may need something to complain about at all times, but Gunn doesn't play favorites as he puts her on the receiving end of a gunshot.
Michael Rooker is Savant and Yondu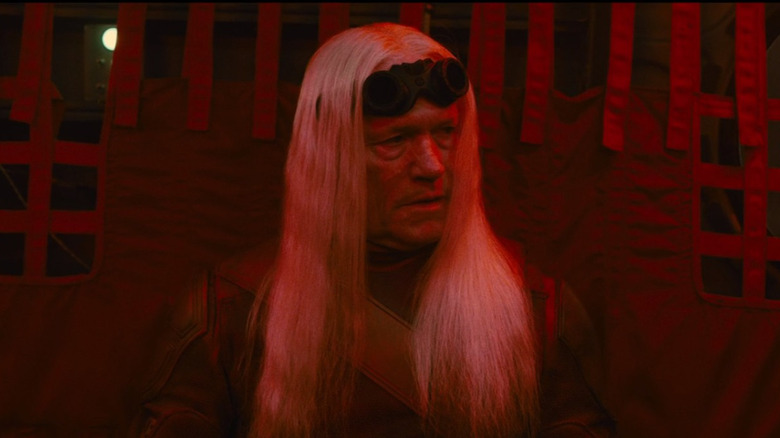 HBO Max
Michael Rooker is another actor who appears in all of James Gunn's work as he took part in "Slither" and "Super." But his most significant role in a James Gunn film was definitely as Yondu in "Guardians of the Galaxy." He served as a quasi-adoptive father/abductor to Peter Quill and ended up sacrificing himself for Star-Lord at the end of "Guardians of the Galaxy: Vol. 2." He shows up again in a similar role in the final installment when he encourages Kraglin. While his former crew member struggles with learning to use Yondu's arrow, he gets a little help from Yondu in the form of a voiceover.
Rooker also appeared in "The Suicide Squad" in a similar way to his fellow Gunn-faithful, Nathan Fillion. He shows up as Savant, a prisoner-turned-X-Force-member embarking on the doomed mission at the beginning of the film. While he and Fillion had small roles in the DC property, they showed that James Gunn never forgets his friends.