Why Varian Fry From Transatlantic Looks So Familiar
Anika Molnar/Netflix
As Netflix's vast library of original productions continues to grow, it's getting easier and easier for some of those originals to slip between the proverbial cracks. And "Transatlantic" very much feels like a series cut from that frustrating Netflix cloth. Set in France circa the early-1940s, the eight-episode miniseries tracks the amazing true story of American journalist Varian Fry who, in the early days of World War II, managed to arrange safe passage out of occupied territory for thousands of refugees that likely would've been targeted by the Nazi regime.
Among the thousands of Jewish citizens, artists, philosophers, and activists Fry helped escape Nazi persecution, you'll find names like Max Ophüls, Hannah Arendt, Marcel Duchamp, Max Ernst, and Marc Chagall. Though Fry has never gotten the sort of cultural recognition as an Oscar Schindler, his story is not all that different. And the "Transatlantic" creative team has delivered as compelling a re-telling of Fry's incredible as anyone likely could've hoped for.
If you've seen the series, or even its trailer, you know "Transatlantic" fronts a couple of heavy hitters in Gillian Jacobs, and Corey Stoll. It's a safe bet you recognized the actor who plays Varian Fry as well. His name is Cory Michael Smith and here's where you've seen him before.   
Cory Michael Smith was a villainous riddle-maker on Gotham
Very much seen as a star on the rise in entertainment circles, Cory Michael Smith earned his first legit acting credit less than a decade back, doing so in Kristen Stewart's largely overlooked 2014 Guantanamo Bay military drama, "Camp X-Ray." In the years since, Smith has been pretty choosy about what film and television projects he's gotten involved with, logging a mere 12 roles over that period. Few were bigger than the one he debuted in the fall of 2014 — Edward Nygma in "Gotham."
As fans of the Caped Crusader know, Nygma would go on to become the legendary villain known as The Riddler. But "Gotham" played fast and loose when it came to "Batman" lore to say the very least. And in the early days of the series, Smith's Nygma was a clever GPD forensic scientist with a penchant for solving puzzles, and a wicked crush on the department's records keeper. That crush — coupled with a likely case of dissociative identity disorder — would prove the catalyst for Nygma's murderous downward spiral. That spiral became the stuff of comic book legend when Nygma fully embraced his criminal, bowler-hat-loving alter ego. And over the ensuing seasons of "Gotham," Smith's grandstanding work helped make his Riddler a foe for the ages.  
Smith played a deeply troubled young man in Olive Kitteredge
One look at his IMDb page will confirm 2014 as the biggest single year in Cory Michael Smith's career. Not only did 2014 see him share the screen with Kristen Stewart, and break out by breaking bad on "Gotham," but it also found the young actor playing a key role in HBO's Emmy-winning mini-series event, "Olive Kitteridge."
That decades-spanning drama found the great Frances McDormand in the title role of an outspoken math teacher who, for better or worse, touched the lives of those who entered her orbit. The series fronted a legitimately astonishing cast of supporting talent of indie all-stars like Richard Jenkins, Rosemarie DeWitt, Peter Mullan, Ann Dowd, and Bill Murray. It boasted an equally impressive number of up-and-comers as well, including Zoe Kazan, Brady Corbet, Rachel Broshanan, and yes, Cory Michael Smith.
As it was, Smith only appeared in one episode of "Olive Kitteridge." But he more than made the most of his moment as Kevin Coulson, the grown-up version of a former student of Olive's whose mother suffered from bipolar disorder. Now studying to be a doctor, Kevin is facing similar issues. And if you've seen the scene in which Kevin and Olive talk about such problems, you know Smith arguably outshines even his legendary scene partner.
If you or someone you know needs help with mental health, please contact the Crisis Text Line by texting HOME to 741741, call the National Alliance on Mental Illness helpline at 1-800-950-NAMI (6264), or visit the National Institute of Mental Health website.
Carol found Smith playing a wolf in sheep's clothing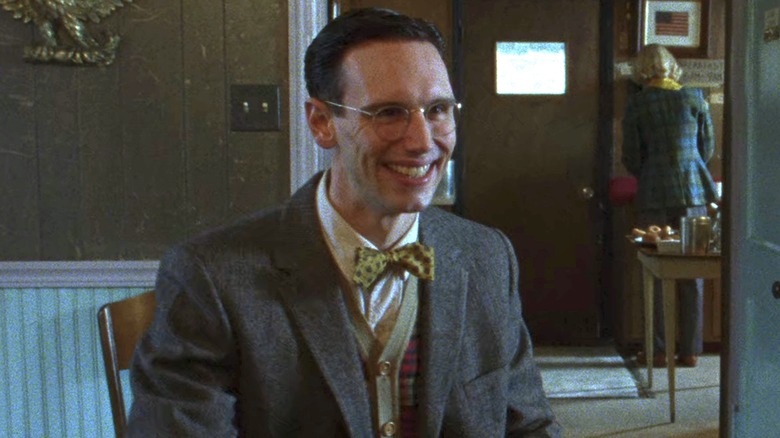 The Weinstein Company
"Olive Kitteridge" was far from the last time Cory Michael Smith turned up in a lauded indie flick fronting an all-star ensemble cast. In fact, he's made a bit of a habit of it throughout his career, delivering unforgettable work in even the smallest of roles. That includes his brief appearance in 2015's beloved romantic drama "Carol." 
Directed by indie auteur Todd Haynes, the film pit Cate Blanchett in the title role of a 1950s suburban mother who falls for Therese (Rooney Mara), a burgeoning photographer she meets in a department store. That relationship understandably taxes Carol's already deteriorating marriage, and things only get more complicated as said relationship deepens. As it happens, Smith's character, Tommy Tucker, plays a pretty big part in complicating Carol's life. He enters the story as a seemingly harmless salesman Carol and Therese meet during a road trip. But it turns out he's a sleazy private investigator hired by Carol's husband to obtain proof of her homosexuality so he can use it against her in court.
Tommy does what he's hired to do. When Carol confronts him at gunpoint over his illicitly-obtained recordings, the man's ego-driven pride is as staggering as it is reprehensible. And that beyond-tense scene surely ranks among the most memorable of Smith's young career. 
Smith shared the screen with John Cusack in Utopia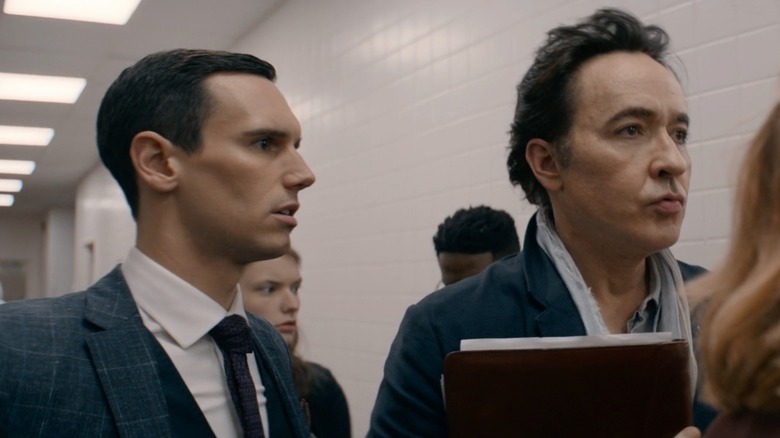 Amazon Studios
After "Carol," Cory Michael Smith would continue to play The Riddler on "Gotham" for several more seasons, while also joining the star-studded casts of Todd Haynes' "Wonderstruck," and Damien Chazelle's "First Man." In 2020, the actor made his streaming debut when he signed on to Amazon Studios' sci-fi drama, "Utopia."
Based on Dennis Kelly's novel of the same name, "Utopia" arrived on Prime by way of "Gone Girl," and "Sharp Objects" scribe Gillian Flynn. It did so fronting a beautifully bizarre tale of an international conspiracy that involves an underground cult comic book. The comic book, in question, which may, or may not precisely detail the who's, what's, and why's of a plan to covertly, and criminally end the problem of overpopulation. 
The series made its debut in 2020, but didn't exactly prove a runaway hit for Amazon. And one has to wonder whether its paranoid tale of pandemics, vaccines, and shadowy corporate demigods didn't hit a little too close to home for many at that time.
But if such topics don't put you off these days, you might find "Utopia" a fascinating little sci-fi adventure that features stellar work from the likes of John Cusack, Sasha Lane, Jessica Rothe, and Rainn Wilson. Ditto for Cory Michael Smith, who plays Thomas Christie, the hot-headed son of Cusack's evil genius, Dr. Kevin Christie. And in case there's any question, it's an absolute joy to watch those two actors work through scenes together.