Yellowjackets Season 2: This Cast Reacts To That Harrowing Episode 6 Scene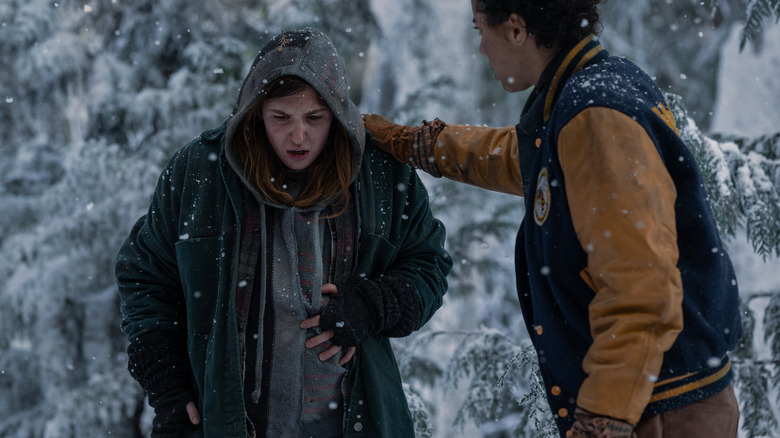 Kailey Schwerman/SHOWTIME
Contains spoilers for "Yellowjackets" Season 2 Episode 6 — "Qui"
We all knew it had to get to this point. In the 1996 timeline of "Yellowjackets," a teenaged Shauna (Sophie Nélisse) is getting more and more pregnant by the day, and when she goes into labor, it feels beyond foreboding; how could a baby be safely born in the wilderness when everyone involved in the birthing process is starving to death?
The answer is, quite obviously, it can't. Shauna's baby dies during childbirth, which she only realizes after several fevered dreams and hallucinations involving everything from her baby boy starving as her malnourished body fails to produce breast milk to her teammate Lottie (Courtney Eaton) breastfeeding the baby instead to the entire soccer team hungrily devouring the newborn. So what was it like to film these sequences? Cast member Sammi Hanratty remembered worrying not just about the cast involved in this difficult episode, but the crew.
Speaking to Us Magazine, Hanratty said, "[They're] people that people might not always advocate for as much as they do for the actors. I was more worried about [how] you never know what somebody's gone through. And [the crew is] stuck on set having to go through this. So, my whole thing was making sure that everybody was in a safe space."
An intimacy coordinator was key to this Yellowjackets scene
Kailey Schwerman/SHOWTIME
Luckily, Hanratty reported that everybody working on the episode got through everything thanks to help from an expert. "Everybody was OK," she continued. "We had an intimacy coordinator [to address the] very heavy topics that people actually go through on a daily basis. I know it's hit my family with loss before like that. So, I think that just being cautious of each other, being there for each other, being loving toward each other was very, very important. And just having a lot of care toward ourselves and toward everybody."
The use of intimacy coordinators has been on the rise in recent years, which, it should go without saying, is a really good thing. A prime example from a recent project is Steven Spielberg's 2021 remake of "West Side Story," where, during the scene where Anita (Ariana Debose) is attacked by a gang of Jets, an intimacy coordinator was on hand to help make sure Debose was all right — and her co-star Rita Moreno, who originated the role of Anita on screen, only learned what an intimacy coordinator even was right then and there. There's no question that this "Yellowjackets" scene must have been devastating to shoot, and having a coordinator there to help likely made all the difference.
Sophie Nélisse had the hardest job during this Yellowjackets episode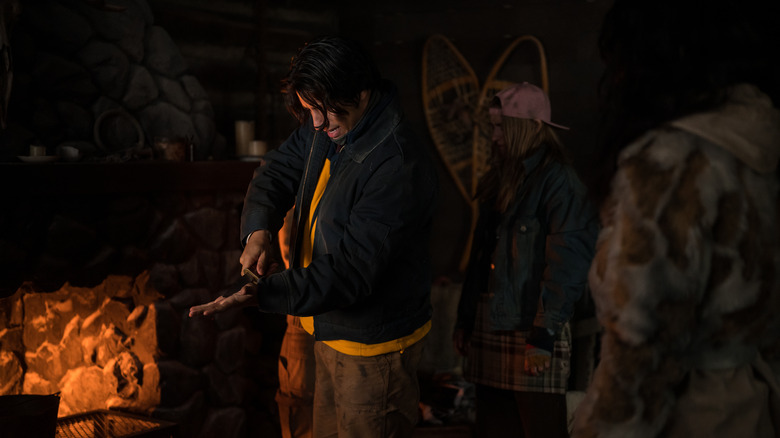 Kailey Schwerman/SHOWTIME
Difficult as it must have been for everyone involved, there's no question that Nélisse, as Shauna, had the hardest job — especially as she had to play out several different disturbing scenarios. Her co-star Liv Hewson told US that a large portion of their time during filming (Hewson uses they/them pronouns) was spent simply making sure Nélisse was all right.
"Filming that episode was interesting because we all knew that we had to have each other's backs a lot. Everyone in particular was very focused on supporting Sophie — making sure she had everything she needed," they said. "So, it was intense, difficult days, but we were all really locked in and really keeping each other afloat."
Hewson went on to say that, despite the difficult nature of the scene at hand, the end product was worth what everyone gave to it. "[It is] intense," they continued. "And it was a hard, challenging week, but I'm very proud of the work we all did."
The episode's director had nothing but praise for Sophie Nélisse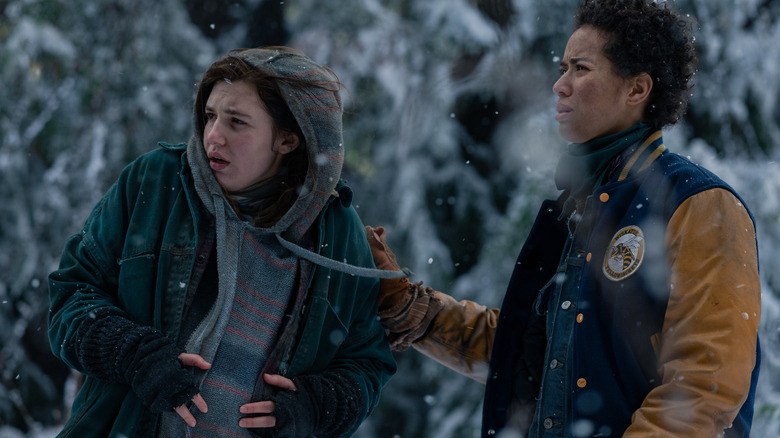 Kailey Schwerman/SHOWTIME
Speaking to The Hollywood Reporter, director Liz Garbus also weighed in on filming the episode — and, like Hewson, she spoke extensively about working with Nélisse throughout. Praising the young actress for the depth of her performance, Garbus, who has helmed episodes of shows like "The Handmaid's Tale" and worked on "I'll Be Gone in the Dark," opened up about what it was specifically like to film the scene where Shauna wakes up from her series of dreams, only to find that her baby actually died during childbirth.
"But what's also really interesting, and to me one of my favorite moments, is Sophie's incredible work at the end of the episode, where she wakes up and is in denial that this could have happened," Garbus said, referencing the fact that Shauna doesn't quite understand, in the midst of her grief, that her baby died. "I still have chills thinking about her performance. When I called "cut" on that last take, or I knew we had it, and I went over to Sophie and gave her a hug, I looked around and the other cast was crying. The actors around us. Because Sophie had just given so much and that grief she felt, that loss, was so palpable that all of us were just kind of beside ourselves. It was a pretty special moment as a director to be working with them at that moment."
The latest episode of "Yellowjackets" is available to stream on Showtime now, and it will air on the network on Sunday evening.