Sacha Baron Cohen Shooting A New TV Series For Showtime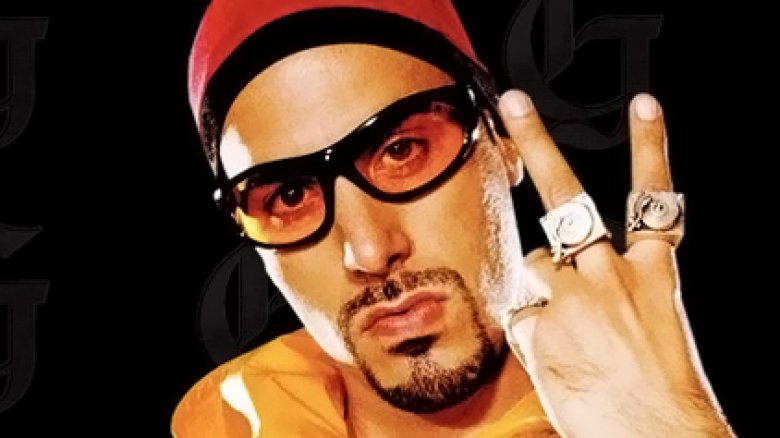 Sacha Baron Cohen is returning to TV with a mysterious new series on Showtime, apparently already in the process of being filmed. Booyakasha.
The news comes thanks to a report from Variety, which indicates that Baron Cohen will indeed star in the series — his first since Da Ali G Show, which originally aired on Channel 4 and HBO from 2000 to 2004. Reportedly, one or two episodes' worth of material for the series has already been produced.
On July 4, Baron Cohen posted a mysterious video on social media that seems to tie into whatever this new show of his will be trying to do. Billed as "A Message from Donald J. Trump", the video features an older clip of the businessman pre-presidency, berating Baron Cohen as a third-rate comedian who deserves to be punched in the face repeatedly. (He's hardly the first person Baron Cohen's come across in his comedy career to ever express that sentiment.) 
In addition to the personalized smack talk from a sitting president, the 37-second video promises the return of Baron Cohen to the spotlight "as you've never seen him before", ultimately ending on the logo of the (allegedly) extremely fraudulent, now-defunct Trump University. But what does it mean?
Well, it seems that no one outside of the production is entirely sure about that yet. According to Variety, it feels likely that the series won't be solely Trump-focused, considering that the entertainer was reported to have filmed... something with the notorious actor/athlete/(alleged) murderer O.J. Simpson in a Las Vegas hotel room back in February.
Considering that the teaser released by Baron Cohen emphasizes how we'll be seeing the comedian like never before, it seems unlikely that this new series will be something so simple as a reboot or continuation of that classic. The actor has previously said that his characters from that series — Ali G, Borat Sagdiyev, and Brüno Gehard — were officially retired from his repertoire due to audience familiarity.
Despite this, the Variety report says sources claim the show will follow a similar format as Da Ali G Show. How Donald J. Trump is involved, Lord only knows. It's kind of draining to think about.
This new Showtime series isn't the only TV show Baron Cohen has cooking this year. He'll also star in the drama series The Spy on Netflix, a six-episode series from the creator of Israeli Homeland inspiration Hatufim.