Yellowjackets: Shauna's Birth Scene Took Five Grueling Days To Film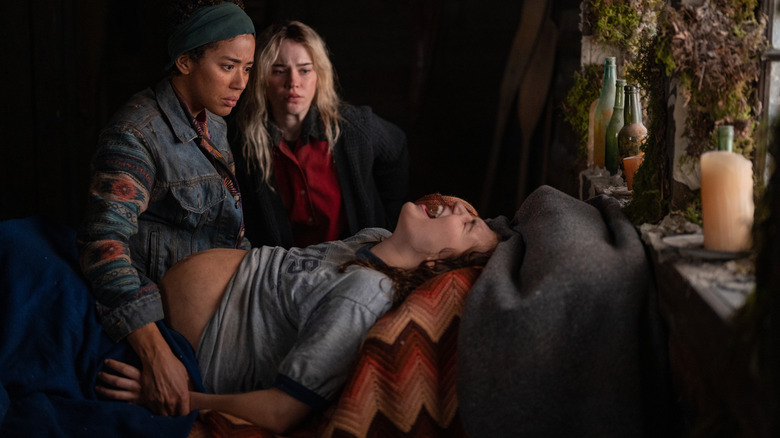 Kailey Schwerman/Showtime
"Yellowjackets" Season 2 dives headfirst into the darkest themes of the series, including the highly anticipated give-in to cannibalism in a desperate attempt to survive the wilderness. The team grows even more restless as Shauna (Sophie Nélisse) goes into labor in an unforgettable and extremely emotional scene. Liz Garbus, the director of the heartbreaking episode, revealed the behind-the-scenes details of the upsetting outcome with Variety, which took five exhausting taking days to film.
Before the devastating reveal of Shauna's baby's death, she has an intense dream that utilizes a classic TV trope. Her nightmare entails her fellow Yellowjackets feasting on her newborn as she watches helplessly in horror. However, when Shauna actually wakes up, a different but still terrible fate awaits her when she learns her baby boy is stillborn. Garbus discussed the heartwrenching result while praising the young actress: "Sophie is an extraordinary young actor who is going to do so many great things in her career. That episode was a heavy lift. She had to go through this emotionally wrenching, devastating arc over five days."
Garbus said that it was important to support Nélisse during the process and that they shot as many as 12 different takes, including closeups. She also applauded Nélisse's fellow castmates for making the agonizing scene as easy as possible for her. She also lauded the actor's commitment to realism: "Sophie was so nervous about that scene. She took it seriously, and wanted it to feel real so that other people who had gone through childbirth and losing babies would relate." Garbus gave full credit to the talented actress and even noted the moment that stuck out most for her from the heavy episode. 
Sophie Nélisse's raw and emotional reaction stood out most to director Liz Garbus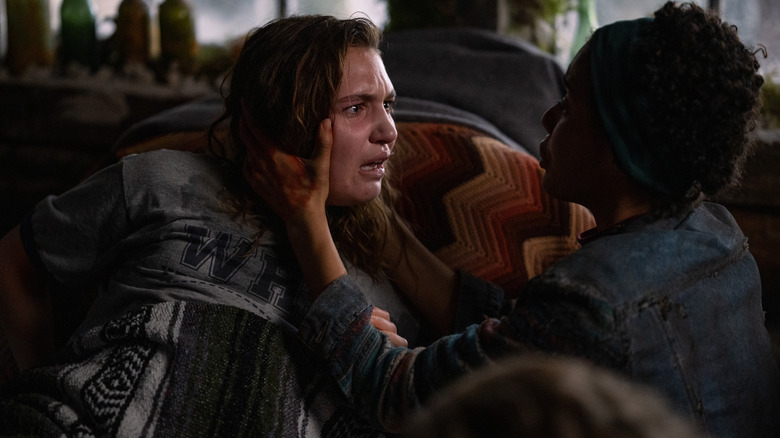 Kailey Schwerman/Showtime
Understandably, Shauna is horrified and confused when she wakes up, especially after her harrowing nightmare sequence. The other Yellowjackets' attempt to comfort her through her reaction to the stark reality is deeply unnerving. Director Liz Garbus detailed her most memorable experience from filming Shauna's distressing reaction to Variety, saying, "After we shot the scene when Sophie comes out of comes to consciousness and is presented with the idea that her baby didn't make it, she's doing all these takes where she's in incredible pain, disbelief and screaming at her friends. We didn't do that many takes, because we were also being conscious of Sophie's voice and not having her lose it. I called cut on the last take, and I said, 'That's it. It's not gonna get better than that.'"
Garbus described the heartfelt reaction from everyone on set who was awestruck by Nélisse's powerful performance. The director herself was so overwhelmed that she ended up hugging her before she noticed the other cast members were also in tears. Nélisse's fellow performers found themselves crying from the pure emotion she was able to convey in the unimaginable moment of agony. This sets up a gripping follow-up that will be even darker by highlighting the women's rage in the remaining episodes of "Yellowjackets" Season 2.