Pete Davidson Expected To Get Fired After A Year On SNL
Jamie Mccarthy/Getty Images
"Saturday Night Live" has long acted as a springboard for comics and entertainers. Premiering in 1975, "Saturday Night Live" has seen legends like Chris Farley, Steve Martin, Chevy Chase, Dan Aykroyd, Mike Myers, and many others become household names because of the show. Pete Davidson is from some of the most recent seasons of "Saturday Night Live," and he is famous not only for appearing in the show, but for his personal life as well, which has formed the basis of movies like "The King of Staten Island" and television shows like Peacock's "Bupkis."
However, it seems as if Davidson originally thought that his time on the long-running show wouldn't last for very long. Speaking with Kevin Hart on "Hart to Heart," Davidson explained that he and "Saturday Night Live" creator Lorne Michaels weren't exactly sure how to best apply Davidson's talents to the show. Davidson elaborated, "We really didn't know 'cause I just had stand-up bits and I couldn't do characters or anything like that, so at first I was like, 'Oh, f***, I'll get to be here for a year. I'll get fired, but I still got to do that, and I'll have that credit.' And then I could write for whatever Cartoon Network show, [and] I'll be able to work at least."
SNL's creator offered to work and learn with Davidson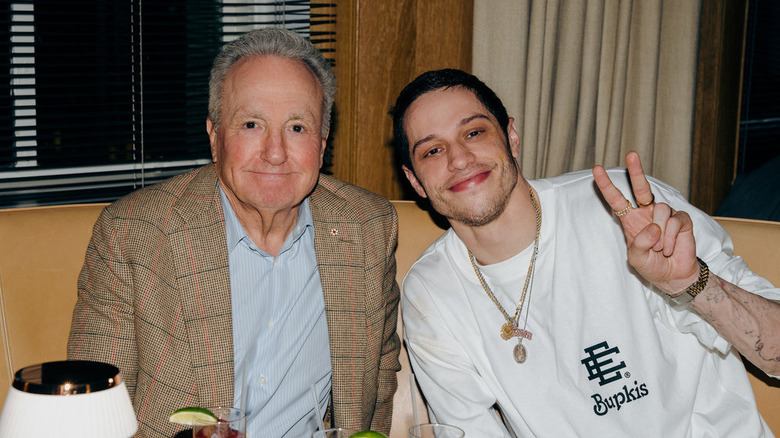 Rosalind O'Connor/Peacock
In his interview with Kevin Hart, Pete Davidson spoke about how his greatest strengths were later established by pre-recorded sketches and news segments on the show's Weekend Update segment, which allowed him to lean into his talents. Making his first appearance in Season 40, Davidson pops up in 159 episodes of the comedy sketch show between 2014 and 2022. Luckily, Davidson was able to parlay his efforts into an entertainment career in the wake of "Saturday Night Live," and he is certainly generating a lot of buzz about his new, much-hyped series "Bupkis."
Unsurprisingly, Davidson's friendship with Lorne Michaels must have blossomed over his tenure on "SNL." During his last cast appearance on "Saturday Night Live" (via Entertainment Weekly), Davidson was asked what he will miss most about being on the show, and he replied that he will miss Michaels the most. Davidson added, "When I auditioned for 'SNL' he said, 'I don't think you're right for this show, so let's screw this up together,' and that's exactly what we did. That's why people who don't think I deserve this job shouldn't hate me since we have so much in common. If anything, I should inspire hope that literally anyone could be on 'Saturday Night Live.' Seriously, you see a guy bumming cigarettes outside a 7-Eleven at 2 a.m., that's not some meth head, that's the next Pete Davidson." Although Davidson lasted much longer than he expected on "Saturday Night Live," it sounds like the person to thank is actually Michaels, who offered to work, grow, and learn with the comedian.